HOUSTON – (March 31, 2022) – OpenStax, Rice University's educational technology initiative, is celebrating 10 years of publishing free, open textbooks by releasing 10 new titles this year.
Since publishing its first textbook in 2012, OpenStax has partnered with more than 60 educational technology providers to support educators across disciplines with their teaching needs. Its open educational resources (OER) have saved more than 22 million students an estimated $1.7 billion.
OpenStax recently expanded its textbook offerings and has several more books in development. The latest publications are Introduction to Anthropology and the Writing Guide with Handbook for English composition courses – bringing the current total count to 50. Upcoming topics include finance, political science, computer applications, contemporary math and world history.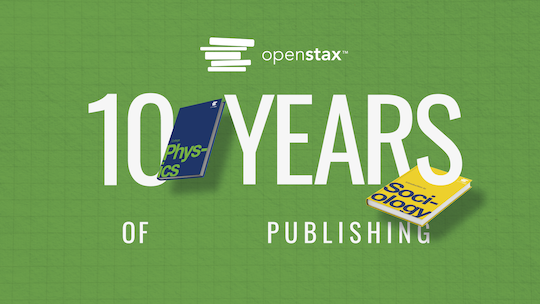 Rice Professor Richard Baraniuk, founder and director of OpenStax, and his team have worked with OER for over a decade, beginning with Connexions, a repository for openly licensed educational materials founded in 1999, before the effort evolved into OpenStax upon the publication of its first OER textbooks in 2012.
"When we decided to start publishing open textbooks, the landscape looked very different," Baraniuk said. "Students were spending upwards of $300 for a single introductory physics textbook, and faculty didn't have a lot of options or flexibility. In the years since, prices for educational materials have finally started to drop, which has been attributed to OpenStax and the larger OER movement, and educators have access to a wider array of resources."
"The tremendous impact OpenStax textbooks have had on education over the past 10 years wouldn't have been possible without the community of authors, educators, advocates and students that supported and embraced this work," said Daniel Williamson, managing director of OpenStax. "As I look ahead to the next 10 years, I'm excited for OpenStax and the community to create opportunities for every student to learn and every faculty member to teach with the highest-quality open and free resources."
In addition to its new textbooks, OpenStax recently announced it is accepting applications for the 2022-2023 Institutional Partner Program, which aims to engage the education community in learning about and expanding the use of OER.
To learn more about OpenStax's mission, visit openstax.org/impact.