SlaveVoyages.org is the world's largest repository of information about the trans-Atlantic and intra-American slave trades: the routes, the ships, the manifests and the human beings at their core. And now, after nearly 20 years at Emory University, the website and its treasure trove of data have moved to their new home at Rice.
"It's the first time in the history of this project that it's shifting hands," said Rice professor Daniel Domingues of the momentous undertaking. His decades of research at both Emory and Rice on slave trading expeditions have been crucial to expanding a database first published in 1999 on CD-ROM.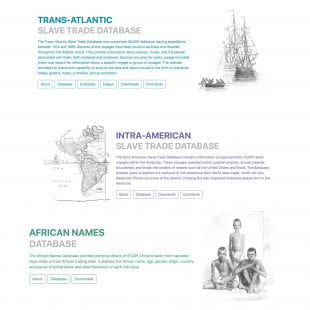 "It's always receiving contributions from researchers all over the world and it's used in schools across the United States, in England, in South America — everywhere," said Domingues. "It's a big responsibility to maintain a website like this."
The website has become a vital scholarly resource over the years, constantly accessed by those adding to the database and those using it for research, making a seamless migration all the more important.
Back in 1999, Emory University historian David Eltis created the now-massive Trans-Atlantic Slave Trade Database inspired in part by the work of the late Philip Curtin at Johns Hopkins University. Curtin's most famous work, 1969's "The Atlantic Slave Trade: A Census," was one of the earliest scholarly estimates of the size of the trans-Atlantic trade between the 16th and 19th centuries.
After completing his undergraduate work in Brazil, Domingues went to study under Eltis at Emory. And in 2008, the CD-ROM project was transformed into a website, bringing years of research compiled by Domingues and other scholars to a global audience.
Today, the SlaveVoyages website contains more information than could ever be contained in books or CDs, with such granular data as mortality rates aboard ships, how many children they transported and information on resistance or insurrections. A user-friendly interface makes it easy to search for specific facts, while time-lapse visualizations and a 3D model of 18th-century French ship L'Aurore bring its volumes of data to life.
The 'gold standard of digital humanities'
To ensure the website would continue being updated and properly maintained, Rice and Emory joined a consortium of like-minded universities with a vested interest in SlaveVoyages.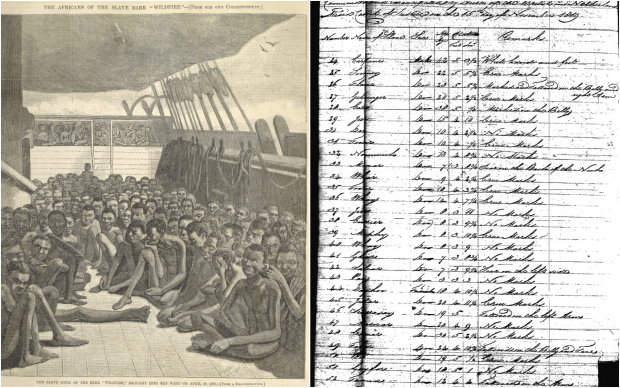 These six institutions — including the Hutchins Center for African and African American Research at Harvard University, the Smithsonian's National Museum of African American History and Culture, the Omohundro Institute of Early American History and Culture at the College of William & Mary, and three University of California campuses including UC Berkeley — will provide long-term funding through the newly formed SlaveVoyages Consortium.
At Rice, Domingues elicited support from both the School of Humanities and Fondren Library, which serve as co-hosts of the SlaveVoyages database. Rice was eager to embrace the project and host the newly migrated website for several reasons, Domingues said.
"One of them is that we're living in this moment of reckoning with the country's history of slavery, segregation and racial injustice, including Rice's own history in this broader narrative," Domingues said. For a university confronting social justice issues head-on, "it will be one giant step in that direction," he said.
The SlaveVoyages website Emory developed is also the "gold standard of digital humanities," he said, and a chance for Rice to continue advancing its own expertise in the field.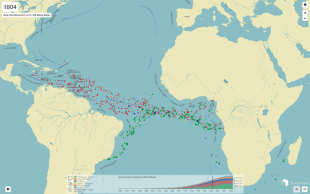 "It was an incredible opportunity to learn about and work with this historic digital humanities project and its rich data," said John Mulligan, who works in Rice's Center for Research Computing (CRC). Rice wanted to not only migrate the website but reengineer it for both growth and sustainability.
Mulligan, Domingues and the CRC turned to Oracle for Research, which is providing SlaveVoyages with access to Oracle Cloud Infrastructure as well as technical expertise to help with the migration. The massive SlaveVoyages database is one of the first digital humanities projects to be powered by Oracle Cloud.
"Oracle is proud to support this extraordinary project," said Alison Derbenwick Miller, vice president of Oracle for Research. "SlaveVoyages reveals vitally important insights into our collective past and the way that history shapes the present. In moving SlaveVoyages to a modern cloud infrastructure that simplifies academic collaboration, Rice and Oracle for Research were able to prepare this critical digital humanities resource for the future by ensuring it can scale to accommodate massive volumes of data and new areas of research."
Having those cloud resources available for free gave Rice the flexibility to come up with a new process for publishing updates to the site using open-source software that's not tied to any particular cloud provider, Mulligan said. That will be instrumental in guaranteeing the project's long-term flexibility, he said.
After a year's work, the newly migrated website is now up and running at Rice. The site itself hasn't changed, Mulligan stressed. Instead, the crowdsourced database is now able to expand as quickly as researchers can add to it.
"The CRC — and above all, infrastructure specialist Derek Keller — have made the site more amenable to rapid iteration, so that we can quickly test and publish the changes that the scholars want in order to grow the project," Mulligan said.
Actively contributing to history — and preserving it for others
The database is still missing a lot of information about the slave trade in Texas. And that's something Rice students will be working on correcting over the summer as Department of History research assistants working with Rice's Center for African and African American Studies (CAAAS).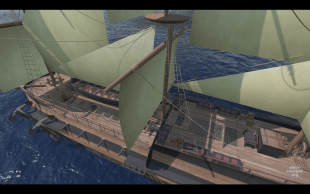 "That will be one important contribution that Rice students will make to this project," Domingues said.
"We are so delighted that such a rich and definitive historical resource is now available for undergraduate and graduate student research at Rice," said Dean of Humanities Kathleen Canning. "We are grateful to Professor Domingues for his creativity and leadership of the new consortium and enormously pleased that its members chose Rice as the institutional host for SlaveVoyages."
It provides "a live rather than a static or finite historical source for students in history, African and African American studies and other fields, and it is one that will continuously change and grow over time as scholars contribute new data," she said. "In this sense, Rice students can actively contribute to making history and preserving it for others to engage in the future."
Indeed, this is just the beginning.
"Bound Away: Voyages of Enslavement in the Americas" will take place at Rice Dec. 3 and 4, as both a conference and a celebration. The conference will share new findings on the intra-American slave trade and host panels focused on Texas, Louisiana, Spanish America and Brazil. Prominent scholars including Daina Ramey Berry and Sean Kelley will speak, while Rice students will present their own undergrad and graduate research on the slave trade.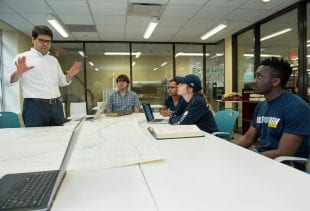 The "Bound Away" conference will coincide with two art exhibitions: one at Rice's Moody Center for the Arts, and the other at the Museum of Fine Arts, Houston. More information on these events will follow in the coming months.
The event will also celebrate the formation of the SlaveVoyages Consortium as well as Rice's role as the website's new host.
Among the other events centered around the site is the upcoming Mellon-Sawyer Seminar on "Diasporic Cultures of Slavery: Engaging Disciplines, Engaging Communities." It involves a year-and-a-half-long seminar through CAAAS that will visit Ghana, Brazil, Jamaica and a former plantation near Houston to connect students with scholars and community members in these places. The seminar will culminate with an exhibition in partnership with the Texas Historical Commission.
"The idea is that these events will help shape the project development here and inspire students to use the website in their research to further expand our understanding of history," Domingues said.
Meanwhile, with its constant stream of fresh data and a new home capable of holding it all, SlaveVoyages.org will continue to flourish.