By Kyle Rogers
Special to the Rice News
To obliterate oral cancer tumors, a material developed by two Houston institutions needed a little extra sting.
Chemist and bioengineer Jeffrey Hartgerink at Rice University and Dr. Simon Young at the University of Texas Health Science Center at Houston (UTHealth) reported an advance on their previous development of a sophisticated hydrogel called STINGel, this time to destroy oral cancer tumors.
The new immunotherapy material, SynerGel, combines a pair of antitumor agents into a gel that can be injected directly into tumors. Once there, the gel controls the release of its cargo to not only trigger cells' immune response but also to remove other suppressive immune cells from the tumor's microenvironment.
The advance is reported in the American Chemical Society journal ACS Biomaterials Science & Engineering.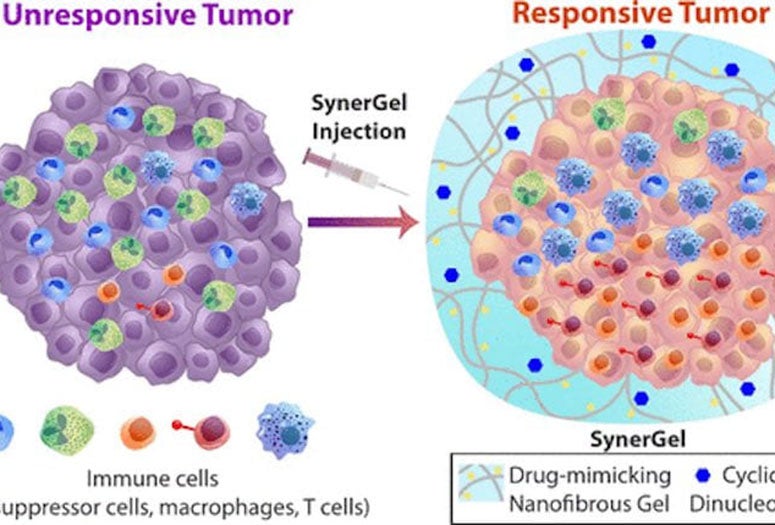 "We are really excited about this new material," Hartgerink said. "SynerGel is formulated from a specially synthesized peptide which itself acts as an enzyme inhibitor, but it also assembles into a nanofibrous gel that can entrap and release other drugs in a controlled fashion.
"The combination, or synergy, of the materials is what makes it powerful," he said.
In 2018, the pair published research on the use of a multidomain peptide gel — the original STINGel — to deliver ADU-S100, an immunotherapy drug from a class of "stimulator of interferon gene (STING) agonists."
"To kill a tumor, from an immune standpoint, you want to ramp up the immune system to stimulate it to attack," said Young, a Rice alumnus and an assistant professor of oral and maxillofacial surgery at UTHealth. "That's what our STINGel was created for. However, the one thing we didn't consider is tumors have a lot of cells in their environment that are actively suppressing the immune system.
"Not only do tumors emit molecules that cloak them and put the immune system to sleep, but there's actually immune cells there that are attracted to the tumor's microenvironment that almost protect the tumor from attack," he said.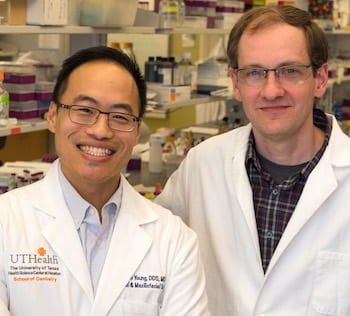 This realization created the need for a two-pronged approach, in which a drug-mimicking peptide hydrogel named L-NIL-MDP was loaded with an antitumor cyclic dinucleotide (CDN) immunotherapy agonist to create SynerGel. The biomaterial combined inducible nitric oxide synthase inhibition with controlled delivery of CDN.
More than a year of testing SynerGel demonstrated 4 to 20-fold slower drug release than commercially available hydrogels, allowing for immune-mediated elimination of established treatment-resistant oral tumors in a murine model, with a median survival of 67.5 days compared with 44 days in a no-treatment control. Total survivorship also increased from 20% in CDN drug-alone groups to 33% in SynerGel-treated groups.
"This paper shows a logical progression of the technology," Young said. "Our in vitro work showed the STING agonist can be released in a sustained fashion in a controlled environment, but also this new version of our gel has bioactivity and can be injected into preclinical tumor models with a higher survival rate. The most exciting part of this research is it's only the beginning of this material's story. We're trying out new formulations to see if we can get even better results."
The researchers are investigating ways to load multiple immunotherapeutic agents into the hydrogel. These formulations will continue to be designed for long-lasting, immune cell-infiltrated biomaterial immunotherapy at the tumor site, allowing it to become more responsive to treatment.
Co-authors of the paper are research scientists David Leach, a Rice alumnus, and Neeraja Dharmaraj and research technician Jose Rodriguez Venzor at UTHealth; Andrew Sikora, a professor and director of research in the Department of Head and Neck Surgery at the University of Texas MD Anderson Cancer Center; and Rice alumna Tania Lopez-Silva and graduate student Brett Pogostin. Hartgerink is a professor of chemistry and of bioengineering.
The research is supported by the Oral and Maxillofacial Surgery Foundation, the National Institutes of Health, the Welch Foundation, the National Science Foundation and the Mexican National Council for Science and Technology.
Kyle Rogers is a communications specialist at UTHealth.