Daziyah Sullivan applied for a National Science Foundation (NSF) Graduate Research Fellowship as an undergraduate, but wasn't selected that year.
"I was worried about whether I should have waited to have publications or more tangible research experience before trying again," said Sullivan, a graduate student in mechanical engineering who works in Rice's MAHI Lab. But after receiving sweeping encouragement from her team in the lab, her adviser — Marcia O'Malley, professor of mechanical engineering — and the virtual coaching program sponsored by the Office of Graduate and Postdoctoral Studies (GPS), Sullivan gave it another shot.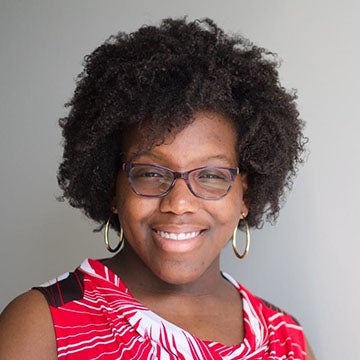 And this time, she was accepted to the prestigious program. Sullivan now counts herself among this year's cohort of 17 current graduate students awarded one of the coveted five-year fellowships, which provides three years of financial support for students early in their graduate careers in science, technology, math and engineering.
"This is the largest number of NSF awards to current graduate students in Rice history," said Kim Gonzalez Hohlt, director of student advancement and career development in the GPS office. In total, 44 Rice-affiliated students won NSF fellowships for 2021.
"This was definitely an unprecedented year," Gonzalez Hohlt said.
At Rice, the GPS office provides a fellowship coaching program that helps grad students filter through various fellowships and their vigorous application processes.
Importantly, the fellowship coaching program is run in part by past winners themselves, typifying Rice's close-knit graduate student community. Its success, Gonzalez Hohlt said, can be witnessed in part in this year's record crop of NSF winners.
"Our coaches did a fantastic job by coaching 14 of our graduate student winners and four of six honorable mentions who were enrolled in fall 2020," said Gonzalez Hohlt, who was herself a NSF Graduate Research Fellowship winner while pursuing her Ph.D. in biochemistry and cell biology at Rice.
The NSF fellowship will allow Sullivan to focus on her research on haptic interfaces and technologies with the MAHI Lab.
"Think: vibrations for phone notifications or the resistance you feel when turning the steering wheel in a car," said Sullivan, who was also named a full fellow of the National Graduate Education for Minorities Consortium in 2020. Her research seeks to find applications for that kind of tech within the realm of mental health.
"I want to understand affective haptics because it can potentially assist with emotion regulation, which can be difficult for those suffering from certain mental illnesses," she said. "The end goal is to essentially have a wearable device that can assist with coping strategies taught within the therapeutic setting."
Pursuing this work with the backing of an NSF fellowship is a professional victory as much as a personal triumph for Sullivan, who was also quick to share the accolade with others.
"It is an honor for Rice University as my graduate school and for Florida Agricultural and Mechanical University as my baccalaureate institution," said Sullivan, who acknowledged "the academic excellence that is a central part of the FAMU culture" in helping her pursue her graduate studies at another institution known for its academic rigor.
"This accomplishment is a culmination of all of my life experiences and is an external reminder that I am forging the correct — and best — path for myself," Sullivan said.
Of the 44 Rice-affiliated fellows this year, 17 are current graduate students, seven are incoming graduate students, seven are undergraduates and 13 are alumni. Additionally, 18 Rice-affiliated students received honorable mention from the NSF.
"This is an incredibly competitive award, and students do an exceptional amount of work during the application process," Gonzalez Hohlt said. "All applicants should be proud of their hard work and perseverance."
NSF Fellows:
Undergraduates:
Athena Chien: engineering — bioengineering
Chiraag Kaushik: engineering — electrical and electronic engineering
Missy Lollis: life sciences — developmental biology
Alexandros Pollatos: chemistry — chemical synthesis
Tate Shannon: engineering — bioengineering
Adam Subel: geosciences — artificial intelligence
Frank Yang: materials research — photonic materials
Current graduate students:
Tsvetelina Baryakova: engineering — biomedical engineering
Jeffrey Berning: engineering — mechanical engineering
Carson Cole: chemistry — macromolecular, supramolecular and nanochemistry
Adam Farsheed: engineering — biomedical engineering
True Furrh: engineering — environmental engineering
Carolyn Graverson: chemistry — macromolecular, supramolecular and nanochemistry
Manwal Harb: engineering — bioengineering
Marina Hutchins: life sciences — evolutionary biology
Elysa Jui: engineering — biomedical engineering
Camille Little: engineering — artificial intelligence
Kevin Lorch: engineering — biomedical engineering
Ashanti Monique Sallee — materials research - chemistry of materials
Luis Sanchez: physics and astronomy — particle physics
Daziyah Sullivan: engineering — mechanical engineering
Christina Taylor: mathematical sciences — computational mathematics
Elizabeth Wilkirson: engineering — mechanical engineering
Zachary Wooten: mathematical sciences — biostatistics
Incoming graduate students:
Wesley Combs: engineering — mechanical engineering
Nhi Le: mathematical sciences — biostatistics
Tyler Martin: engineering — mechanical engineering
Vincent Thompson: mathematical sciences – algebra, number theory, and combinatorics
Joshua Woods: engineering — bioengineering
Eric Wuesthoff: social sciences — biological anthropology
Hannah Yin: life sciences – organismal biology
Alumni at other schools:
Omar Alvarenga-Cruz: life sciences — biophysics
Samantha Chapa: social sciences — political science
Nikhil Chellam: engineering — chemical engineering
Aidan Curtis: computer science and engineering — artificial intelligence
Evan Jasper Flack: social sciences — economics
Meghana Gaur: social sciences — economics
Thomas Hsiao: mathematical sciences — biostatistics
Jennifer Kroeger: geosciences — biogeochemistry
Ceyda Kural: life sciences — ecology
Amy Maya Kuritzky: social sciences — cultural anthropology
Joanna Slusarewicz: engineering — engineering and public policy
Isaiah Tristan: physics and astronomy — astronomy and astrophysics
Anna Truong: chemistry — chemistry of life processes
NSF Honorable Mention:
Undergraduates:
Beth Elaine Buchanan: psychology — industrial/organizational psychology
Stephen Chamness: chemistry — chemical synthesis
Aneel Mawji Damaraju: physics and astronomy — artificial Intelligence
Joycelyn Yiu: engineering — bioengineering
Current graduate students:
John Chen: computer science and engineering — machine learning
Alejandro Diaz: mathematical sciences — computational mathematics
Amy Corbin Farr: engineering — biomedical engineering
Mason Klemm: physics and astronomy — condensed matter physics
Ivy Li: physics and astronomy — particle physics
Douglas Frederick Steinbach: engineering — mechanical engineering
Alumni:
Trevor Haden Drees: life sciences — ecology
Mekedlawit Setegne: chemistry — chemical biology
Jayson Vance Taylor: engineering — environmental engineering
Patrick Quinn Kelly: chemistry — chemical catalysis
Matthew George Thibodeau: physics and astronomy — quantum information science
Dana Su-Ling Lim: life sciences — organismal biology
Sung Kim: engineering — mechanical engineering