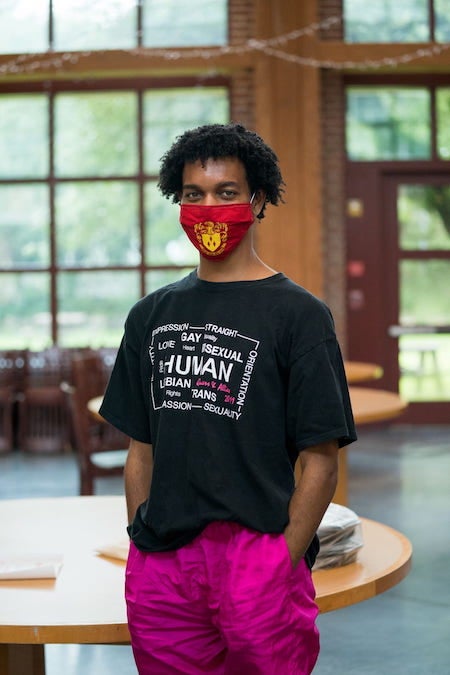 This year's senior English symposium had everything: Ev Delafose '21 talked about the power of fat, femme fashion. Ryan Chow '21 tackled identity in Asian American literature. Ruhi Buddharaju '21 considered colorism in film. Kelsey Evans shared part of a novel-length poem based on Buffalo Bayou. And Naomi Hausman '21 read from a murder mystery screenplay set on Mars.
"The screenplay is about family ties, especially when you're 192 million miles away from Earth," Hausman told the audience during the Department of English senior symposium, held via Zoom May 5.
"It's about cultural ties when you are, again, 192 million miles away from Earth. It's about the unrelenting progress of capitalism, at the expense of the very lives of the workers, the divine right to rule," Hausman said, and the idea of "home" itself.
In other words, Hausman's work — the result of a unique yearlong senior English seminar that fuses creative writing with cultural criticism, all of it grounded in research — is about much more than a murder on Mars.
And, along with the work of 26 other senior English majors who presented at the symposium that afternoon, it's indicative of the type of productive, public-facing scholarship coming out of Rice's Department of English and its program in creative writing, which is more popular than ever before.
The department announced a slew of exciting new hires in the last year, including a talented trio of some of the most well-known American writers within the genre.
Assistant professor of creative writing Tomás Q. Morín is highly regarded for both his poetry and translations. Bryan Washington, whose debut novel was optioned by A24 Studios last year, teaches creative writing as the Scholar-in-Residence for Racial Justice at Rice. And, most recently announced, the critically acclaimed memoirist and essayist Kiese Laymon joins the faculty Jan. 1, 2022.
Laymon will join an already deep bench of bestselling authors and creative writing professors including Lacy Johnson, whose essays won a 2020 Guggenheim Fellowship; Justin Cronin, whose "Passage" trilogy was adapted for TV; and Amber Dermont, bestselling novelist who, in turn, draws inspiration for teaching her creative writing courses from such Rice legends as Marsha Recknagel '85, Susan Wood, Max Apple and Larry McMurtry '60.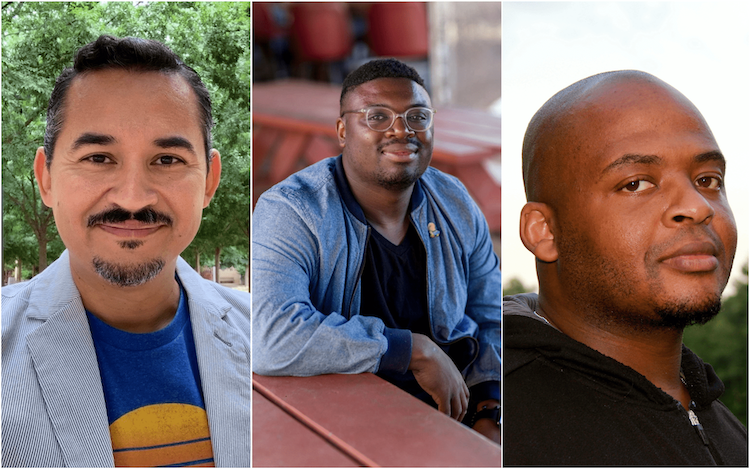 "Creative writing courses are in continuously rising demand and most have long waitlists," said Dean of Humanities Kathleen Canning.
The new hires will also create important connections between the recently launched Center for African and African American Studies, she said, while adding to the diversity of Rice's arts faculty.
"We are certain that the addition of these star writers to our already stellar faculty will put Rice's creative writing program on the map," she said.
The addition of two new scholars in the last year also further diversifies the English department: Alden Sajor Marte-Wood, whose expertise is Asian Anglophone and Asian American literature and culture, and Margarita Castromán, who works in African American and Latinx literature and culture. A third hire in African American literature is soon to be announced, adding to the energy and excitement in the department.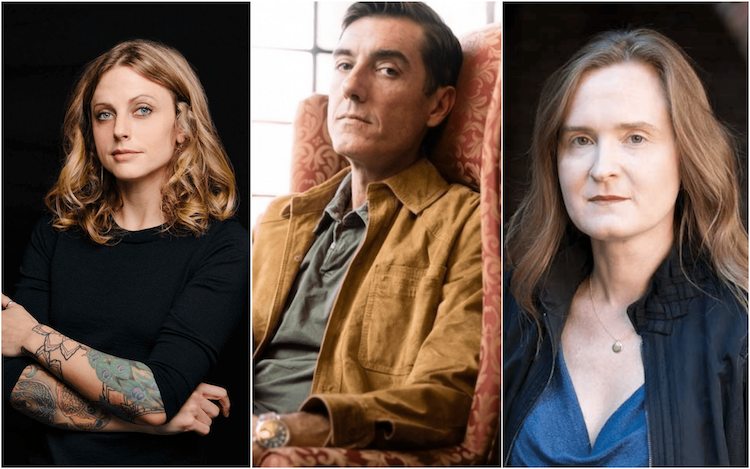 These new hires represent the culmination of many years of planning and a shared vision among colleagues: to expand not only the creative writing program but the department's diversity overall.
"This is a young and dynamic faculty that set out with a strategic vision three years ago that we have nearly fulfilled — every dean's dream," Canning said.
In that vision of a new curriculum for the English department, a diverse group of critical scholars and creative writers would work in collaboration, team-teaching courses like that senior English seminar and learning from each other.
This approach also makes for better student work and projects that are related to students' directions after they leave Rice, said Krista Comer, professor of English and the department's director of undergraduate studies. She co-taught the senior seminar with Ian Schimmel, a writer who teaches courses in fiction writing and radio storytelling, and Sarah Ellenzweig, associate professor of English whose scholarship includes 18th-century British and Enlightenment literature.
"This is where everyone believed the department should move, because it's the right way to have our forms of knowledge produced — through a very diverse faculty, because English departments are very diverse in the kinds of knowledge its people produce, from Shakespeare to work on surfing," said Comer, a scholar of contemporary literature and cultural politics (as well as surfing).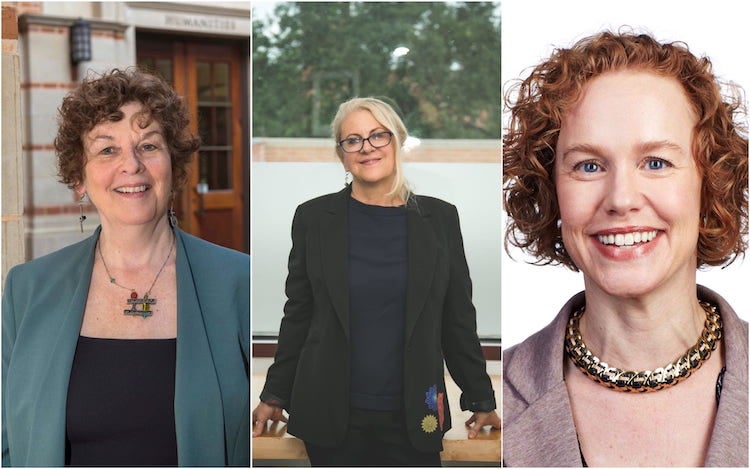 This sort of unanimous agreement in a department is "a very rare thing," she said, but indicative of the values held by the English faculty as well as Rice itself, where students prize the availability of both research opportunities and race/class interaction on campus. Comer has taught at Rice since 1997 and said she's already seen these changes manifest, for instance, in the enthusiasm shown by the dozens of seniors like Hausman, Delafose, Chow and others in the yearlong seminar.
"It's giving students excitement in thinking about where their future might go with an English major," said Comer, citing the post-graduation plans for many of those in the class: medical school, law school, design school in Paris — and plenty of jobs. "Humanities education and humanities writing projects can really be a launching pad for them to go into lots of places."
Taylor Crain '21 is one of those heading into a job after graduation, as a Positive Play coordinator at the gaming company Electronic Arts (EA), which valued the cultural criticism and storytelling skills she learned as an English major. Over the last four years, Crain has witnessed many of the changes Comer described firsthand.
"It's been a complete 180 from my freshman year to now, especially when you look at all the course options that are just new and different, like Asian American literature, Southeast Asian literature, Black feminist theory," said Crain, who incorporated much of what she learned into the speculative fiction novel she's writing, set in a future where racism has been eradicated.
"I've really, really appreciated the change," she said.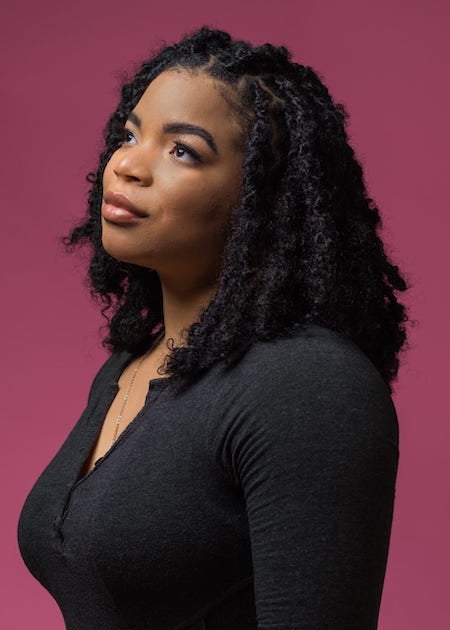 Kirsten Ostherr, chair of the English department and Gladys Louise Fox Professor of English, said she believes students find creative writing courses particularly enriching and fulfilling for personal reasons, especially during such a tumultuous time in world history.
"With the kind of large-scale trauma that they are grappling with, in terms of both the movements for racial justice and the pandemic, it's really helpful for students to get some scholarly framing in a variety of classes," Ostherr said. "But it's also really important for them to have an outlet to process that not just intellectually, but in relation to their own lives."
Ostherr also shares the students' excitement about the direction of the creative writing program as it moves into the future.
This is especially true as Rice positions itself to offer a unique opportunity with its expanded English department and creative writing program: Here, you can learn the power of storytelling and critical engagement from America's foremost scholars and writers themselves, in an environment that promotes and encourages a diversity of perspectives.
"I think that creative forms of expression, writing, visual art, forms of creativity are only going to be more important going forward," Ostherr said. "The demand will continue to be there, but the shape of that demand, I think, is a little different now."