HOUSTON – (April 29, 2021) – Wind power has a bright future, but what happens when wind turbines power down? A worn blade the length of a football field isn't easy to recycle.
Rice University engineering students are working on environmentally sensitive strategies to process decommissioned blades for recycling or disposal. The Bladecycle project, based at Rice's Oshman Engineering Design Kitchen, requires them to think big.
With thousands of wind turbines planned for deployment in the coming years, the team -- mechanical engineering majors Joshua Brandel, Brittany Bui, Anthony Charletta, Wyatt Crider and Alejandro Moyano -- was charged with figuring out how to deal with blades as they come back down.
"Our project is different from most senior designs in that we're not tasked with building a specific prototype," Moyano said. "One of our projects is to build a code that will optimize the amount of blades we can put in a truck to minimize transportation costs."
"Hopefully as the wind industry grows, we'll see an increase in demand for ground-up blades for insulation, concrete mix-ins or other applications," Crider said.
The team mentored by sponsor Stewart & Stevenson and faculty adviser and lecturer Matthew Elliott will be one of dozens competing for cash prizes in the Brown School of Engineering's Engineering Design Showcase, a virtual event this year on April 29.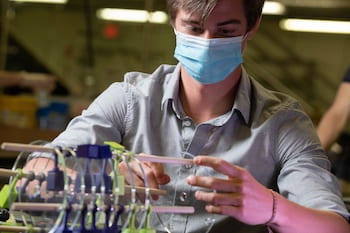 "The first wind turbines were built 20-25 years ago, which is exactly the lifecycle of the blades," Moyano said of the project's urgent nature. "As the first generation is being retired, there's a huge demand for decommissioning. There are landfills filled with turbine blades, and it's already creating a problem."
"Over the next five years, there should be about 720,000 tons of blades scheduled for decommissioning," Bui added. "Each one weighs about 36 tons."
The team is progressing along two paths: easing transportation and simplifying the process of recycling blades made of fiberglass or composites that may also incorporate metal and balsa wood into other products.
"Transporting these blades is such a production," Crider said. "Sometimes you have to block highways and accrue escort charges, and the charges associated with transporting an entire turbine blade based on its size and weight. We're trying to make that process a little less impressive."
Cutting blades on-site with a wire saw like those used to slice concrete would allow bigger loads to be packed onto a flatbed. "We want to get all of this mass onto a single standard-size truck to avoid all these extra charges," Crider said.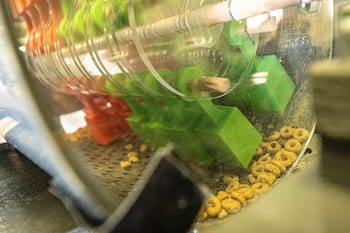 The students are also thinking smaller. "We're working on a grinder that will basically chip the blades on-site," Charletta said. "Then you can put them in a dumpster. It's much better than our first solution, but it's also a much bigger investment."
They said industrial grinders that could handle the job are generally too large to transport. "But if the nearest recycling center is 300 miles away and you're paying by the mile, it doesn't make sense to take the blade all the way there," Crider said. "We're looking to take that 300 miles out of the equation by making this grinder something that can be used on-site."
They would connect the components with a feeder mechanism that leads the blade from saw to grinder to truck.
Ultimately, they said, better blades with longer life spans will help, but decommissioning will never not be an issue. "With 60,000 towers active now, we need a short-term solution," Moyano said. "Whether or not we increase the life span of future blades, they will all eventually have to be decommissioned."