Summer will be here soon, but Rice's School of Social Sciences isn't taking a vacation from learning. A variety of classes focusing on timely social, political and economic issues are being offered during the summer term.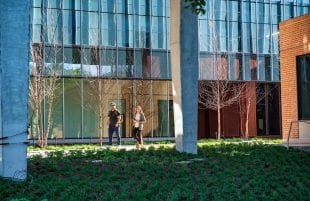 "We've got a great selection of courses available this summer, taught by our award-winning faculty and top-notch graduate students," McIntosh said. "We welcome majors, non-majors and high school students to enroll in these courses, which we hope will help students achieve their educational goals."
One unique course focuses on a frequent topic of discussion in the news and popular culture: masculinity. The aptly-titled Masculinities (ANTH 311) will offer a deep dive into what it means to be a man — or just be masculine — in today's world. The course will also explore how the understanding of masculinity and gender norms inform notions of "appropriate" femininity.
"In this course we will learn to think critically about masculinity — and gender more broadly — by engaging with … texts produced across a variety of national and cultural contexts, under different political and religious systems, and at disparate historical moments," said course instructor Baird Campbell. "We will also learn how to apply these analyses to our own diverse contexts."
A recent Rice Ph.D. in sociocultural anthropology, Campbell won a graduate teaching award from Rice's Center for Teaching Excellence for last year's Masculinities course, attesting to its timeliness and relevance.
Another popular course, Language and Society, (LING 205) will be offered during the summer for the first time. A student favorite during the regular school year, the class will address how attitudes and misconceptions about language relate to race, gender and social class – significant topics during the past year. Students will learn about the social and historical reasons some varieties of English have become stigmatized, and what can be done about it.
"I love teaching students about sociolinguistics, and my goal is for students to see how language plays crucial roles in our lives – individually and as members of larger groups," said Bryce McCleary, a lecturer in linguistics who is teaching the course. He said students appreciate learning about language diversity, as well as the many attitudes and biases people hold towards some ways of speaking.
Other courses being offered for the first time during the summer include Labor Economics (ECON 415), which is being taught at Rice for the first time in 10 years; International Relations (POLI 211), an introduction to the scientific study of the connections among the world's sovereign states; Psychology of Perception (PSYC 351), which offers an introduction to human and animal sensation and perception; Ships in the Anthropological Imagination (ANTH 314), which is related to instructor Gökçe Günel's work about power-generating ships in Africa; Culture and Mental Illness (ANTH 444), which explores the ways emotional suffering and therapeutic systems are established within various social, cultural and historical settings; and Introduction to Sociology (SOCI 101), the preliminary course teaching students about the scientific study of society.
Pat DeLucia, associate dean of Social Sciences and a professor psychology, is pleased with the number of thought-provoking courses offered this summer.
"We expect the students will find them interesting and worthwhile as well," she said.
Details for these and the many other summer course offerings through the School of Social Sciences are available online at courses.rice.edu.