After more than a year of Zoom concerts and recitals taking the place of public performances in person, Rice University's Stude Concert Hall once again came alive with the sounds of the Shepherd School Symphony Orchestra and long-awaited applause from a live audience this past weekend for its opening night concerts.
New Shepherd School Dean Matthew Loden welcomed the audience — limited to 30% capacity amid the ongoing COVID-19 pandemic — and thanked them for their support.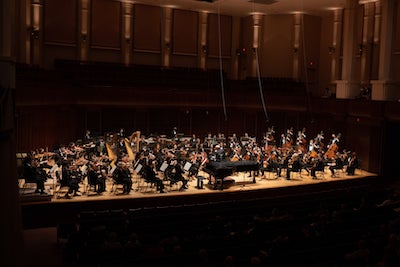 "You all are the folks that make this work," he said. Afterward, the orchestra and Larry Rachleff, music director and the Walter Kris Hubert Professor of Orchestral Conducting, joyfully returned to the stage for their first shows in 20 months.
The pandemic forced Shepherd School faculty to rethink music education. Many in-person meetings and ensemble rehearsals — a critical part of preparation for performance careers — were either dramatically different or entirely off-limits. But the faculty responded with creativity and resilience, and made arrangements for modified rehearsals and a series of virtual performances.
Through it all, the students remained focused as ever. Alisha Zamore, a senior majoring in clarinet performance, said she and her fellow students channeled their energy into individual practice.
"Even though we had the pandemic, a lot of us improved a ton," she said ahead of the in-person concerts. "And it was really cool to come back and just hear everyone and just see how much people really improved. And people really, you know, didn't let the pandemic deter them. They just kept going and kept practicing."
I think everyone is just unbelievably happy and excited to be able to be back in full force for this year.
Christopher Ellis, a graduate student studying cello performance, said he and his colleagues and friends are "kind of riding this wave of just joy" from being together and playing again.
"I think everyone is just unbelievably happy and excited to be able to be back in full force for this year," he said.
"I think it's going to be so amazing at the concert, just seeing all the work that we put in that was not necessarily seen by other people," Zamore added. "It's going to be very special."
And special it was. The energy in the audience was palpable as Rachleff stepped onto the conductor's podium, where he led the orchestra in performing Dvořák's lively "Carnival Overture, Op. 92"; Prokofiev's dramatic "Piano Concerto No. 2 in G Minor, Op. 16," featuring soloist Osip Nikiforov, a graduate student in piano performance; and Stravinsky's "Petrushka," the story of three puppets who come to life and struggle with human emotions. Rachleff and the orchestra were rewarded with thunderous ovations.
Before the concert, Rachleff admitted that what the return to the stage meant to him was difficult to put into words.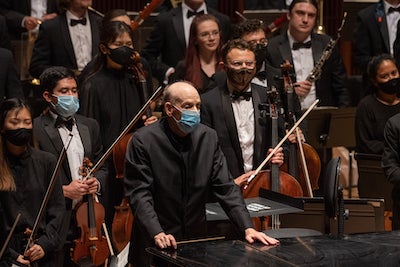 "The fact that we are returning together after such a long time to make music is both remarkable and heartwarming," he said, noting that playing music again for an audience reminds him and the Shepherd School musicians of "why we do this."  
"I miss the faces of the musicians playing as they are masked, but I'm privileged to be with them, and to hear their sounds again after such a long time," he said.
Loden, whose first official day as dean was Oct. 1, is excited for the return of live performances and all the possibility that lies ahead for the Shepherd School.
"Music has a way of bringing people from all different backgrounds together," he said. "I'm grateful that the Shepherd School is reopening the doors to the public and, once again, making these kinds of human connections possible."
A schedule of upcoming Shepherd School performances is online at https://music.rice.edu.