Undergraduates from Rutgers University, Uganda's Makerere University and Rice University took top honors in the Rice 360° Institute for Global Health student design competition March 26. The competition involved 33 semifinalist teams, including a record 13 from Africa, and was held online for the second time in as many years due to the global pandemic.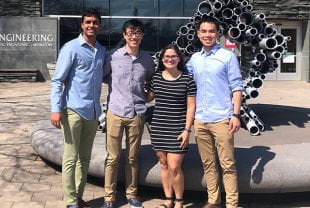 First place went to Rutgers' Team Patho-ML for a cancer-diagnosing smartphone app that can classify breast tissue as benign or malignant with 96% accuracy. Team SmartPVD from Makerere University took second place with its device for detecting potentially fatal bleeding after childbirth, and Rice's Team Matone placed third with a low-cost device to prevent pediatric overhydration during IV drip therapy.
The competition grew and evolved in its 11th year, attracting a record number of semifinalists from 23 universities in six countries, said Yvette Mirabal, Rice 360º executive director. Semifinalists were selected from from a competitive pool of applicants.
"The Rice 360° design competition is truly making a global impact," Mirabal said. "Participating teams represented a global community of student innovators engaging with a breadth and depth of high-level judges."
Ashley Taylor, Rice 360º director of education, said the competition added two new components this year — design coaching and a people's choice award — that exceeded everyone's expectations. More than 20 experts in clinical medicine and engineering design were assigned to mentor and coach students as they prepared their final presentations. In addition, nearly 5,000 votes from around the world were cast for the people's choice award.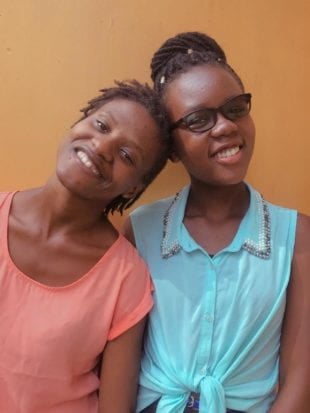 "We are sincerely grateful to all student teams, coaches and judges who creatively adapted to the virtual format of the competition this year," Taylor said. "We are encouraged and inspired by this passionate community of resilient problem-solvers, who have continued to innovate towards impact in global health despite difficult challenges this year."
Competition keynote speaker Dr. Data Santorino, a pediatrician and lecturer at Uganda's Mbarara University of Science and Technology and the Uganda country manager for the Consortium for Affordable Medical Technologies Uganda, urged participants to work together to solve global problems.
"Our world is great, and we can make it greater," he said. "It is up to you and me to be the solutions to the problems that this world has. And for us to be able to be the solutions to these problems we cannot work alone. Bridges exists because we need to work in partnership and partnerships bring success."
Winning teams and designs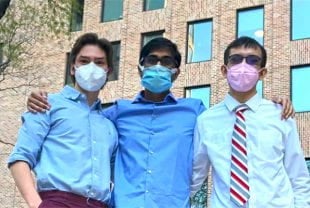 First place — Patho-ML team members Megan Maniar, Kyle Lee, Kyle Mani and Joseph Nguyen used machine learning (ML) to train a neural network to classify cellphone images of biopsied breast tissue. In some low-resource settings, women wait months for biopsy results, and the team hopes its app could reduce wait times to just a few hours. App users upload cellphone photographs of biopsied tissue that has been prepared, stained and mounted on slides for microscopy. The ML-trained app was 96% accurate in classifying tissue as benign or malignant and 78% accurate in identifying tumor subtypes. The team was advised by Rutgers' Mark Pierce.
Second place — Smart PVD team members Phiona Nannungi and Mbeiza Pauline Peace designed a device to aid midwives in diagnosing postpartum hemorrhaging, bleeding after childbirth that kills 15 new mothers per day in Uganda. The team's Smart PostPartum Volumetric Drape estimates blood loss and signals midwives with an audible alarm when hemorrhaging is detected. Team contributors include Martha Aikiriza, Maureen Etuket and Solomon Owino, and the team was advised by Sam Ononge.
Third place — Matone team members Hunter Adams, Samuel Brehm and Aneel Damaraju created a low-cost device designed to alleviate the risk of children becoming overhydrated, a potentially fatal condition, during IV drip therapy. Continuously monitoring patients who are receiving IV fluids is particularly challenging in understaffed hospital wards where each nurse may monitor dozens of patients. Matone's device prevents patients from receiving too much fluid by continually measuring the weight of a patient's IV bag and automatically clamping the IV line when a preset volume of fluids has been delivered. The team was advised by Eleazar Marquez.
People's choice — Team MAVID from Tanzania's Dar es Salaam Institute of Technology created a device to continuously monitor and log maternal vital signs before and after childbirth. Designed by team members Joel Ngushwai and Daniel Bwere, the device can simultaneously monitor multiple patients and notify attending staff about any changes in vital signs, including blood oxygen concentration, heart rate and temperature. The team was advised by John Msumba.