HOUSTON – (Dec. 9, 2021) – The Doerr Institute for New Leaders at Rice University is expanding its CoachRICE leadership coaching program, providing other institutions of higher education with training to improve how they develop students as high-potential leaders.
CoachRICE is a globally recognized coach training program accredited by the International Coaching Federation (ICF). It's one of many leader development programs offered by the Doerr Institute, providing participants with 80 hours of training and practical experience to enhance their leadership coaching skills.
Western Governors University (WGU), a leading online, nonprofit school with headquarters in Utah, is the most recent institution to integrate the CoachRICE program into its employee development efforts.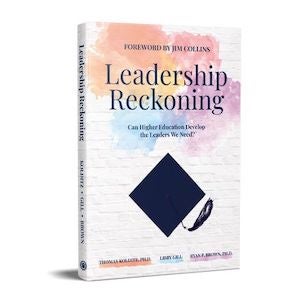 "Our mission is to create pathways to opportunity for every learner, and this requires our faculty to provide skillful, personalized interventions attuned to the needs, interests, aspirations and cultural background of each learner," said Jennie Sanders, vice president of faculty experience and academic services at WGU. "We believe that coaching skills and practices, thoughtfully and consistently applied, are essential for our faculty to facilitate these transformative educational experiences for students."
The WGU team said the Doerr Institute's student-focused and evidence-based coaching program, as well as the coach development methodology of CoachRICE, is aligned with WGU's vision and represented a complementary partnership opportunity.
"We started with 24 faculty and development staff in the CoachRICE training program and there is already an observable impact on mindsets and approach after only three sessions," said Sanders. "This collaboration is generating significant excitement and commitment among faculty and staff around incorporating coaching into our student interactions."
The CoachRICE program has also reached the University of Texas MD Anderson Cancer Center, a teaching hospital neighboring Rice's campus that employs more than 22,000 people including about 1,800 faculty. MD Anderson's Leadership Institute recently signed a licensing agreement to extend its use of CoachRICE materials and continue strengthening its coaching culture.
Tom Kolditz, executive director at the Doerr Institute, said expanding the institute's programming beyond Rice directly aligns with its commitment to improving leadership education and development in higher education.
"We are interested in extending a helping hand to other institutions in their pursuit to develop tomorrow's leaders," Kolditz said. "Expanding and sharing our programs beyond Rice is just one way we can be an ally for all of higher education and impact many more people."
Since its inception in 2015, the Doerr Institute has graduated more than 400 Rice students and global professionals from its CoachRICE program. It continues to be recognized as one of the most popular and sought-after coach training programs within higher education.
"The Doerr Institute has documented the measurable impact of leadership coaching on students and organizations like MD Anderson," says Ruth Reitmeier, assistant director for coaching at the Doerr Institute. "Our world needs more compassionate and collaborative leaders, leaders who can engage others to unlock potential, and we are excited to share our evidence-based program to equip the next generation of leaders and leader developers."
In addition to the agreements with WGU and MD Anderson, the Doerr Institute recently announced a special edition of its coaching program called CoachRICE for Higher Education. Scheduled for summer 2022, this program will welcome higher education professionals to the Rice campus at discounted tuition so they can build their coaching skills to support, guide and develop students at their universities. Applications are open until Feb. 1, 2022.
The Doerr Institute hosts visiting days throughout the year for those interested in learning more about its approach and its success in developing leaders at Rice. More about the institute's guiding principles, its various leader development programs and a call to action for higher education can be found in a book co-authored by Kolditz, "Leadership Reckoning: Can Higher Education Develop the Leaders We Need?"