HOUSTON – (Oct. 7, 2021) – OpenStax, Rice University's educational technology initiative offering free and flexible textbooks and other resources, has added nine new technology partners to its OpenStax Ally program.
The companies offer a wide range of technologies, from business simulation software to on-demand live tutoring. Their platforms will be available for OpenStax's users — more than 36,000 instructors and 4 million students — for the spring 2022 semester.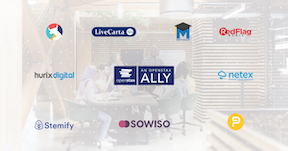 OpenStax Allies enhance OpenStax textbook content with low-cost learning technology. Companies are selected based on a shared mission to improve educational access and learning for everyone, the usage and plans for their products, a vision for the future of open educational resources and their ability to offer students fair prices. As a part of OpenStax's commitment to advancing diversity, equity and inclusion in educational technology, priority is given to organizations that are led by or serve underrepresented and marginalized populations.
"Expanding offerings through the OpenStax Ally program will allow us to provide our adopters and their students with a wide array of tools that can truly meet their unique needs," said Daniel Williamson, managing director of OpenStax. "It's essential to provide educators with strong and vast technology options. They know their students and what will work best for them and should have the ability to choose the right technology."
Market Games, Red Flag Mania, Power Notes, Stemify, Live Carta, Sowiso, Hurix, Netex and Method Test Prep are the newest Allies, joining the more than 65 existing organizations that offer tools for classroom engagement, adaptive courseware, content customization, simulations, online homework and more.
"Working with OpenStax takes us closer to reimagining the business textbook," said Casey Nguyen, digital marketing manager at Market Games, a startup offering business simulations for first-year students. "We believe that course materials can be affordable and, as an Ally, we can gamify the learning experience to make quality business education more accessible, realistic and engaging."
In a study conducted by Bay View Analytics, 25% of faculty and administrators said their institutions made considerable use of digital materials before the COVID-19 pandemic. During the pandemic, that rose to 71%. As the demand for educational technology continues to grow, OpenStax will continue supporting the diverse and evolving needs of its users.
Educational technology providers interested in becoming an OpenStax Ally can apply during one of two application periods each year. The next will open at the end of the spring 2022 semester.
All OpenStax Allies, their products and a description of their features can be found in the OpenStax Tech Scout platform.