EXPERT ALERT
Rice U. expert available to discuss President Biden's first joint session address
HOUSTON – (April 28, 2021) – President Joe Biden will make his first address to a joint session of Congress this evening, and Rice University political scientist Paul Brace is available to discuss what to expect.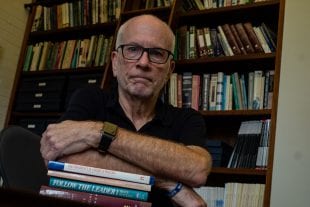 "President Biden's address to Congress tonight follows recent traditions for newly inaugurated presidents," Brace said. "While it is not technically a conventional State of the Union address, it comes at the invitation of Speaker of the House Nancy Pelosi and occurs just two days short of his first 100 days in office."
Brace said the timing is ideal for Biden to highlight his accomplishments relative to the 100-day benchmark and to outline his priorities going forward. He said presidents normally speak about the performance of the nation's economy in such settings, and Biden should be no different.
"He should also highlight his follow-through on promises he made, including the rollout and implementation of a vaccination plan by pushing through Congress his $1.9 trillion coronavirus relief package and administering 200 million vaccinations in his first 100 days," Brace said. "He will likely also highlight his efforts to establish the U.S. as an international leader in climate change. Gun safety and police reform may also be highlighted. He may also acknowledge early tests for his administration, including the surge in migrants at our southern border."
Looking forward, Brace said it is certain Biden will pitch his American Families Plan, which promises public support for child care and education, largely to be paid for by increasing taxes on the wealthiest Americans. He expects the president will also promote his $2.3 trillion infrastructure proposal and his efforts to broaden the infrastructure umbrella beyond roads and bridges to address climate change and racial inequalities while raising corporate taxes.
"Polling reveals President Biden has remained quite popular during his early months in office," Brace said. "With pitched partisan battles baked into upcoming fights for his ambitious American Families Plan and infrastructure proposals, tonight's address may be the pinnacle of his power and influence."
Brace said social distancing and security concerns stemming from the Jan. 6 capitol riot will limit attendance to approximately 200 people, roughly one-eighth the normal audience. Neither the president nor Congress will be allowed to bring guests.
Brace is widely published, mainly on U.S. politics and judicial decision-making. He regularly comments to the media on presidential politics, the judiciary and the U.S. government. For more information on Brace, visit https://profiles.rice.edu/faculty/paul-brace. To schedule an interview, contact him directly at 832-628-5285.
-30-
This news release can be found online at news.rice.edu.
Follow Rice News and Media Relations via Twitter @RiceUNews.
Located on a 300-acre forested campus in Houston, Rice University is consistently ranked among the nation's top 20 universities by U.S. News & World Report. Rice has highly respected schools of Architecture, Business, Continuing Studies, Engineering, Humanities, Music, Natural Sciences and Social Sciences and is home to the Baker Institute for Public Policy. With 3,978 undergraduates and 3,192 graduate students, Rice's undergraduate student-to-faculty ratio is just under 6-to-1. Its residential college system builds close-knit communities and lifelong friendships, just one reason why Rice is ranked No. 1 for lots of race/class interaction and No. 1 for quality of life by the Princeton Review. Rice is also rated as a best value among private universities by Kiplinger's Personal Finance.
If you do not wish to receive news releases from Rice University, reply to this email and write "unsubscribe" in the subject line. Office of News and Media Relations – MS 300, Rice University, 6100 Main St., Houston, TX 77005