Thanks to the blossoming partnership between Rice and transit software company TransLoc, the Rice Transportation Department recently unveiled a new smartphone app with more ways than ever to help the Rice community get across campus and beyond quickly and safely.
The TransLoc app — available through both Apple's App Store and Google Play on Android phones — has replaced the previous Quick Ride shuttle app, said Elizabeth Gbordzoe, Rice's transportation manager. Rice has been working with TransLoc to flesh-out the new app's functionality since March.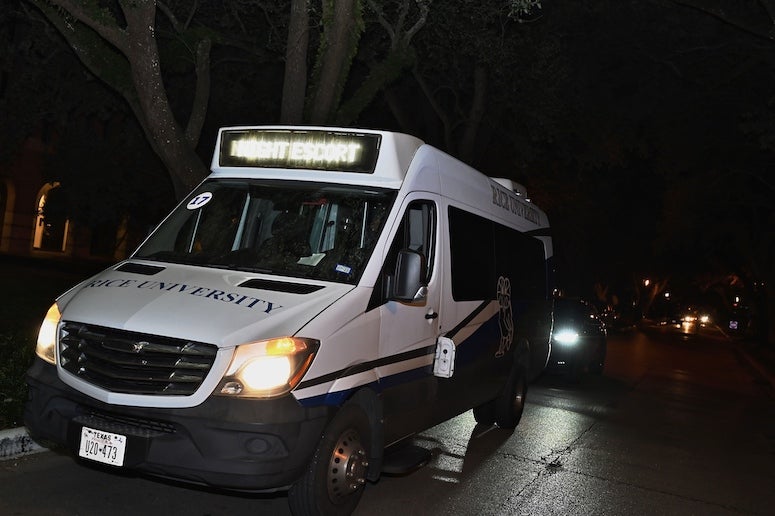 Of all the new improvements over Rice's old transit app, the most notable is the app's use of TransLoc's OnDemand functionality to turn Rice's existing Night Escort Shuttle into a ride share service similar to Uber and Lyft, allowing users to request a ride through the app and watch along on screen as their shuttle makes its way to them.
"OnDemand has helped us enhance the transit experience from start to finish, both from the rider standpoint and for us as providers," Gbordzoe said. "We've been really happy with the system changes so far and look forward to how this migration will benefit transportation on campus in the coming months.
The OnDemand Night Escort Shuttle runs from 10 p.m. to 6 a.m. Sunday through Thursday and 10 p.m. to 3 a.m. Friday and Saturday. During service hours, the shuttle can pick up or drop off Rice community members from anywhere on campus, the Rice Village Apartments, the BioScience Research Collaborative or the Rice Graduate Apartments. For those who don't have smartphones, the Night Escort can still be hailed the old-fashioned way by calling (713) 348-6000.
In addition to tracking all of the regular shuttle routes around campus and areas surrounding Rice, the app also provides detailed information on how full each bus is at any moment, which is useful knowledge for riders as well as the transportation department. That data will make it easier for Gbordzoe to figure out which routes and product offerings are most useful to the Rice community, and it will help inform future innovations her team is cooking up.
Gbordzoe said that if enough students use the new OnDemand Night Escort service, Rice may add additional shuttles or even expand OnDemand rides outside of late-night hours.
"For us to buy new buses, the ridership has to go up," Gbordzoe said. "We have to show that because there are more people using the service, it's cost-effective for us to add another van."
"It's something that we keep improving as the years pass, and so if we can get more of them to use it, there are other services that maybe we can add on if the ridership is really very high," she said.
Gbordzoe said Rice students, faculty and staff can learn more about all of the transportation department's offerings by visiting transportation.rice.edu.