Rice University Theatre will present Eric Overmyer's "On The Verge; or, The Geography of Yearning" for one weekend only, Oct. 8 and 9 at 8 p.m. and an Oct. 10 matinee at 3 p.m. All performances will take place at Hamman Hall.
"On The Verge" is a magical journey of three Victorian female explorers who venture into Terra Incognita, only to find their excursion taking them to unexpected places. Mary, Alex and Fanny travel into new lands as well as new times, with their own new terms and new technology.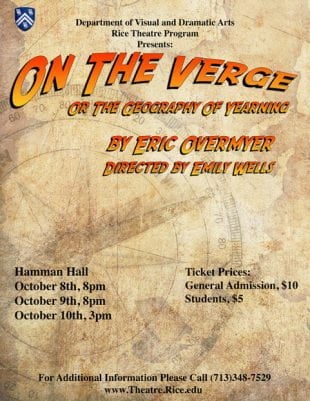 A yeti and a troll are among the characters the intrepid trio meets while encountering mysterious artifacts like egg beaters and dirigibles. The play is a romping meditation on the outer and inner frontiers of the human condition, with lyrical and hilarious dialogue and imagery that's both beautiful and surreal.
The production will be directed by Emily Wells, the senior producing manager at Houston Grand Opera's HGOco. Wells has produced many new opera commissions for HGOco including the web series "Star Cross'd." She previously directed "Picasso at the Lapin Agile" for Rice University. Her other credits include: "The Who and the What" at Gulfshore Playhouse, "Buddy: The Buddy Holly Story" at Theatre on the Square and "Blood Brothers" at the University of Memphis.
Mark Krouskop, lecturer and production manager for the Rice Theatre Program, will be the set designer for "On The Verge." Krouskop designed the outdoor set for Rice's production of "A Midsummer Night's Dream" and the raining elevator for "Eurydice." The costume design is by Heather Breikjern, lecturer and costume shop manager, who recently designed the Victorian world of "The Importance of Being Earnest."
General admission tickets are $10 or $5 for groups of 10 or more. Tickets are $5 for students.
For more information, visit facebook.com/RiceTheatre or theatre.rice.edu or call the box office at 713-348-4005.