Graduate student in horn performance Lauren Anker will represent Rice's Shepherd School of Music as part of American Public Media's "Performance Today" Young Artists in Residence series. Her segments will be posted online March 25.
"Performance Today" is broadcast on hundreds of public radio stations across the country and reaches about 1.4 million listeners each week. The program showcases today's classical music scene with concert highlights, interviews and stories, hosted by Fred Child. The Shepherd School was invited to select a student to participate, and Anker was chosen to represent the school.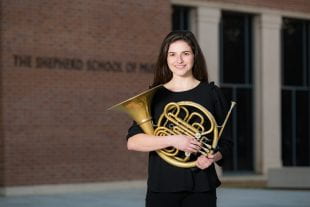 Anker will perform Glière's "Horn Concerto in B flat Major, Op. 91, Movement 1"; Reynolds' "IV"; the "Adagio" movement of Schumann's "Opus 70 for Horn and Piano"; the second movement of Wilder's "Suite for Horn and Piano"; Winter's "Bedrock Cathedral"; and Schumann's "Romances II."
"I am so humbled to have been given the opportunity to represent the Shepherd School of Music and Rice University as a 'Performance Today' Young Artist in Residence," Anker said. "I am especially grateful to the Shepherd community for collaborating and helping this project to become a reality amid the COVID-19 pandemic. I feel so fortunate to be in such a supportive and encouraging environment of teachers, staff, administrators and students who all have made this last year one of exceptional growth despite the odds."
A student of Shepherd School Professor of Horn William VerMeulen, Anker is pursuing a master's degree in horn performance. The Fredericksburg, Virginia, native has performed in venues such as Carnegie Hall, Chicago's Symphony Center, the Brooklyn Museum and the Cleveland Museum of Art. Her festival experience includes four summers at the Aspen Music Festival and School, where she received a John N. Stern Scholarship in 2018 and 2019. She also attended the National Orchestral Institute, the Colorado College Summer Music Festival and the National Symphony Orchestra Summer Music Institute.
Anker is a member of the Kodan Quintet and is a substitute horn with the Houston Symphony. She is a graduate of Oberlin College and Conservatory with a bachelor's degree in horn performance and a bachelor's in history.