HOUSTON – (Dec. 16, 2021) – Rice University has announced a major change to its financial aid package that will make one of the nation's most prestigious higher education institutions more affordable to a broader range of students.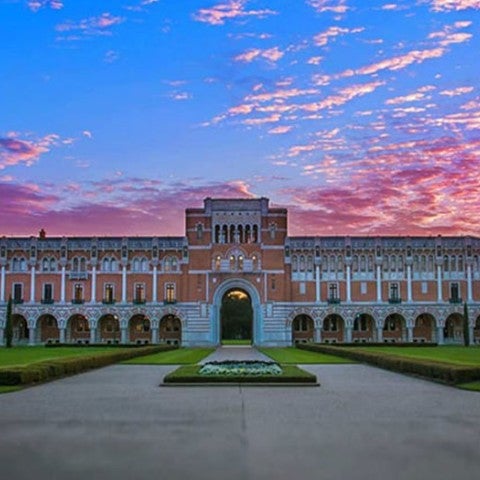 Rice is expanding its commitment to loan-free financial aid, which allows students to receive assistance without taking out student loans. The university has long offered loan-free financial aid to students with family annual incomes under $200,000. Beginning next fall, all students — domestic and international — who qualify for need-based assistance will be able to receive financial aid without taking out student loans.
Rice is also expanding the income brackets that determine how much help students can receive under the Rice Investment, the generous financial aid package that's made the university more affordable to low- and middle-income students. The expansion will most significantly impact students from low-income families: Students with family incomes below $75,000 will receive grant aid covering not only full tuition, but also all mandatory fees and room and board.

Full-tuition scholarships will be awarded to eligible degree-seeking undergraduates with family incomes between $75,000 and $140,000. In addition, students with family incomes between $140,000 and $200,000 will receive scholarships covering at least half of their tuition.
"Access and affordability are limited if you have a program that can't be easily explained," President David Leebron told the Houston Chronicle. "If you think you need assistance … now we will say, 'No, you don't need to borrow money. We will provide financial aid."
All current and incoming students will see these changes reflected in their financial aid awards beginning in the fall semester of 2022.
"The original goal of the Rice Investment is to invest in the promise of students, regardless of their financial background," said Anne Walker, assistant vice president and executive director of university financial aid services. "By offering financial aid packages without loans, we are continuing to invest in our students and their ability to create a bright future free from student debt."
"I am delighted this expansion will continue Rice University's mission to broaden access and diversity across the student body," said Vice President for Enrollment Yvonne Romero da Silva. "We recognize the challenges that many families have faced, and this update serves as a crucial step in enabling talented students from all economic backgrounds to pursue a Rice education."