Renowned scholar, teacher and activist died April 10
BY KENDALL HEBERT AND AMY McCAIG
Chandler Davidson, a longtime professor in Rice University's School of Social Sciences who was one of the nation's leading experts on voting rights, died April 10 at the age of 84.
The influential scholar, activist, award-winning teacher and steadfast supporter of his students spent a lifetime championing issues of racial equality, social justice and voter access.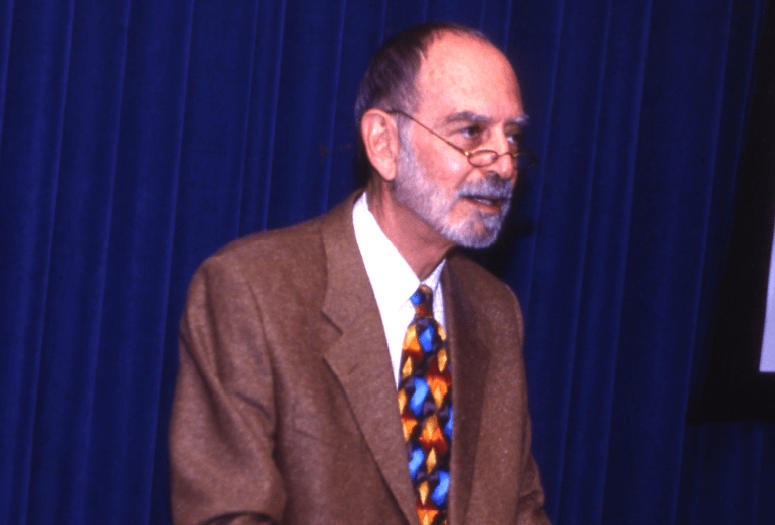 Born May 13, 1936, Davidson served in the U.S. Navy and was honorably discharged in 1961. He received a bachelor's degree from the University of Texas in 1961 and a master's and Ph.D. from Princeton University in 1966 and 1969, respectively.
Davidson spent his entire career at Rice, from 1966 to 2003. The Radoslav A. Tsanoff Professor Emeritus of Public Affairs and Sociology was a founding member of Rice's Department of Sociology. He served as department chair for 14 years and had a joint appointment with the Department of Political Science in the latter part of his career.
"Chandler was instrumental in expanding sociology's faculty and research, leading the way for the establishment of the department's Ph.D. program," said Robert Stein, the Lena Gohlman Fox Professor of Political Science, who served as dean of social sciences while Davidson was sociology chair. "He was an influential colleague and leader, and his own scholarship set the standard for that of his peers."
Davidson focused on subjects that were dear to his heart. He was a passionate teacher and researcher of racial and ethnic politics, minority voting rights and social inequality.
"He was a tireless advocate for representation of marginalized groups at Rice and in the wider community," Stein said.
Davidson won five universitywide teaching prizes throughout his career, including Rice's top award, the George R. Brown Excellence in Teaching Prize. His longtime colleague and close friend William Martin, the Harry and Hazel Chavanne Professor Emeritus of Sociology, said he was an excellent teacher, not only while in the classroom but also long after his students left Rice.
"He continued to stay in touch with many of them for years," he said.
But Davidson was more than a gifted teacher and scholar, said Rachel Kimbro, interim chair and professor of sociology, he was a kind friend and mentor.
"As a brand-new assistant professor, he took me to Cohen House for lunch and must have introduced me at every table," said Kimbro, who earned her bachelor's degree in sociology from Rice in 2001. "He was proud that one of his former students had returned to teach at Rice, but he gave that personal attention to all the new junior faculty, even years after retirement. He frequently visited Sewall Hall to catch up with our faculty and staff — I can still hear his distinctive laugh ringing through the halls."
Kimbro said Davidson was "a role model in many ways."
"The way he doggedly pursued his scholarship and activism around voting rights — something he believed was absolutely fundamental for a just society — for his entire life was inspirational," she said.
Davidson said he pursued academia because he wanted a job that allowed him to write. In addition to many articles in academic journals and popular magazines, he wrote and edited a number of books and won accolades for his scholarship and university service.
In the early 1990s, he and Bernard Grofman, a professor at the University of California, Irvine, directed a major scholarly effort to assess the impact of the Voting Rights Act of 1965 in the South. The project involved nearly 30 political scientists, historians, sociologists and voting rights lawyers and was funded by the National Science Foundation and the Rockefeller Foundation. The resulting book, "Quiet Revolution in the South," won the American Political Science Association's Richard Fenno Prize as the year's best book on legislative behavior.
Davidson's scholarship on voting rights was cited numerous times in U.S. Supreme Court opinions and lower court opinions.
In a 2011 case before the U.S. District Court for the District of Columbia over whether a section of the Voting Rights Act was still valid, the court cited two of his books as well as his 2006 U.S. Senate testimony a total of 27 times. When the case was decided by the Supreme Court in 2012, the volume he edited with Grofman was cited in a dissent by the late Supreme Court Justice Ruth Bader Ginsburg.
In 2014, the Department of Justice called upon him as an expert witness in a lawsuit challenging the Texas law requiring voters to present a photo ID. His report was cited by the federal district court judge who declared the law unconstitutional.
"Chandler and I spent 38 years together in the sociology department, much of the time in offices next to each other, making it easy to visit almost every day," Martin said. "He was one of the best men I have ever known in my life and one of my dearest friends. I loved him."
"He was a person of bone-deep integrity, and his work to expand the franchise and increase racial and social justice, whether at Rice or in our country, was a beacon for all of us," said Elizabeth Long, a professor emeritus of sociology. "His love for the big things — equality, democracy, justice, peace and fairness — was matched by his care for his family, his friends and his beloved cats. May his memory lead us to the better world he spent his life building."
Davidson is survived by his wife, Sharon Plummer; a son, Seth Davidson (wife Yasuko); grandchildren Cassady Davidson (husband Torazo Saito), Hans Davidson (wife Julia) and Woodrow Davidson; great-grandchildren Ringoro, Kohaku and Suzunami Davidson; a brother, Tony Davidson (wife Robin); and two nieces and two nephews. He was preceded in death by his parents; a son, Ian Davidson; and a brother, Phillip Davidson.
A celebration of his life will be held Nov. 1, 2021, on the Rice campus, with further details to follow.