Rice University wins an "A+" grade and ranks as one of the nation's top 10 universities in the latest ratings of American colleges compiled by Niche.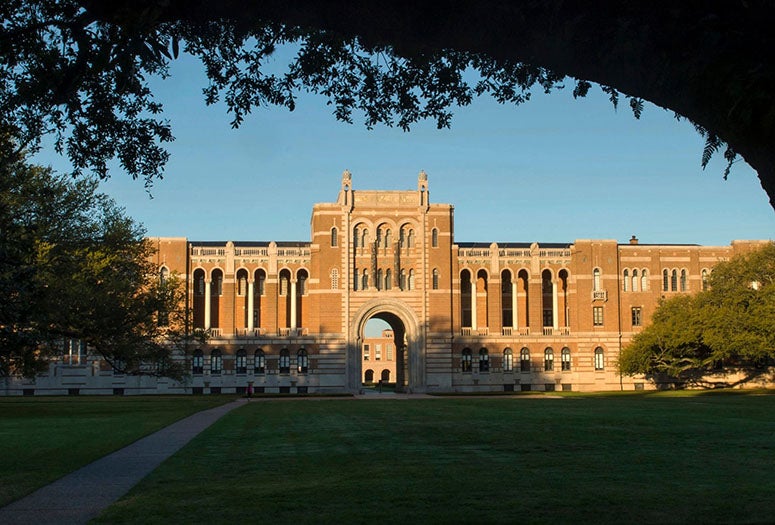 Rice landed at No. 7 in Niche's 2022 ratings of best colleges in the U.S. and topped the list as No. 1 among colleges in Texas. The university also ranked No. 4 on the Niche list of colleges with the nation's best professors and No. 10 on its list of best college campuses.
Rice won the top spot as the nation's No. 1 university for students majoring in architecture as well as sports management and kinesiology and physical therapy. The university also ranked among the nation's top 10 institutions for students majoring in engineering (3), art (4), religious studies (4), psychology (6), environmental science (7), music (7), business (8), history (8), English (9), business (9), physics (9), political science (9), public policy (10) and anthropology and sociology (10).
"We're pleased to be recognized by Niche.com for providing one of the very best college experiences in the country," said President David Leebron. "We're particularly proud to win acclaim in four areas that are central elements of our aspirations: the academic quality and breadth of our programs, the quality of our teaching, the good value of a Rice education and the diversity of our student body. It's especially gratifying that our students singled out the dedication of our professors."
Niche is a website geared toward college applicants that's routinely consulted by students and parents. Its rankings have become a popular barometer of excellence in America's institutions of higher education because they're based largely on input from students, parents and alumni. Niche combines survey results with data from the U.S. Department of Education data to rank colleges and universities in dozens of categories.
"The people here are just unparalleled," said one Rice reviewer quoted by Niche. "Having RA's and magisters who care so much about the students -- and students who are genuinely always looking for each other – really humbled me. The diversity is astounding."
Among universities in Texas, Rice topped Niche's lists for having the state's best value, best academics and best professors. Rice also ranked as the state's top institution for students majoring in architecture, art, engineering, chemistry, computer science, economics, English, environmental science, global studies, history, kinesiology/physical therapy, math, music, philosophy, physics, political science, psychology, public policy, religious studies and sociology and anthropology.