Rice Magazine has been judged a Grand Gold winner in the international Council for Advancement and Support of Education (CASE) Circle of Excellence Awards for the team's work during the unconventional year of 2020.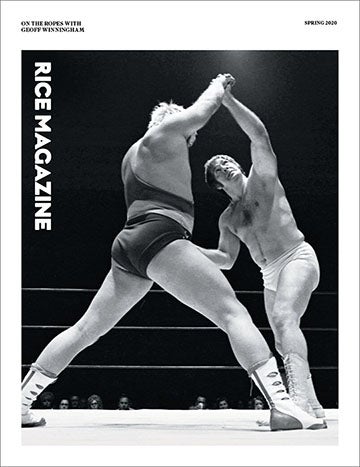 The annual Circle of Excellence Awards recognize outstanding work in advancement services, alumni relations, communications, fundraising and marketing. The competition is judged by peer professionals at schools, colleges and universities as well as professionals outside higher education.
"We love the gutsy, rebel-like design approach of Rice Magazine," read an excerpt from the judges' statement. "Rules — as we know them in higher education magazines — were broken … in a good way! The techno color mix of eclectic design elements and '20 in their '20s' '90s aesthetic has personal resonance. The cover and immediately following editorial is fresh! Finally, qualitative and quantitative reader knowledge of this magazine is impressive."
Rice Magazine won in the category of "Magazines: alumni/general interest 3x a year or more" for the Spring 2020 and Fall 2020 issues. The category includes top schools around the world. Winners of other Circle of Excellence Awards include Harvard University, Dartmouth College and Boston University.
The two submitted issues exemplify Rice Magazine's goals of connecting with the community and experimenting with how to tell stories that exhibit Rice's "unconventional wisdom," according to the team.
"Last year, the goal to 'connect readers with the Rice of today' took on new urgency, as we worked to produce issues that documented Rice's response to the challenges of COVID-19," wrote the Rice Magazine team. "When protests over the death of George Floyd galvanized a renewed movement for racial justice, which touched Rice to its historical core, we documented the conversation and actions taking place."