HOUSTON – (Oct. 29, 2021) – Rice University has launched a comprehensive capital campaign to raise $2 billion by the end of 2025, by far the largest fundraising effort in the university's history.
The campaign will underwrite a wide range of endowments, expansions and enhancements to the academic experience and research enterprise at Rice, including hiring more faculty, implementing new programs and research endeavors, building new facilities and expanding the student body.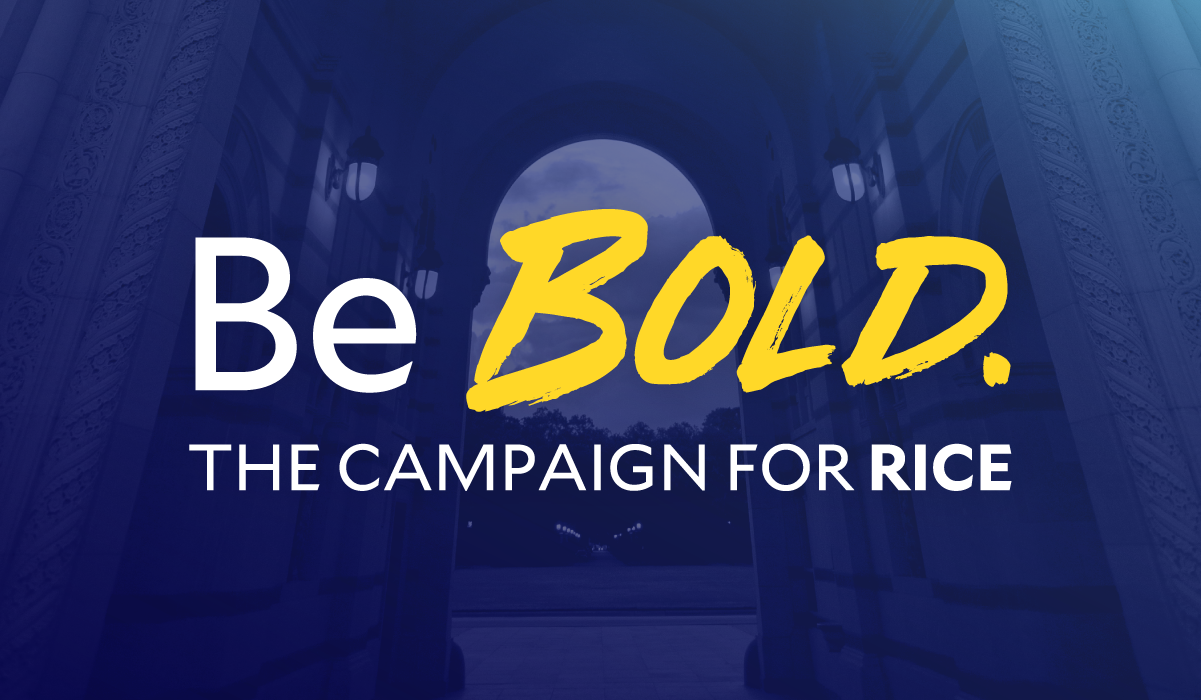 "Rice is now dramatically expanding not only its faculty and its enrollment, but also its ambitions and its impact on the world," President David Leebron said. "We're building this campaign upon our commitment to be transformative, visionary, innovative, creative and equitable. We're setting a bold goal for a bold future of Rice that will provide greater opportunities to address the needs of our world."
"Be Bold: The Campaign for Rice" opens with significant momentum, having already secured $1.2 billion in commitments that include the two largest gifts in the university's history. The Moody Foundation has committed $100 million for the construction of a new student center and an endowment for new student programs. The Robert E. Welch Foundation has committed $100 million to establish the Welch Institute, which is focused on world-leading advanced materials research.
Next year marks the 60th anniversary of President Kennedy's landmark "We choose to go to the moon" speech at Rice Stadium. The campaign's theme is inspired by Kennedy's declaration that for the U.S. to land men on the moon "we must be bold."
"The challenges facing humanity compel us to be bold with our aspirations — to utilize our intellectual strengths, values and creativity to take on seemingly intractable problems and to push the frontiers of knowledge and science," said Robert Ladd, the chairman of Rice University's board of trustees. "This campaign is our opportunity to put our full support behind the talented faculty and students who are taking their own moonshots and moving the world forward."
The earliest commitments to the campaign have already had an impact on the campus, with funds raised going to the Brockman Hall for Opera, the Cannady Hall for Architecture, the Liu Idea Lab for Innovation and Entrepreneurship (Lilie), the Doerr Institute for New Leaders, the Kraft Hall for Social Sciences, the new engineering and science building, Maxfield Hall (the Mechanical Engineering Lab renovated as the new home for the Department of Statistics), the NEST 360 program, OpenStax, 13 professorships and new teaching faculty, Baker Institute fellowships and athletics facilities and support.
Among the key initiatives financed by the campaign will be roughly $150 million in scholarship endowments for the Rice Investment, the generous financial aid program structured to make elite university education more affordable for low-and-middle income families. The university plans to increase the size of its undergraduate student body to 4,800 by the fall of 2025, opening a 12th residential college and growing the population of students living on campus. With expected growth in degree-seeking graduates, Rice's total enrollment is expected to reach about 9,000 by fall 2025.
All the while, Rice plans to maintain its low 6-to-1 student-to-faculty ratio. About $625 million of the capital raised in this campaign will go toward faculty endowments and programmatic investments spread across all eight of the university's schools.
Another $400 million raised in the campaign will be dedicated to technology and building projects, including a new science and engineering building. An additional $100 million will be directed to graduate student support and $75 million will go toward the Rice Annual Fund, which supports a wide variety of student aid and academic services.
A significant component of the campaign is devoted to investing in Houston's future, capitalizing on the university's strengths to fuel innovation, equity and economic growth. With the goal of making Houston a global capital for energy transition, the Carbon Hub will work toward a zero emissions future in which hydrocarbons are split to produce clean hydrogen as an energy source that doesn't contribute to global warming. The Houston Education Research Consortium's partnership between Rice and 11 Houston area-school districts will provide data-driven research to education policy makers. Meanwhile, the Center for African and African American Studies and BRIDGE (Building Research on Inequality and Diversity to Grow Equity) will position Rice and Houston to play a central role in the nation's efforts to overcome racial inequality.
"Rice's longstanding commitment to excellence and academic opportunity has laid the groundwork for a series of bold strategic investments," Leebron said. "With this capital campaign, we intend to make those investments a reality for generations of students destined to become a part of Rice's future."
-30-
Located on a 300-acre forested campus in Houston, Rice University is consistently ranked among the nation's top 20 universities by U.S. News & World Report. Rice has highly respected schools of Architecture, Business, Continuing Studies, Engineering, Humanities, Music, Natural Sciences and Social Sciences and is home to the Baker Institute for Public Policy. With 4,052 undergraduates and 3,484 graduate students, Rice's undergraduate student-to-faculty ratio is just under 6-to-1. Its residential college system builds close-knit communities and lifelong friendships, just one reason why Rice is ranked No. 1 for lots of race/class interaction and No. 1 for quality of life by the Princeton Review. Rice is also rated as a best value among private universities by Kiplinger's Personal Finance.