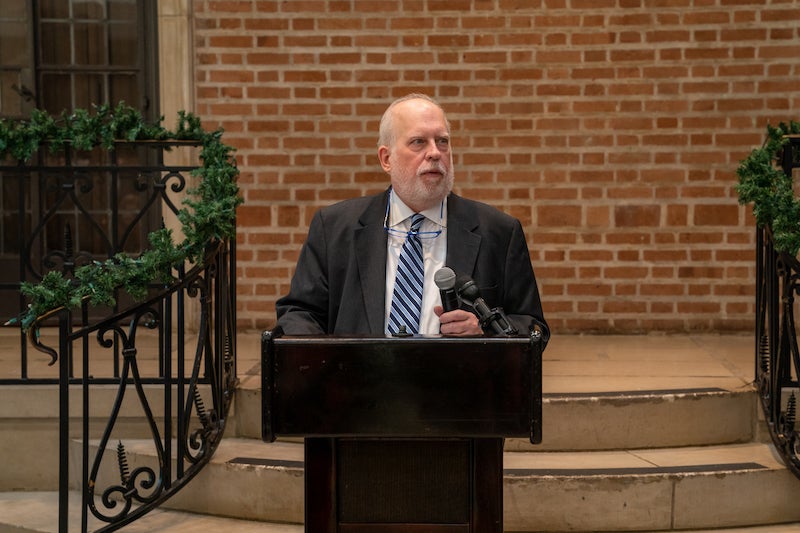 Rice's outgoing Vice President and General Counsel Richard Zansitis joined a gathering of friends and colleagues Dec. 16 for a lively celebration honoring his nearly 21 years of service to the university.
Dec. 17 was Zansitis' last day leading the general counsel's office of four other attorneys and five staff members. He will serve as an adviser to President David Leebron during the 2022 spring semester and will assist with Rice's presidential transition through next June.
Leebron served as master of ceremonies for the event at the Rice Faculty Club, joined by past and present Rice trustees and other members of the university community, many of whom took the microphone to honor Zansitis. Former Board Chairman James Crownover, Dean of Undergraduates Bridget Gorman and past Faculty Senate Speaker Carl Caldwell of the Department of History each spoke warmly of their work with Zansitis. All of them described him as a sharp legal mind and a compassionate listener whose door was always open to help navigate all types of predicaments.
Leebron spoke glowingly of both the bond the two fellow lawyers forged over the years and Zansitis' steadfast commitment to the university during more than two decades as Rice's lawyer-in-chief.
"You know, you're the only person in the administration who is still in the position you were in when I arrived," Leebron said. "I hope that this is just one testament to the value that I personally placed in your service and our relationship. And I hope what you take away collectively today is the enormous gratitude and respect that you command across the entire university."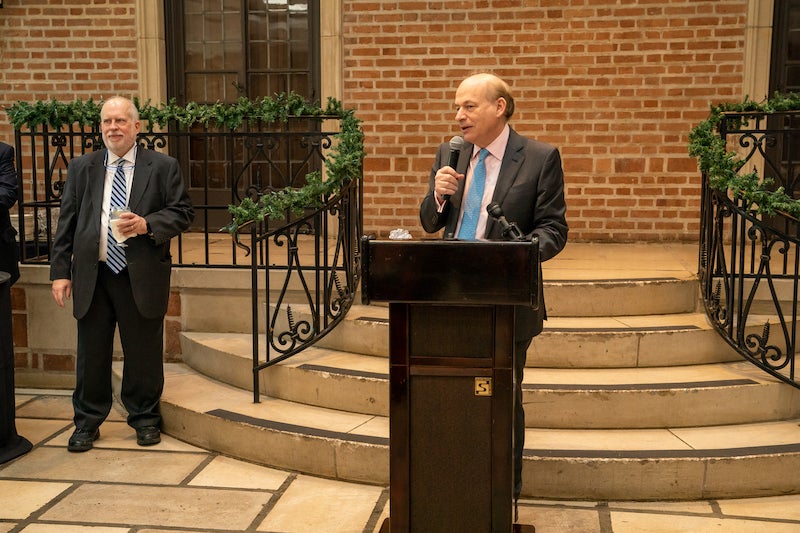 Zansitis expressed his gratitude to former president Malcom Gillis for hiring him to lead Rice's legal team. "And for David," he said, "for retaining me when he arrived in 2004."
"As David (has) so sagely noted, a lawyer who represents himself has a fool for a client, but he has always respected the difference between being the client and the lawyer," Zansitis said.
"Plus, he's not admitted to practice in Texas," he quipped.
A graduate of Columbia Law School, Zansitis joined Rice from Bucknell University. Earlier in his career, he served as associate general counsel at the University of Chicago, and practiced labor and employment law at firms in Chicago and New York.
Zansitis played a large role in several major initiatives throughout his Rice career. He was instrumental in the formation of the Rice Management Co., providing added oversight for the school's endowment and debt obligations. Zansitis was also a key player in bringing to life both the Ion and the Welch Institute, served as part of the senior planning team that led to the BioScience Research Collaborative, and helped guide Rice's nimble response to the coronavirus pandemic as a member of the university's Crisis Management Advisory Committee.
Rice is also indebted to Zansitis for his work on the myriad legal issues surrounding the school's digital education initiatives. Scholars across the world benefited from his work with OpenStax, the pioneering Rice nonprofit that's saved students over $1.2 billion in less than a decade by providing high-quality, free college textbooks through its open-source digital platform.
Zansitis heaped praise on all of the trustees and faculty members he worked with at Rice, touting their "intelligence, thoughtfulness, commitment and collegiality" throughout his tenure. He thanked his wife, Suzanne Mitchell, as well as his colleagues in the general counsel's office.
"I retire knowing that with a staff like you, the legal work of the university is in excellent hands," he said. "You are a legal office second to none.
"I look back with some sadness leaving a place as special as Rice," Zansitis said, "but also pleasure in the work done and the friendships made."
He rounded out his remarks by quoting a Shakespearean sonnet.
"Love that well which thou must leave ere long," Zansitis said, a touching sentiment made even more poignant by the lump in the loquacious lawyer's throat.