Rice's top lawyer has announced his retirement as general counsel.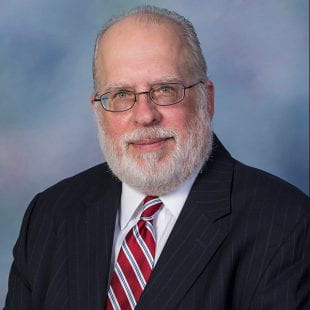 Vice President and General Counsel Richard A. Zansitis plans to retire from his position at the end of this calendar year, capping a 20-year career at Rice. He will continue to serve as an adviser to the president and assist with the transition to his successor during the spring semester of 2022.
"Working with the board, administration, faculty, staff and students at Rice has been an extraordinary experience and the pinnacle of my career," Zansitis said. "After two decades, this magnificent campus feels like home. But I've decided to retire while I still have the energy and drive to do some other things in life."
The university will launch a national search for a successor for Zansitis, who has served as chief legal officer for Rice and its board of trustees since 2001. In addition to supervising Rice's Office of the General Counsel, he selects and oversees all outside counsel retained by the university.
"Richard has been an outstanding general counsel and crucial member of the leadership team for Rice," said Rice President David Leebron. "His legal advice has helped guide our university through an era of dramatic expansion and unprecedented challenges and successes. He has been an incredibly important and valued adviser to me. We are exceedingly grateful for over 20 years of wisdom and expertise."
Zansitis manages an office of nine people, including four other attorneys. The general counsel's office has undergone a series of enhancements during his tenure, including the addition of attorneys with expertise in business processes and intellectual property.
Zansitis has been a key player in a number of major initiatives during his career at Rice, including the creation of the Welch Institute and the Ion, the centerpiece of the innovation district now under development in Houston's Midtown area. He also helped form the Rice Management Co. to provide better oversight for the university's $6.2 billion endowment and $1.1 billion in debt. He was a member of the senior planning team for the creation and construction of the BioScience Research Collaborative. And for the last year, he has served on the university's Crisis Management Advisory Committee, which has guided Rice's response to the COVID-19 pandemic.
He also worked on legal issues related to Rice's extensive digital education initiatives, including the university's massive offering of open courses online and OpenStax, which has saved students more than $1.2 billion in less than a decade by making college textbooks available for free.
Zansitis, a graduate of the Columbia University School of Law, joined Rice from Bucknell University in Lewisburg, Pennsylvania. Before that, he was associate general counsel at the University of Chicago and an attorney at firms in New York City and Chicago, specializing in labor and employment litigation for management. He has also been a lecturer in law at the University of Chicago Law School and Northwestern University School of Law. He is a member of the National Association of College and University Attorneys and the American Bar Association's Sections of Litigation, Administrative Law and Practice and Labor and Employment Law.
Zansitis said he looks forward to helping the university work through a smooth transition.
"Serving as legal counsel for the brilliant and talented people at Rice University has been just amazing," Zansitis said. "I will always be grateful for the opportunity."