HOUSTON -- (Nov. 8, 2021) – The 13th annual Rice Energy Finance Summit (REFS) will be held in a dual-delivery format Nov. 12. The conference will explore current issues for energy operators, investors and financial services as they plan for overcoming challenges in meeting global energy demands. REFS is an annual student-led conference promoting forward-looking discussions on the most important energy finance, investment and strategy issues affecting the global energy industry.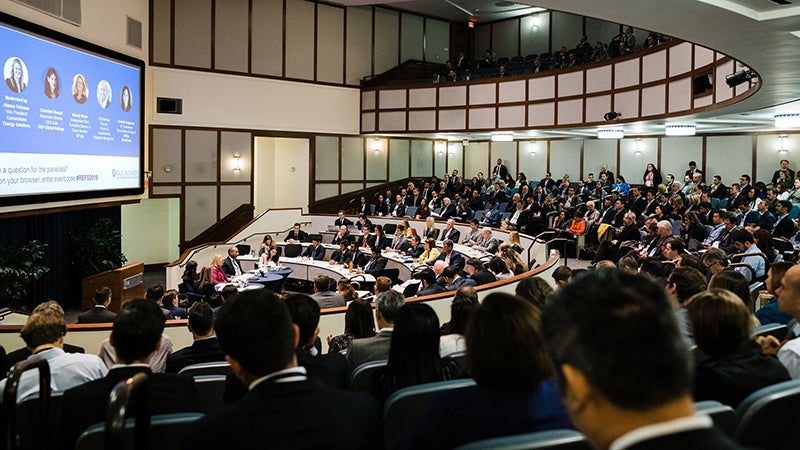 The annual summit serves as a platform for senior executives, investors, advisers and policymakers to share their perspectives with over 400 fellow energy industry professionals and Rice University students, alumni, faculty and staff.
What: Rice Energy Finance Summit: "A Transformative Era for Energy."
When: Friday, Nov. 12, 8 a.m.-4:30 p.m.
Who:
Keynote speakers include Bobby Tudor, partner at Perella Weinberg Partners and chairman of Tudor, Pickering, Holt and Co., and Deborah Byers, EY Americas industry leader at Ernst and Young LLP.
Where: Shell Auditorium at Janice and Robert McNair Hall, 1900 Rice Blvd., Houston. Parking is available in the Central Campus Garage and North Annex Lot.
Registration: Registration is required at https://business.rice.edu/rice-energy-finance-summit/registration. In-person tickets are $150 and include parking, lunch, cocktail reception and a Zoom link to the virtual presentation. Zoom-only tickets are $30.
Large group registration: To register large groups (10 or more attendees), please email refs@rice.edu. Special rates may apply. Discounts are available for in-person Rice Business alumni and students from other schools. Email refs@rice.edu to be sent a registration code. Current Rice Business students can register at a discounted rate via Campus Groups.
Members of the news media who want to attend (at no cost) should RSVP to Avery Franklin, media relations specialist at Rice, at averyrf@rice.edu or 713-348-6327.