October marks the 25th anniversary of Rice Emergency Medical Services (REMS), the university's student-led team of emergency medical technicians that's blossomed into a life-saving point of pride for Rice since its inception in 1996.
Today, Rice offers two levels of EMT training courses for medically minded students and would-be REMS team members. The group's student EMTs regularly respond to emergencies on campus, routinely assist with emergency medical calls across Harris County and have become a constant, comforting presence focused on putting Rice's culture of care into action.
To Dr. Cameron Decker '07 — current REMS chief medical director and medical director of the Harris County Emergency Corps — the fundamental difference between REMS and other campus organizations are the high-stakes decisions students are tasked with making, a level of responsibility that helps REMS members "grow up pretty darn quickly."
"The day-to-day is certainly going to be responding to emergencies that are not as time sensitive and critical in nature," he said. "But there certainly are those emergencies in which lives are truly at stake, and our students, our membership, is taking care of our own community in their time of need."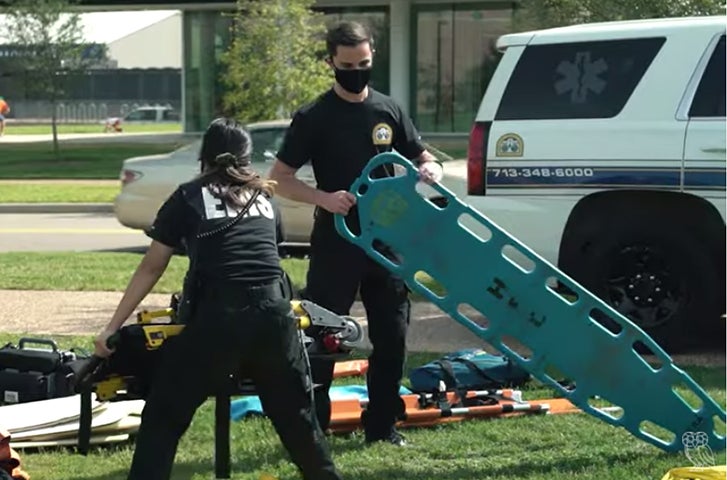 As the student-led organization celebrates 25 years in action, it's now hard to imagine a time before Rice could count on its dependable emergency medical corps staffed by a cadre of selfless students. But co-founder Dr. Mark Escott '96 said getting the organization off the ground was an uphill battle. 
"(I) got a lot of 'nos,' a whole lot of 'nos' from lots of different people, primarily due to concerns about the need and the risk involved," said Escott, now the chief medical officer for the city of Austin. "The perception is and was at the time that Rice was located across the street from the largest medical center in the world — why would we need to have first response, because ambulances are coming from across the street?"
But Escott and his twin brother, Mike Escott '98, knew firsthand from their time working as student paramedics on ambulances in north Harris County that proximity to the Texas Medical Center didn't always translate into quick response times.
"Being an insider into EMS systems, I knew that was not the case," Mark Escott said. "They were coming from stations all around town, and anecdotally, it was taking a long time for ambulances to get here, which means a large gap between when the person needs help."
Undeterred, the Escotts and a group of fellow students kept at it, and were eventually able to secure the funding to get Rice EMS up and running by October 1996.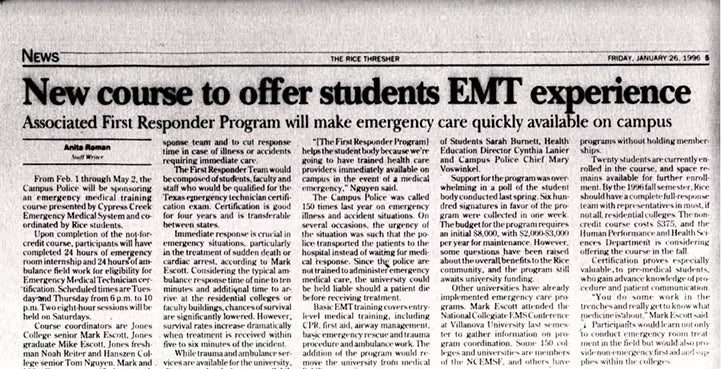 The timing couldn't have been better. "I think the first week that we were in service, we had somebody collapse at the Cohen House, and one of our EMTs was serving as a waitress there and started CPR immediately (and) saved the person," Mark Escott said.
"That happened to be in front of a Houston City Council member, so there's a huge proclamation and everything, and it brought a lot of positive attention to the program," he said. "A month later, we had an individual collapse at one of the galas the president was hosting, which had an EMS response and a successful outcome. So two successes shortly after the program began really helped to solidify the program for the future."
Alumna Abigail Tucker '19 counts her experience as a REMS technician among the most transformative experiences of her Rice career.
"It opened up so many different doors," said Tucker, a prospective medical student. "It changed me as a person, made me more confident. It made me a better communicator, a better listener, better (at) working with others, these skills that I'll have for the rest of my life I hope.
"It just opened my eyes to medicine — what I hope to be doing with the rest of my life — and it opened my eyes to, kind of big-picture, how to serve the community," she said.
Alumnus Zack Timmons '15 knows his time as a REMS EMT set him up well for his current career as an emergency medicine resident physician at the University of Texas Health Science Center at Houston.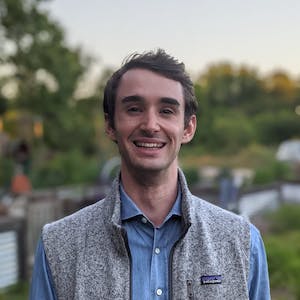 "I had such a good experience with the Rice EMT basic course and ultimately the EMT advanced course at Rice, just getting to apply some of the science I was learning in the classroom to problems that real people were facing on campus," Timmons said. "But at the end of the day, the thing that brings people into Rice EMS is really the service aspect, and I think that's something that's really stuck with me since then and throughout my whole career."
What Timmons learned during his time with REMS didn't just extend to his role as an emergency medical physician. He was quick to point out how the leadership and communications skills he gained as a student EMT benefited him during his nearly two-year stint as a business analyst at Deloitte. His work in emergency medicine also raised his awareness about how a lack of healthy eating options affected so many of the patients he cared for as a Rice EMT and later on as a medical student.
Those lessons Timmons learned at Rice and while attending the Dell Medical School at the University of Texas at Austin led him to co-found Good Apple, an Austin-based produce delivery company that uses its profits to deliver boxes fresh food to families facing food insecurity in Central Texas.
Decker figures that's what REMS is all about. "The broad impact is in a foundation of leadership and creating leaders," he said. "I think that Rice University EMS does a fantastic job of rapidly bringing its leadership into adulthood."
Looking back on the past quarter-century of REMS, Mark Escott agreed that watching its members grow into confident care providers and service-minded leaders has been very rewarding.
"I'm incredibly proud of the service that has been provided for the past 25 years," he said, "because it's taken dozens and dozens and dozens of people, students with other things to do, other focuses. They're not all pre-meds; they have a lot of different interests, but they have that common interest in serving the community.
"I think one of the things which has been most surprising to me is the leadership lessons that people have taken away from the program that they've used in their careers, be it medicine or something else," he said. "And I think that's something that Rice does very well: It allows students the opportunity to lead."