Rice's second annual Juneteenth celebration will bring together professors across the university — from Computational and Applied Mathematics to Modern and Classical Literature and Cultures — for three panels exploring ideas and questions central to the meaning and promise of the important holiday.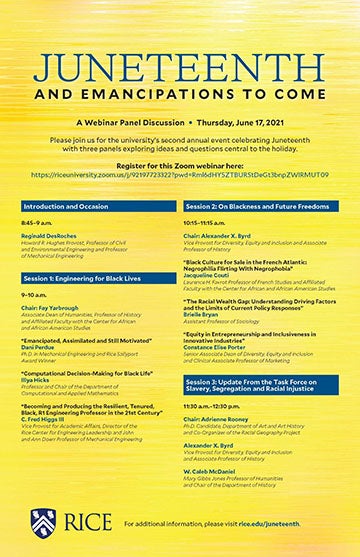 "Juneteenth and Emancipations to Come" will take place June 17 via Zoom, with an introduction at 8:45 a.m. from Reginald DesRoches, the Howard R. Hughes Provost and professor of civil and environmental engineering and of mechanical engineering. The event will close at 11:30 a.m. with an update from Rice's Task Force on Slavery, Segregation and Racial Injustice.
"Juneteenth is a time to reflect on our past and explore how we want to move forward in the future," DesRoches said. "I believe the university has organized a lecture series that will provide that opportunity to anyone who wants to participate."
Two additional hourlong sessions will feature presentations from faculty and one recent alum: Dani Perdue '21. The newly minted mechanical engineering Ph.D. will kick off the first session, "Engineering for Black Lives," with her talk: "Emancipated, Assimilated and Still Motivated."
Rice's most recent Sallyport Award winner and a National GEM Consortium Fellow, Perdue once personally recruited six Black students to Rice during a National Society of Black Engineers national convention. During her time as a graduate student, Perdue founded the Mechanical Engineering Graduate Student Association (GSA) and served as the president of the Black GSA as well as the Graduate Student Association's first vice president of equity and inclusion.
The 9 a.m. "Engineering for Black Lives" panel will also feature Illya Hicks, professor and chair of the Department of Computational and Applied Mathematics (CAM), who will discuss "Computational Decision Making for Black Life." C. Fred Higgs III, vice provost for academic affairs, director of the Rice Center for Engineering Leadership and the John and Ann Doerr Professor of Mechanical Engineering, will talk about "Becoming and Producing the Resilient, Tenured, Black R1 Engineering Professor in the 21st Century."
Fay Yarbrough, associate dean of humanities, professor of history and founding faculty for Rice's Center for African and African American Studies (CAAAS) will chair the 9 a.m. "Engineering for Black Lives" session.
The 11:15 a.m. panel "On Blackness and Future Freedoms" begins with a talk from Jacqueline Couti, the Laurence H. Favrot Professor of French Studies and founding faculty for Rice's Center for African and African American Studies, on "Black Culture for Sale in the French Atlantic: Negrophilia Flirting with Negrophobia."
Assistant professor of sociology Brielle Bryan will speak to "The Racial Wealth Gap: Understanding Driving Factors and the Limits of Current Policy," and Constance Elise Porter, senior associate dean of diversity, equity and inclusion and clinical assistant professor of marketing in the Jones Graduate School of Business, will discuss "Equity in Entrepreneurship and Inclusiveness in Innovative Industries."
Alexander Byrd, vice provost for diversity, equity and inclusion and associate professor of history, will chair the 11:15 a.m. session "On Blackness and Future Freedoms."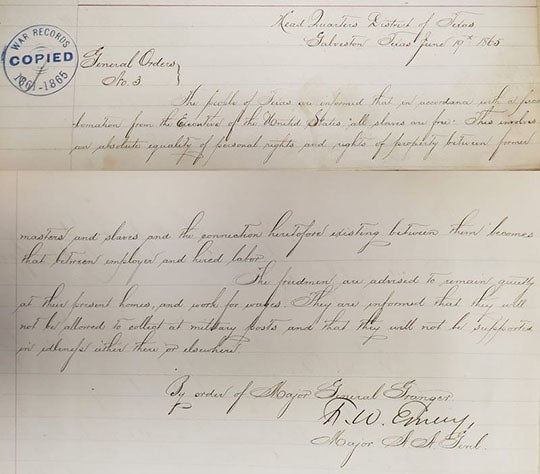 Along with Caleb McDaniel, the Mary Gibbs Jones Professor of Humanities and chair of the Department of History, Byrd will also close the event with an update from the task force, which has posted much of its ongoing work online in the form of webinars and podcast episodes.
Graduate student Adrienne Rooney, a Ph.D. candidate in the Department of Art History and a co-organizer of Rice's Racial Geography Project, will chair the final panel.
Now celebrated nationwide, Juneteenth is of particular prominence for Texans. The holiday originated in Galveston and marks the anniversary of General Order No. 3 issued on June 19, 1865, which proclaimed the end of slavery in Texas and the official emancipation of its enslaved people. The original version was unearthed in the United States National Archives just last year.
Juneteenth is also directly responsible for the creation of the first public park in Texas: Houston's Emancipation Park, which was established in 1872 for the sole purpose of hosting Juneteenth celebrations. After Emancipation Park was donated to the city in 1914, it remained an important public space for the Black community — and a new recreation center, public pool and bathhouse were designed for the park by none other than William Ward Watkin, founder of Rice's architecture school. This year, the park will host its 149th annual Juneteenth celebration.
The lectures from Rice's inaugural celebration of the holiday, "Reflections on Juneteenth and America's Racial Legacy," were archived by Fondren Library and are now available to view online.
"Juneteenth and Emancipations to Come," June 17, 8:45 a.m.-12:30 p.m., online. Free. Registration required.