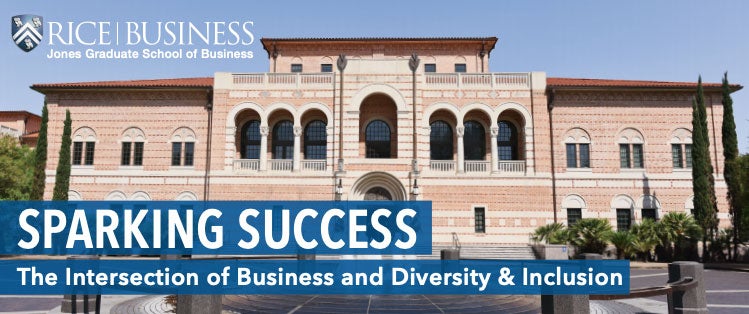 HOUSTON – (Oct. 25, 2021) – Rice University's Jones Graduate School of Business will host the sixth annual Diversity, Equity and Inclusion (DEI) Conference Oct. 29. The event is designed to provide a forum for awareness, dialogue and skill-building around DEI issues as they relate to the business world.
The Jones School endeavors to create a rich learning environment that considers and appreciates a multitude of perspectives, which leads to better decision-making. The virtual event will include speakers and panels discussing topics such as "Inclusivity and Belonging," "The Action of Allyship" and "DEI Conversations in the Workplace."
What: Rice Business' Diversity, Equity and Inclusion Conference, "Sparking Success: The Intersection of Business and Diversity, Equity and Inclusion."
Who: Speakers include Stefanie Johnson '02 and '04, associate professor of management at the University of Colorado Boulder's Leeds School of Business; Peter Rodriguez, dean and professor of strategic management at Rice's Jones School of Business; Sofia Pertuz, founder and lead strategist at Mainstream Insight LLC; Natacha Buchanan, director of inclusion and diversity at Phillips 66; Mark Crawford, senior vice president of DEI at BP; and Robert Gaudette '01, senior vice president at NRG Business.
When: Friday, Oct. 29, 9 a.m.-4 p.m. CDT
Where: Online; the conference is open to the public and registration is $50.
For the full conference schedule, visit https://business.rice.edu/rice-business-diversity-and-inclusion-conference#agenda.