HOUSTON – (Aug. 10, 2021) – The Rice Alliance Energy Venture Day at this year's Offshore Technology Conference (OTC) features 14 promising energy companies — which combined have raised more than $108 million — presenting their business pitches to key industry investors and leaders.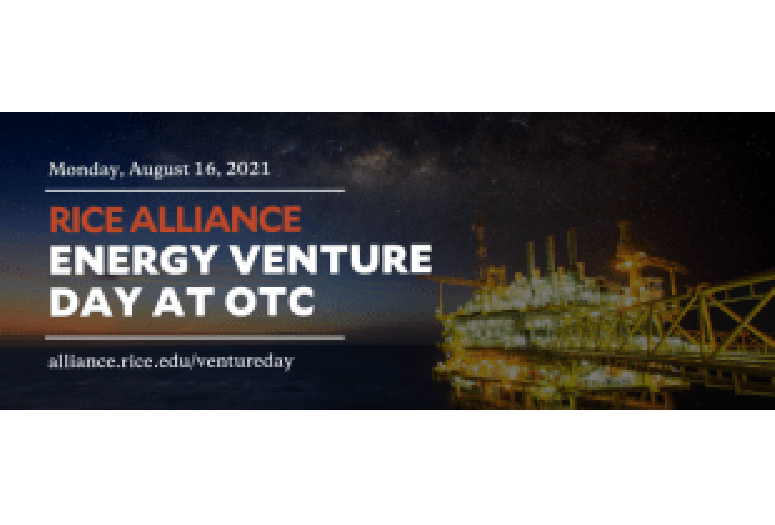 The Aug. 16 virtual event is hosted by the Rice Alliance for Technology and Entrepreneurship, which has conducted more than 250 startup events over the last 20 years, with participating energy companies going on to raise over $6.6 billion in funding.
What: The Rice Alliance Energy Venture Day at OTC (Virtual)
When: 1-3 p.m. CDT Monday Aug. 16.
Where: The webinar is open to the public, but registration is required at https://riceuniversity.zoom.us/webinar/register/WN_yJPkRgy9T7Wa3Ae0AmJn3w.
Areas of focus include data analytics and software, water treatment, advanced materials, carbon capture and more. The 14 presenting companies are Alabastron Technologies, American Hydrogen, AnCatt, Angara Industries, Applied Bioplastics, Connectus Services, DataSeer, EVUS, IDARE, Integrity Technology Solutions, Lelantos, Matidor.com, qualiTEAS and Roboze.
Following each pitch, industry experts and investors will ask questions, representing Evok Innovations, DCP Midstream, Amberjack Capital Partners, Eunike Ventures, CSL Ventures, EV Private Equity, ConocoPhillips and Phillips 66.
All presenting companies will be invited back for in-person office hours during the 19th Annual Rice Alliance Energy Tech Venture Forum. Office hours are introductory, one-on-one meetings with venture capitalists, corporate investors and angel investors.
To schedule an interview with the organizers, or for more information, contact Avery Franklin, media relations specialist at Rice, at averyrf@rice.edu or 713-348-6327.
-30-
Related materials:
Follow Rice News and Media Relations via Twitter @RiceUNews.
This news release can be found online at news.rice.edu.