The 12 startups in the inaugural class of the Rice Alliance Clean Energy Accelerator have been selected, and they will begin work this summer.
The accelerator program, which will include clean energy startups from across North America, will be delivered virtually beginning June 28. It will conclude on Sept. 16 with a demo day at the 19th annual Rice Alliance Energy Tech Venture Forum.
The Rice Alliance Clean Energy Accelerator was created to help early-stage startups advancing solutions for a cleaner, more efficient and sustainable future. Through a robust curriculum, custom mentor relationships and targeted corporate and investor introductions, the 12-week program will prepare startups to quickly accelerate their businesses, launch pilots and raise funding.
The first application season for the accelerator drew interest from a wide array of startups at various stages of development, a testament to Houston's role in energy transition. The program received applications from 14 states and eight countries, with 44% coming from Texas.
"We were impressed with the quality, potential and range of clean energy solutions being commercialized by our applicant pool and took great care in assessing their potential as well as our ability to meet their identified needs," said Kerri Smith, the Rice Alliance Clean Energy Accelerator's interim executive director. "The selection process was very competitive. We had a difficult time paring down the applications but are looking forward to working with our first class of 12."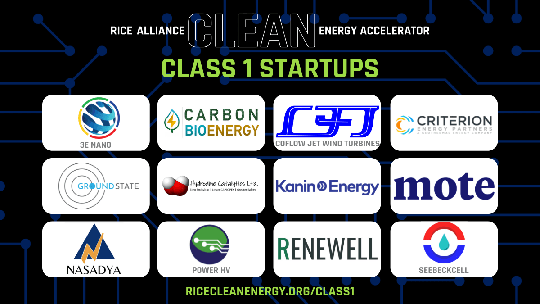 A screening committee made up of entrepreneurs, energy experts and industry executives evaluated the applications based on innovation, market, strategy, viability, capability and the collective experience of the founders.
"With a decade of experience leading the OwlSpark accelerator, we know that in addition to recruiting startups with technological promise, it's critical we also create a cohesive and collaborative culture," Smith said. "We ensured we could provide the founders with a quality experience and deliver on individual startup needs."
The 12 startups participating in the Rice Alliance Clean Energy Accelerator are:
3E Nano
3E Nano is a Toronto-based nanotechnology company that has developed an Earth-friendly, high-performance solar energy control coating for polymeric substrates.
Carbon BioEnergy
With a mission is to transform carbon dioxide, waste biomass and renewable electricity into zero-carbon biofuels and chemicals, Carbon BioEnergy's biofuels will replace petroleum fuels in hard-to-decarbonize sectors, such as aviation and marine transport.
CoFlow Jet Wind Turbines
CoFlow Jet Wind Turbines is developing transformative ultrahigh-efficiency, low-energy-cost wind turbines to expand wind energy usage and reduce greenhouse gas emission.
Criterion Energy Partners
Criterion Energy Partners is an independent exploration and production company focused on developing decentralized direct geothermal energy projects, using heat from Earth to provide clean, reliable, baseload energy to commercial and industrial consumers.
Ground State Technologies
Ground State Technologies is developing an edge optimization processor chip to enable energy companies to deploy more intelligent systems.
Hydrodine Catalytics
Hydrodine Catalytics has developed a zero-emissions clean technology that eliminates the need for fuel gas, enables gas producers to capture offset carbon credits, lowers capital and operating expenses, provides power at remote natural gas well sites and improves operator safety.
Kanin Energy
Kanin Energy is a turnkey developer and innovative investor of waste heat to power projects, helping heavy industry monetize waste heat and decarbonize operations.
Mote
Mote is developing carbon-negative biomass gasification factories to supply customers with the most valuable hydrogen.
NASADYA
NASADYA solves the growing problem of variability management in the energy grid for power plants by converting a money-losing byproduct — excess energy — into money-making coproducts, green hydrogen and oxygen.
Power HV
Power HV's monitoring sensors and bushings help oil processing plants like refineries and transportation companies improve safety from methane and fire while reducing transmission and distribution losses on the electricity grid by 1% by improving transformer energy efficiency by 30%.
Renewell Energy
Renewell Energy converts idle oil and gas wells into the lowest cost, most flexible, highest greenhouse gas-abating energy storage devices in the world.
SeebeckCell Technologies
SeebeckCell Technologies helps petroleum and gas industries and emerging markets such as crypto mining, data centers & battery electric vehicles solve energy wastage by integrating its modules into thermal management systems, and enables a four-times-higher (power-per-weight) ratio, greener production and scalable solutions to address climate change.
The Rice Alliance Clean Energy Accelerator is made possible through the Wells Fargo—the founding sponsor—and the founding supporters: BP, Baker Botts, Chevron, ExxonMobil, Halliburton Labs, Equinor, Microsoft, NRG, Saudi Aramco Energy Ventures, Shell Ventures, Sunnova, TotalEnergies and Tudor Pickering Holt, as well as sponsor: Canadian Consulate.
All of the founding supporters will participate in the accelerator and demo day, and several of the corporate venture funds, including BP Ventures, Shell Ventures and Saudi Aramco Energy Ventures, have committed to select startups for investment meetings and due diligence, while Chevron Technology Ventures has committed to provide funding to at least one of the startups.
Learn more about the Rice Alliance Clean Energy Accelerator at ricecleanenergy.org and follow the Rice Alliance on Twitter and LinkedIn to stay connected with the startups' progress over the summer.