Over 80% of the world's population is religious, and for a decade, Rice University's Religion and Public Life Program (RPLP) has been dedicated to promoting better understanding of religion's impact on the world.
Since its founding in 2011, RPLP has conducted cutting-edge research on the ways religion influences political, legal and scientific institutions as well as social identities like race, gender and class. All the while, it trained both students and scholars in research methodology.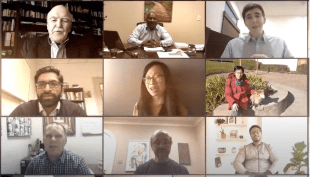 RPLP also places great importance on public outreach, with researchers delivering their findings directly to religious and community leaders via public events and other engagement.
This multifaceted approach has been a goal of the program since the beginning, back when RPLP consisted of only director Elaine Howard Ecklund, an assistant professor of sociology at the time, and two undergraduate students. Their vision was clear: to use their research to build common ground for the common good.
"Religion has a consequential impact on all societal institutions, both for good and for bad," said Ecklund, who is now the Herbert S. Autrey Chair in Social Sciences and a professor of sociology. "It's important to look at how religion shapes things like politics and education from a scientific perspective, outside of our own stereotypes and experiences."
Former RPLP undergraduate fellow and current Duke University divinity student Michael McDowell said his time with RPLP taught him that "research on religion never ends with religion."
"It always ends with some other field that religion affects," he said.
More than 90 researchers who have worked with RPLP since its creation have secured more than $10 million in grant funding to examine the intersection of religion and science, discrimination, work, civic engagement, politics, racism, public health issues and more.
"What fascinates me about the Religion and Public Life Program is this academic research," said Elias Bongmba, professor and chair of Rice's Department of Religion, who has served as both an event speaker for the RPLP and as an advisory board member. "The research is not only published in top-tier journals and well-respected academic presses, but it is also reported to the public, in many events that take place here on campus."
RPLP has hosted more than 100 public events since its founding, including overseas meetings in the U.K., Hong Kong and India. Amid the COVID-19 pandemic, these events have shifted to a virtual format.
That includes the RPLP's Religious and Civic Leader Gatherings, which prior to the pandemic were discussions over dinner at Ecklund's home. The monthly meetings bring together 30 to 40 of Houston's religious, academic and political leaders to talk research.
"There are people who attend these gatherings — people who are working on aligned efforts for the benefit of our city — who would likely never meet under any other circumstance," said Hayley Hemstreet, RPLP's program manager.
RPLP researchers have also authored 13 books and more than 100 research articles with fellow team members and other collaborators. And last year, the program launched "Religion Unmuted," a podcast that seeks to elevate women's voices in conversation about religion and public life.
The program has trained undergraduates who now study at such universities as Harvard, UCLA and Johns Hopkins. Graduate students and postdocs who have worked with RPLP have secured faculty positions at Santa Clara University, the University of Memphis, the University of Alabama, the Catholic University of America, Baruch College, the University of Amsterdam, Virginia Union University and the University of Nevada, Reno.
"While at RPLP, I learned how to conduct research and many methods of data management, and now I'm passing it forward to my own graduate students," said Esther Chan, a former RPLP postbaccalaureate fellow who is now an assistant professor at the University of Wisconsin-Milwaukee.
RPLP fellows have also been regular voices in the news media, weighing in on how religion relates to current events, including COVID-19 and racial injustice.
Ecklund said she and the RPLP team are excited about what the future has in store.
"Rice University is the right kind of university located in the right city," she said. "Over the next 10 years, we will expand our research portfolio to include more truly interdisciplinary projects, mentor the next generation of scholars to do research on religion and public life, create trainings and workshops that use research to help all kinds of leaders serve diverse constituencies better, and share our findings with the public in new and unique ways."
A video celebrating RPLP's 10th anniversary is available online. For more information, visit https://rplp.rice.edu.