The questions started coming in the moment the conversation started, and they kept coming until it wrapped up.
Norie Guthrie and Fay Yarbrough were a bit surprised, but delighted. They hosted an online panel to discuss recently aggregated data from "The Red Book of Houston," a rare book from 1915 written by and for the Bayou City's successful Black community.
"I've moderated many Zoom webinars and we usually don't get questions that fast," said Yarbrough, associate dean of humanities and history professor. "To have that many by the end was just crazy," she added, and a testament to how interested the community already is in the work Guthrie and her team have done.
"I've been fielding a variety of emails since," Guthrie said, laughing in agreement.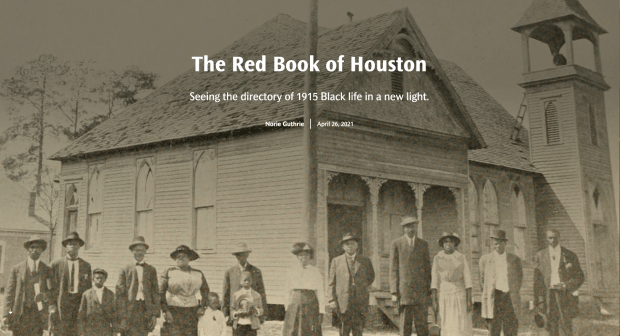 During the April 28 panel, Guthrie debuted a story map created at Rice using historic maps of Houston and spatial data painstakingly gathered from the pages of the century-old book. Familiar Houston wards once filled with thriving Black schools, churches, businesses, lodges and homes come to life as the hosts scrolled through a series of maps. The story ends with a poignant selection of shots showing the current state of a few of these Houstonians' homes: vacant lots, freeway overpasses.
During the yearslong undertaking, Guthrie, an archivist and special collections librarian in Fondren Library's Woodson Research Center, partnered with a team of Rice students, including Rachael Pasierowska, a doctoral candidate in Rice's Department of History; Baker College senior Ryan Chow, an English major; Susanna Yau '20, a history major; and Lovett College senior Tanvi Jadhav, who is majoring in history and minoring in sociology and politics, law and social thought.
The story map is just one example of what can be discovered in the data they compiled, cleaned and checked against city directories. Now all of it is posted online, freely available to everyone. That data includes 900 names, addresses, occupations, places of birth, education and other vital information for use by everyone from professional historians to amateur genealogists.
"There's a lot for people to work with," said Guthrie, whose interest in the book kicked off the data retrieval project in 2019 with the help of a Fondren Fellows grant.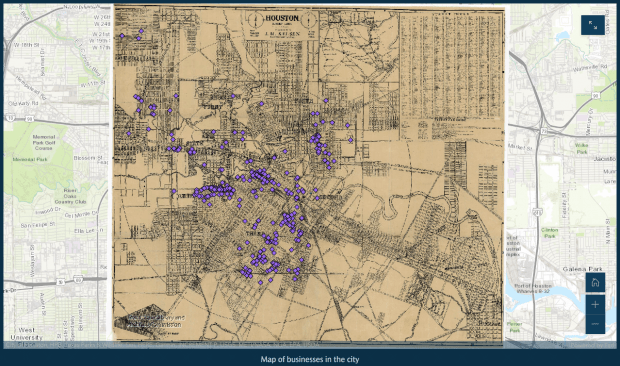 With a fully digitized version of "The Red Book of Houston" available online — physical copies of the book itself are scarce — the data retrieved by Guthrie and her team has piqued public interest.
Guthrie's fellow panelists provided vital context for the book, which was published in 1915 as a way for Houston's middle- and upper-class Black communities to show the great strides they'd taken in the half-century since the 1863 Emancipation Proclamation.
Texas Southern University (TSU) professor and Rice alumnus Cary Wintz '65 discussed the history of the Fourth Ward, while fellow TSU professor and alum Karen Kossie-Chernyshev '85 covered African American history in Houston City Council's District B. Bernadette Pruitt, associate professor of history at Sam Houston State University, has used "The Red Book" in her own scholarship and talked about African American migration patterns to Houston.
And the data Guthrie and her team pulled is already being put to use on new projects, such as "Black Life in Houston: An Atlas of Racial Inequity, Displacement, and Integration," from Farès el-Dahdah, director of Rice's Humanities Research Center. Jadhav, one of the undergraduates who worked with Guthrie, has been assisting on that project by tracing the 90-plus churches listed in "The Red Book" using Houston city directories and other Fondren resources to confirm and flesh out the data before pulling it into the atlas.
"You can see the expansion of the Black community in Houston through the construction of churches," Jadhav said. "There was a lot to this data."
Questions about these patterns and more came in throughout the discussion, which is now available for viewing on YouTube. There was even some speculation about Houston's own "Harlem Renaissance," and whether or not "The Red Book" may be able to shed more light on Black culture in the Bayou City in the years leading up to the 1930s.
"I think the idea of a Houston Renaissance is intriguing to folks," Yarbrough said.
And on a more granular level, there's plenty of "Red Book" data to be mined for personal genealogical research, too. This is particularly vital information, Yarbrough said, given that people easily lost documents and photos over the years or, if they were enslaved, had few if any personal records to begin with.
"This isn't to say that everybody in Houston has somebody in that 'Red Book,' but if — for some of those people — they can find out a little bit more about their family, know a little bit more about themselves, that's exciting to me," she said. "There are people who might not have any other kinds of information, but maybe in 'The Red Book' they're going to find something."
Find "The Red Book" story map at digitalprojects.rice.edu/red-book-of-houston/. The GIS mapping data can be found at digitalprojects.rice.edu/red-book-of-houston/gis-data.