Heirloom strains of yeast like kveik don't behave quite the same as their modern counterparts, posing a wide array of challenges for today's craft beer brewers.
Rice freshmen in Carrie McNeil's Introduction to Scientific Research Challenges course helped Houston's Eureka Heights Brew Co. answer at least one of the questions posed by the kveik they've been experimenting with: how much salt to add to create their Ax Hat pale ale.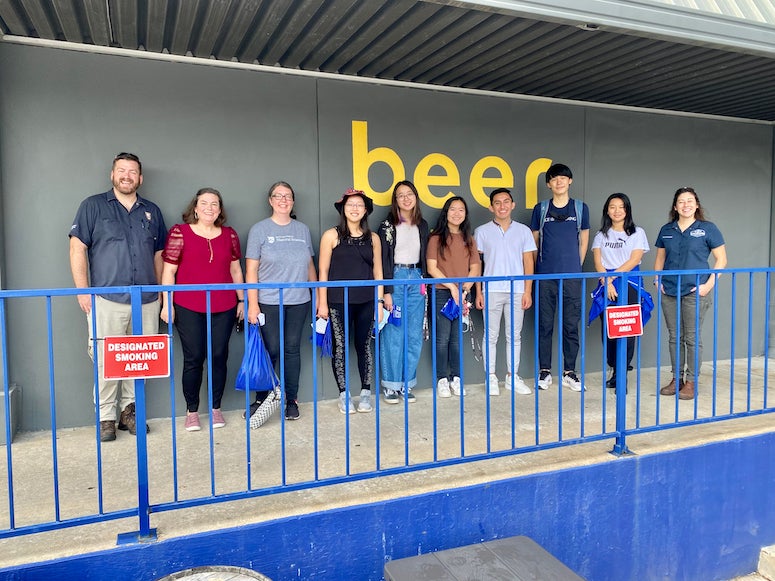 Kviek has been used to produce beer in Norway for centuries, but commercial strains  have only recently been made available to the American craft brewing industry. Beer made with kviek ferments much more quickly than usual, which could increase overall production in small craft breweries, but it can also drop the pH level of the beer if it's not carefully monitored, weakening its crisp body and flavor.
"This is a unique yeast strain that reacts really differently," Eureka Heights founder and head brewer Casey Motes told the students who visited the brewery Dec. 9 for a private tour on their last day of class. "It can be challenging, but also really exciting if we can create unique flavors and aromas, save production time — all these potential positive things."
Elizabeth Eich, Rice's associate director of Undergraduate Research and Inquiry and professor in the practice in biosciences, heard about Eureka Heights' experiments with the quirky kveik when she attended a virtual beer tasting earlier this year. Eich reached out to McNeil, a fellow faculty member always searching for ways to connect Rice students with real-world research challenges. Soon they'd partnered with the brewery to provide students in McNeil's popular intro course with a unique project.
One of the challenges Motes and his team faced was figuring out how Houston's water hardness affects kveik's fermentation, the costliest part of the brewing process in both time and money. When breweries like Eureka Heights use filtered tap water, they must add brewing salts back in to achieve a proper pH level, giving it a hardness crucial for optimal yeast fermentation.
The Rice students hypothesized that adding just one type of brewing salt, calcium carbonate, at 150 parts per million would be ideal. Experiments overseen by McNeil during the semester bore out the results: 150 ppm was the perfect amount, as predicted. Even better, it was cost-effective, as the brewery would only need to purchase and add one type of brewing salt.
The students presented their findings in poster format to brewer Georgina Solis, with whom they'd worked closely all semester, and they were delighted to see that Solis had hung the posters in the brewery's own lab. Solis led the students on a tour of the facility that included a trip up to the brew deck to see the massive fermentation tanks up close and finish the visit with some beer "sniffing." (The students can come back for a full tasting after they turn 21.)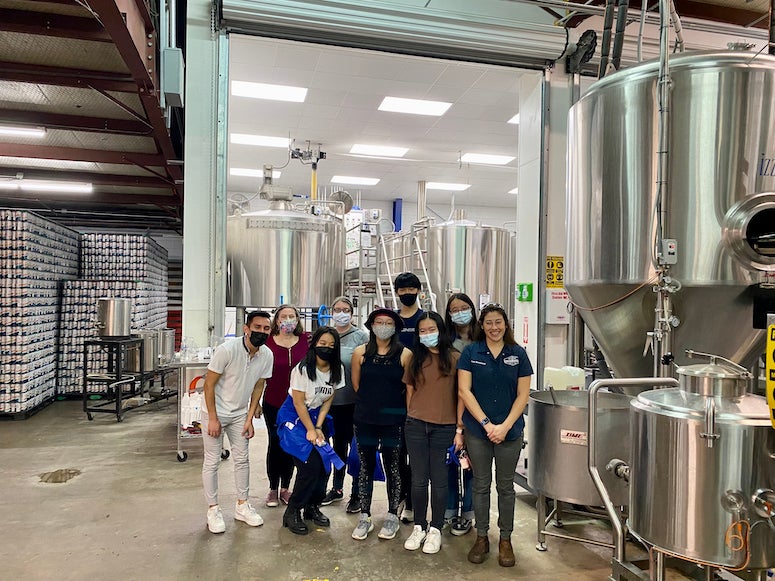 "They put our poster in their lab," said Sid Richardson College freshman Grace Wang. A computational and applied mathematics major, Wang signed up for McNeil's course because of  its reputation for hands-on research projects and she was thrilled to see her results outside of the lab.
"I feel really excited because I saw how my research can impact people in the real world," she said.
I think all freshmen interested in research should sign up for NSCI 120.
In return for helping the brewers solve their salt problem — and in addition to the chemistry knowledge they applied along the way — Wang said the work she and her teammates did on the project helped hone valuable interpersonal skills that will be vital for future collaborative research, both in and out of the lab.
"I think all freshmen interested in research should sign up for NSCI 120," Wang said.
Before posing for pictures, Motes thanked the students for their hard work and promised his team would be sharing the research with other craft brewers who are also experimenting with kveik.
"It was a fun project for us too, to see what you guys came up with, to have fresh eyes on it as we keep troubleshooting," Motes said. "We're all still learning a lot."