After a year that brought one challenge after another, Rice students competing in the 2021 Houston Policy Challenge (HPC) came to offer solutions.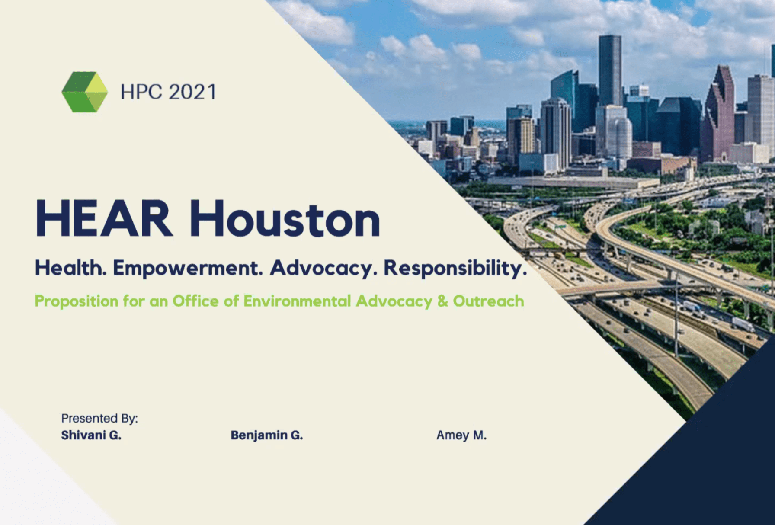 Nine teams of undergraduates identified various local issues related to this year's theme — environmental justice — and proposed a variety of fixes, funding sources and findings to a panel of judges over Zoom March 29. Hosted by Rice's Center for Civic Leadership (CCL), the annual competition typically takes place in person, but student coordinators Carmen Prado, Emily Weaver and Vatsala Mundra made clever use of breakout rooms and screen sharing to replicate the experience online.
From combating illegal dumping and addressing food deserts in the Third Ward to improving sidewalks and walkability in the Fifth Ward, Rice students worked with local organizations to highlight Houston issues and offer potential solutions based on research and fieldwork. After the students' lightning-round presentations, the judges retreated to a breakout room to deliberate.
The panel of judges was comprised of regional experts in environmental justice: Luke Metzger, executive director of Environment Texas; Andrew Brady, deputy director of operations and policy for Harris County Pollution Control Services; Amy Catherine Dinn, environmental justice attorney with Lone Star Legal Aid; and Thomas Pommier, coordinator of the Houston Climate Action Plan within the city's Office of Sustainability.
Before announcing the results, Duncan College senior Mundra thanked everyone who had helped to make the event a reality.
"It's been a good two semesters' worth of work," Mundra said on behalf of her fellow HPC student coordinators. "And it really paid off tonight."
Following a series of "silent drumrolls" and on-screen jazz hands, the winners were announced.
Samantha Lowe, Maria Alejandra Mora, Christi Nguyen and Neha Tallapragada won first place and the audience choice prize with a proposal for regional revenue sharing, a plan that would provide equitable access to city services for the nearly 2 million Houston area residents who live in its extraterritorial jurisdiction (ETJ). Some wealthier municipal utility districts (MUDs) within the ETJ offer their residents access to public-service infrastructure through housing developers but with relatively no oversight or accountability to those residents. And on the whole, unincorporated areas like the ETJ are more prone to flood damage, while residents outside the MUDs lack well-maintained basics such as water, road and sewage services.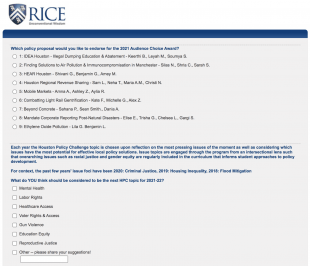 Lila Grenier and Benjamin Lamb took second place with a presentation on the pervasive problem of ethylene oxide pollution. Texas produces half of all U.S. emissions of this toxic gas used in petrochemical processes, and many of those ethylene oxide-producing facilities are located along the Houston Ship Channel. The gas is now the most significant carcinogen in eastern Harris County.
Silas Newton, Shria Chug and Sarah Sowell took third place with policy recommendations to address air pollution and environmental discrimination in Manchester, a neighborhood near the Houston Ship Channel that's home to about 2,000 people — and 13 refineries or other industrial facilities.
"All of you did a really good job identifying the issues that are really problematic in a lot of our neighborhoods in Houston," said Pommier, who noted that he and his fellow judges had a tough job selecting winners from among the field of well-prepared teams.
Brady echoed Pommier's sentiments to the students.
"We really appreciate how engaged you are in a lot of these particular concerns that affect the community at large — and I'm sure that some of the solutions to these problems, you guys will come up with," he said. "This was an evening well spent."
The Houston Policy Challenge will return for 2022 with a new theme: health care.