The Watson Fellowship was it for Lia Pikus: the only fellowship offering the unfettered travel and research opportunities she wanted after graduation, and the only fellowship she pursued. And she got it.
"I only applied to the Watson because I was like, there's nothing else that can let me explore my disparate passions and synthesize them like this and in the way I want to do it," Pikus said.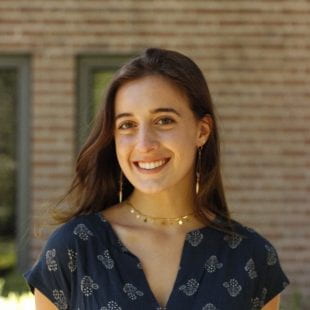 The Baker College senior is one of only 42 students in America to receive the prestigious fellowship, now in its 53rd year. Students' institutions nominate them for the prize, which provides $36,000 for one year of postgraduate travel anywhere in the world.
"It still feels surreal," said Pikus, who will graduate this May with dual degrees in music and political science. "It's such a wild concept, the Watson — it's such an incredible opportunity and I feel so, so, so lucky."
As fellowships go, the Watson is unconventional. It allows its fellows to design their own yearlong program of study and research — especially in countries that are new to them. Pikus was first inspired to apply for the Watson after a friend, Lucrecia Aguilar '18, won it in 2018 to study big cat conservation abroad.
"She was so passionate about this really niche thing and I thought, 'That is so cool,'" Pikus said.
The Watson is a fitting fellowship for a student like Pikus, who has spent her undergraduate career at Rice forging her own unique path in ethnomusicology.
Rice doesn't have an ethnomusicology concentration, but Pikus didn't let that stop her from developing her own curriculum and pursuing grants that would support that research. By her sophomore year, Pikus was sharpening her focus: a 2019 proposal to study music along the U.S.-Mexico border in El Paso won her a Gottschalk Traveling Grant for Musicians.
Her proposal for the Watson Fellowship followed a similar trajectory, seeking to study the effects of music amid tension and turmoil. Pikus will spend her Watson year working across five countries with programs that bring music into prisons — to offer joy, as she puts it, that transcends the punishment system, even if only for a few minutes.
"Punishment is a global problem and it manifests very differently in different countries, but overall the function of punishment is to support and create power structures," said Pikus, who'll work with programs in New Zealand, India, Denmark, Norway and the United Kingdom that provide musical experiences for incarcerated people. "Punishment itself does not actually heal or mend communities."
I feel grateful having come to Rice, because I feel like it allowed me to go with the flow, have fun, learn things and follow my passion.
Pikus started her Rice career on a pre-law track, but her coursework made her realize she wanted to study these types of power structures and populations more closely. In 2019, she studied in Spain and Scotland while researching international criminal justice on behalf of the Texas Criminal Justice Coalition. At the same time, as a music major, she was learning more about music's unique power to evoke joy in both individual and group settings.
The COVID-19 pandemic prevented Pikus from finishing her Gottschalk grant work on the border, but it opened a path toward the Watson Fellowship in a way Pikus couldn't have anticipated.
"I did a lot of my work in Houston and it made me see that music has a huge role in forming community and tethering us to our communities and creating these very personal experiences of joy," Pikus said. "And that realization is really what is at the crux of my proposal, which is looking at how joy can be a very valid act of resistance in systems of punishment, and how it can therefore create these transcendent experiences of joy for those currently experiencing incarceration."
Pikus credits the Center for Civic Leadership (CCL) in helping her along the way, offering guidance as she worked her way through the arduous application process. It also provided personal connections to the international organizations and programs she'd need to establish partnerships with before she could even write the Watson proposal.
"It really depends on what connections you have, and I was really lucky to have Danika (Brown, director of curriculum and fellowships for the CCL), who helped connect me to organizations in the U.K. and in New Zealand," Pikus said. "I mean, she knew somebody who runs a program that integrates community choirs with prisons — it was unbelievable."
Looking back over the last four years, Pikus said, she can see the path that led her to this point — the professors, mentors and peers who encouraged her, the coursework that informed her, the experiences that shaped her — but she said the narrative has, in a sense, constructed itself along the way.
"Retroactively, I had no idea what I was doing; I was just doing whatever I wanted to do and whatever sounded interesting to me," Pikus said. "That was kind of my whole path through college, like anytime I just had a desire to explore something, I explored it."
In addition to having a resource like the CCL to steer her through the fellowship process, Pikus said she's grateful to have spent her undergraduate years at an institution that's encouraged her explorations and allowed her to see them to fruition.
"One thing this whole process has illuminated so clearly for me is how many people have given me love and support and how indebted I am to them," Pikus said. "I feel grateful having come to Rice, because I feel like it allowed me to go with the flow, have fun, learn things and follow my passion."