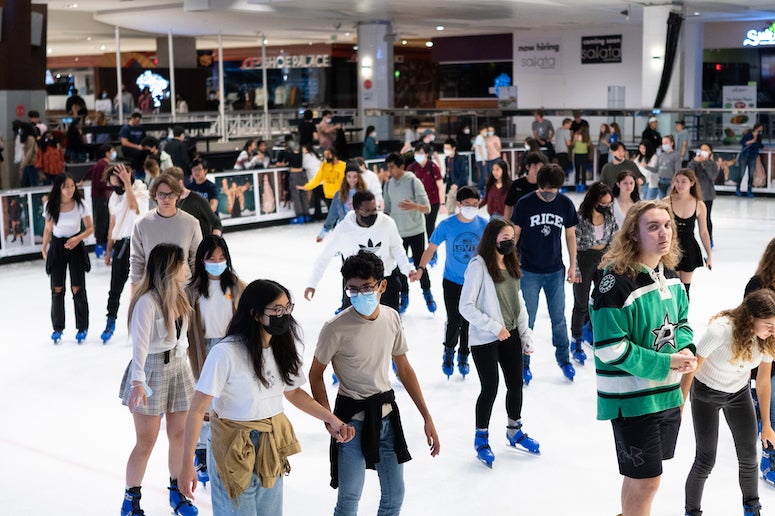 Rice freshmen Anya Gu and Alice Zhou's friendship sparked over Instagram when the two new students discovered they shared a passion for ice skating. After echoing each other's dismay that their university didn't have an ice skating club, they joined fellow freshman Imaan Patel and launched one themselves.
"I think it just says something about Rice in general that freshmen are able to come in and start a club," Gu said. "I think that's really awesome, and there's a culture at Rice I feel like where students are taking responsibility."
A few weeks later, they gave birth to Rice University Ice Skating Club — R-ICE Skating, for short. Gu, who was a competitive ice skater before she arrived at Rice, hoped to "get a group of 10 people together" to skate on the weekends and maybe carpool to the Galleria mall's ice rink.
But the newly formed club instantly proved more popular than Gu had imagined. Around 380 eager Owls turned out for one of R-ICE Skating's first events at Ice at the Galleria. Many of them had never before laced up a pair of skates.
R-ICE Skating now hosts weekly skates at the Galleria that typically attract between 20 and 60 people. But the student-run organization made its biggest splash yet Nov. 20, when a whopping 420 Rice students hit the rink for nearly two hours of skating at the inaugural Holiday Skate event.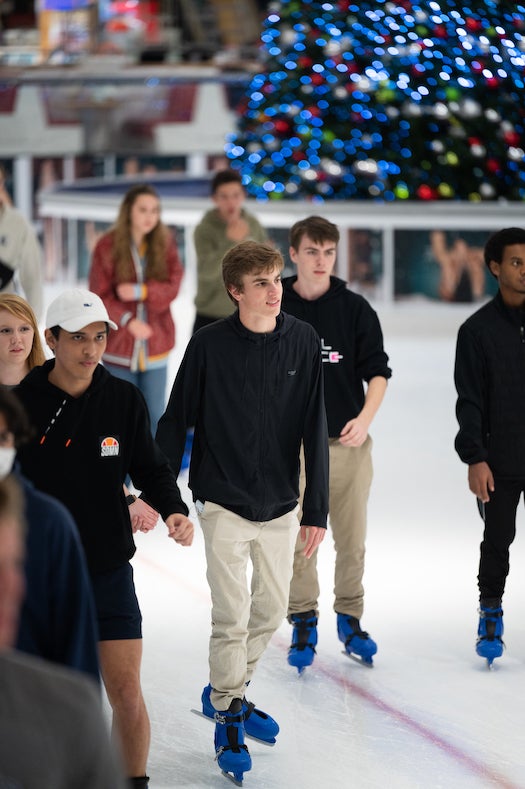 "I'm very, very happy," Zhou said, "because I never thought that this kind of turnout could happen at an event for a club that was just formed on campus a few months ago."
For the Holiday Skate event, the club had free rein over Ice at the Galleria from 10:15 p.m. to midnight. The ice rink's leadership cut the club a sweet deal with a special rate and reserved the entire rink solely for Rice students after the mall's regular business hours, trusting that the flock of students would be conscientious patrons and wouldn't leave any donuts or hot chocolate behind.
Patel said the club is committed to strengthening its partnership with the Galleria by being thoughtful stewards. "The thing about Rice students is we're also very responsible — we're responsible with the community around us," she said.