If you walk through the Shepherd School of Music's Alice Pratt Brown Hall, you'll notice some familiar sounds coming from Stude Concert Hall – sounds that haven't been heard for the better part of a year.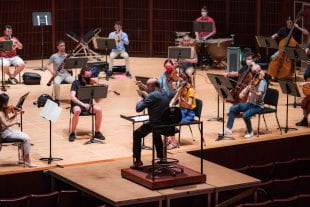 After months and months of Zoom calls with musical score analysis and other pandemic-friendly music education, Shepherd School orchestra students have reconvened for rehearsals, albeit a little differently than before. The students are preparing for the Shepherd School Orchestra Virtual Performance Series, which will begin March 25 at 7 p.m. and continue weekly through May 13, streaming online.
Symphony and chamber orchestra students have been divided into four smaller groups of no more than 28 performers each. Larry Rachleff, the Walter Kris Hubert Professor of Orchestral Conducting, said these groups are "the perfect size for chamber orchestra repertoire."
Instrumentalists, based on whether they are strings, winds or percussion, are spaced between six and 10 feet apart during rehearsals (six feet for strings, 10 feet for winds, brass and percussion players). The students are joined onstage by four high-tech air purification machines, which run constantly. Rehearsals last about 55 minutes each and are scheduled 90 minutes apart to allow time for more intensive sanitation. These measures, combined with an uptick in vaccinations, decreasing numbers of cases in the Houston metropolitan area and Rice's extensive COVID-19 protocols – including masking, social distancing and regular testing – have made it possible for the orchestra to resume rehearsals.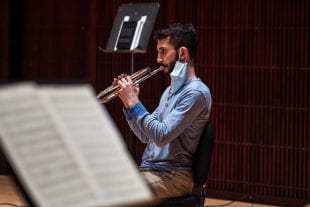 Some Shepherd School students continue to study remotely, and they can participate via Zoom, learning the same music and playing with the orchestra from afar. A large television screen onstage shows virtual performers alongside the musicians playing in person. To account for technological delays, remote students mute their audio as they perform.
For the Shepherd School Orchestra Virtual Performance Series, orchestras will perform works from a diverse group of composers, including Aaron Copland, Claude Debussy, Antonín Dvořák, Alberto Ginastera, Jesse Montgomery, Wolfgang Amadeus Mozart, Maurice Ravel, Silvestre Revueltas, Gioachino Rossini, Igor Stravinsky, Edgard Varèse and George Walker.
"We're both excited and privileged to be presenting works from all the composers in this eight-concert series, particularly some underrepresented composers of color, gender and background," Rachleff said. "To that end, the performances will include work from African American composers George Walker and Jesse Montgomery and a piece from early 20th century Hispanic composers Alberto Ginastera and Silvestre Revueltas. And we look forward to performing more works such as these in the future."
While the smaller orchestra groups are limited by shorter rehearsal times and pandemic protocols, Rachleff said rehearsals continue showcasing the trademark high focus and commitment of Shepherd School students.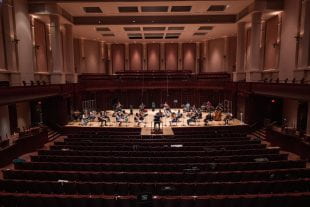 "For me, getting together again after such a long time is a joy that's hard to describe," Rachleff said. "It's just so awesome for us to be playing together again."
A full list of dates and repertoire for the performance series is available online at https://music.rice.edu/shepherd-school-orchestra-virtual-performance-series.