The skeletons of more than 800 Southeast Texas animals are getting a second life in a renovated archaeology lab space at Rice University.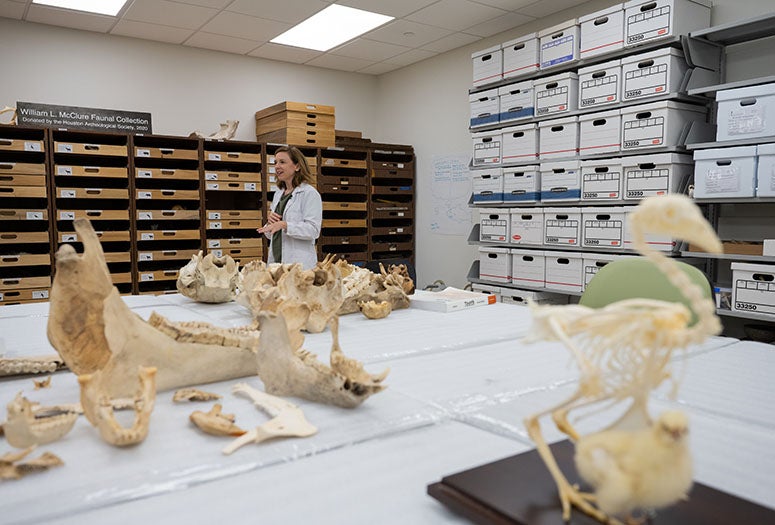 The bones make up the William L. McClure faunal collection, donated to Rice's Department of Anthropology by the Houston Archeological Society in 2020.
The department has a long-standing relationship with the society and has had access to the McClure collection since 1981. At that time, the society arranged for researchers and students to study the collection in exchange for use of Rice's laboratory space. In 2020, as plans came together for the archaeology lab renovation and new faculty were hired to teach and research in the space, Jeffrey Fleisher, the department chair, asked if Rice could have the collection outright, and the society's board enthusiastically agreed.
"We couldn't think of a better place for it," said Linda Gorski, president of the Houston Archeological Society.
"So often people who are teaching this kind of class wind up collaborating with a local museum or rely on images," said Mary Prendergast, an associate professor of anthropology at Rice who specializes in zooarchaeology and oversees the new lab. "Having a collection like this is not particularly common in universities. So we're incredibly grateful to have it, and it is just amazing to teach with and to research with."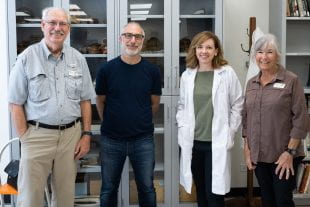 McClure, who died in 2002, was president of the Houston Archeological Society from 1971-72, a director on its board in 1983 and recipient of the society's first Southeast Texas Research Award in 1989. During his career as a civil engineer with the Texas Department of Transportation, he amassed the bone collection in the 1970s and 1980s by finding deceased animals from the area during his lunch hour. He processed the skeletons himself and made detailed notes on each set of remains.
The renovated laboratory, located in 103 Sewall Hall, houses the McClure collection as well as other artifacts for research and education. It includes enhanced lighting for artifact analysis, expanded seating, improved workspace for classes and more.
"We're thankful for the donation of McClure collection to the Anthropology Department at Rice," Fleisher said. "It provides an important foundation for the zooarchaeology collection that we will continue to build, and offers an amazing resource for our faculty and students to use for research and learning. As one of the most extensive collections of its kind on the Gulf Coast, we also hope other scholars and students will come to Rice to work with the collection."