It cuts a striking figure in the courtyard between the Brockman Hall for Opera and the Shepherd School of Music: "Occam's Wedge," 5,600 pounds of Cor-ten steel cast into a delicately angular form by sculptor Beverly Pepper.
Among the first artists to work with the now-popular medium, the iconoclastic Pepper — renowned for her monumental forms and musings on basic geometric shapes — died in 2020 at the age of 97.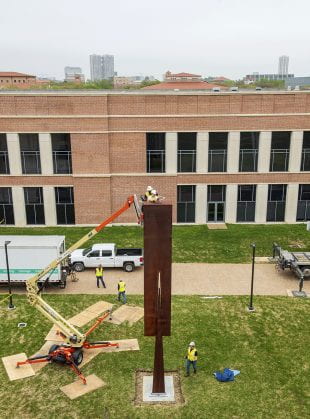 The graceful but powerful "Occam's Wedge," which stretches 30 feet into the sky, was one of Pepper's final sculptures. And thanks to Rice University's percent-for-art program and the Shepherd School of Music, it is now the most recent addition to the growing collection of public art on campus.
Pepper's daughter, the Pulitzer Prize-winning poet Jorie Graham, described "Occam's Wedge" as her mother's favorite piece and the work she most wanted to fabricate before her death. Pepper left very few works "in queue" for fabrication, Graham said, and her estate is allowed to fabricate only those specific remaining designs.
"Occam's Wedge" is a reference to Franciscan friar William of Occam, best known for his "Occam's razor" principle: the simplest solution or explanation is usually the correct one. Occam's approach appealed to Pepper, who created minimalist forms on a monumental scale to explore the intricacies of human feeling.
Each of her massive sculptures began their lives on a miniature scale, as hand drawings and sketches that Pepper then shaped out of Styrofoam before finally testing out small versions crafted in Cor-ten steel in her studio.
"Occam's Wedge" is one of a trio of variations on the wedge form, along with its sisters "Ptolemy's Wedge" (2006) and "Ockham's Wedge" (2009). The former can be seen outside the Minneapolis Central Library and the latter at the center of the main quad of Lawrence Technical University outside Detroit.
The creation of Pepper's third and final piece in the series offers a sense of completion, and was one of the artist's last wishes — especially in a setting such as this. According to Graham, Pepper loved both Texas and opera and she would have been delighted for her work to be permanently located on a university campus, amid a community of creative minds.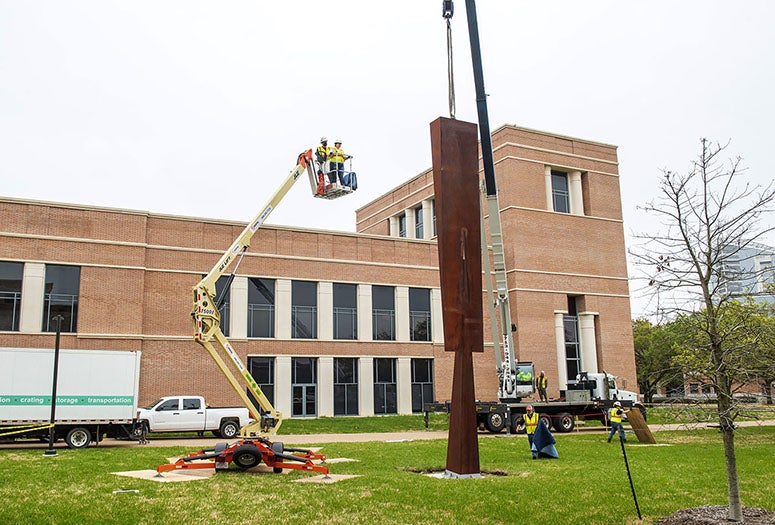 Ever since a 1962 invitation brought Pepper and a group of other abstract artists — including Alexander Calder — to Spoleto, Italy, to use the local steel factories as studios, she remained based in Italy, but visited Texas often.
"She slightly preceded the generation of James Turrell and Michael Heizer, and, as a woman artist working on a large scale, found a more receptive working environment in Europe," said Alison Weaver, the Suzanne Deal Booth executive director of the Moody Center for the Arts who oversees the Rice Public Art program, who noted that Pepper was mastering Cor-ten before heavyweights like Richard Serra began working with the medium.
"She was truly a pioneer," Weaver said.
Pepper's work can be seen across the state, from the "Dallas Land Canal: Canal and Hillside" outside the Metroplex's famous North Park Mall to her "Harmonious Triad" at the University of Texas at Austin, where the delicate trio of sculptures is on loan from the Metropolitan Museum of Art. You can even find another Pepper piece in Houston: the 60-foot "Polygenesis (Houston Sentinels)" has kept watch outside the Cesar Pelli-designed Four-Leaf Towers since 1982.
The goal of Rice Public Art is to continue building on the university's impressive collection of contemporary art and sculpture while diversifying the artists represented, Weaver said.
Adding such an important sculpture to a campus enriched with works by other influential artists — including the aforementioned Turrell "Twilight Epiphany Skyspace" and Heizer's triptych of granite monoliths, "45°, 90°, 180°," as well as installations by such prominent figures as Sol LeWitt, Ursula von Rydingsvard and Mark di Suvero — has been both exciting and rewarding, she said.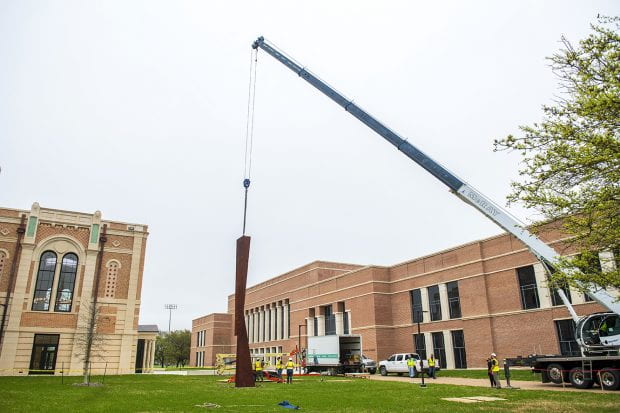 On a recent spring morning, Weaver and her team from the Moody watched as "Occam's Wedge" was finally installed on its concrete plinth, a location chosen with input from Rice University President David Leebron along with Shepherd School dean Robert Yekovich. The monolith, they felt, would unify the two music buildings into one campus and one conversation. A crane operator carefully lowered the nearly 3-ton sculpture to the ground as a dozen workers in hard hats and safety vests guided it gently to its new home and, finally, bolted the steel sculpture firmly in place.
Long after the crew was finished, Weaver and her team remained to admire the accomplishment and the beauty of "Occam's Wedge" itself, which seems to change form every time it's viewed from a different angle, almost dancing its way across the lawn.
"We're thrilled to have acquired a work by Beverly Pepper for the Rice campus, as we have long followed her illustrious career and hoped her original voice would find a home here," Weaver said. "To feature an important work by this pioneering woman artist whose value and reputation will continue to grow in the years ahead, is a gift to both the campus and the community."