College students significantly improved their research skills by participating in the National Science Foundation's (NSF) Research Experiences for Undergraduates (REU) program, according to a new study from a Rice University psychologist.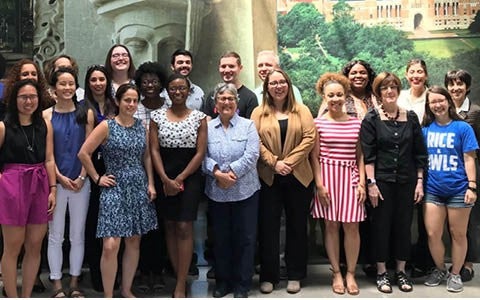 "Learning to Become Researchers: Lessons Learned from a Research Experience for Undergraduates (REU) Program Focused on Research in the Psychological Sciences with Real-World Implications" was published in the summer 2021 edition of the journal Scholarship and Practice of Undergraduate Research. The study's results are based on students' evaluations of themselves and assessments from their faculty mentors.

"Many students at Rice, including students in Social Sciences, participate in these programs each year," said Rachel Kimbro, dean of the university's School of Social Sciences. "It's wonderful to see this research confirming that the REU can be a transformational experience for students."

The study took place at an REU site focused on psychological research. Two groups of undergraduates engaged in research projects with implications for real-world problems including driving, homeland security, relationships, human-computer interaction, language comprehension and production, discrimination and health psychology.

To determine the effectiveness of the REU program, students completed the Kardash Ratings of Interns' Research Skills, which evaluated the extent to which various research skills improved throughout their experience. Students also completed the Undergraduate Research Questionnaire, kept journals and completed exit interviews.
Pat DeLucia, principal investigator of the NSF REU grant and professor in Rice's Department of Psychological Sciences, hopes the study's results -- including students' evaluations of the strengths and weaknesses of the REU program -- will be used to improve future student research experiences supported by the NSF.
"It has been very rewarding to direct this NSF REU and observe the positive and transformational impacts of the program on the students," DeLucia said. "Students gained confidence in their abilities to do research and realized by the end of the program that they can achieve a lot more than they expected when the program started. Conducting research with real-world implications also showed the students the practical value of research in the social sciences."
Rice offers a number of REUs for students. More information is available online at https://reu.rice.edu/research-experiences.