An innovative new program in Rice University's School of Social Sciences helps students build connections while learning the necessary skills to become top-notch researchers.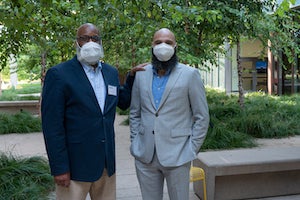 Statistical Training and Research Techniques at Rice University, or STaRT@Rice, is the brainchild of Tony Brown, a professor of sociology, and Matthew Hayes, an assistant professor of political science. They created the program with two goals in mind: to enhance the sense of community within the School of Social Sciences by fostering relationships between underrepresented minorities and first-generation, low-income students, and to introduce all students to research techniques used in the school's various departments.
Brown said STaRT@Rice was inspired by his own positive experience as a Ph.D. student at the University of Michigan, where he was part of a summer training program that introduced students from diverse backgrounds to the academic rigor of the university while providing opportunities to connect and support one another.
"I have experienced firsthand the benefit of this type of program, and I wanted something like it here at Rice to pay it forward for our Social Sciences students," Brown said.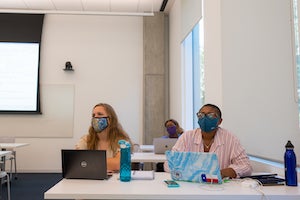 "We have fantastic faculty in Social Sciences, but they're spread across seven departments," Hayes said. "Being able to meet and network with people throughout the school who look like you, who are dealing with the same experiences you're dealing with and have real role models from across the entire Social Sciences faculty is a huge deal and one of the reasons we think this new program is going to be really beneficial for our students."
The program was held Oct. 8-12 and included daily distinguished research lectures from different Social Sciences faculty, as well as multiple workshops taught by more than a dozen Social Sciences faculty, postdocs and researchers.
Simon Fischer-Baum, an associate professor of psychological sciences, taught a workshop on neuroimaging, a technique commonly used in his field but also by political scientists, economists and sociologists.
"Neuroimaging is a way to measure the brain, as opposed to behavior, to try to get a sense of what people are really thinking when they're doing something," he said. "Social science is the study of human behavior, but neuroimaging takes a step back from looking at what people are doing and tries to understand the signals that are coming from inside of your head."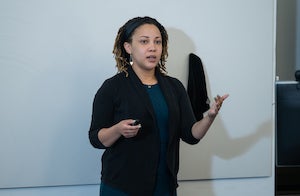 Rigoberto Quintana, a graduate student studying anthropology, said he welcomed the opportunity to learn about different research techniques that could help him study the same topics from different perspectives. He also appreciated the chance to connect with other students and faculty members.
"Being surrounded with other people who come from similar backgrounds, it's very important for building this sense of community," he said.

Emily Weaver, a first-generation undergraduate student majoring in social policy analysis and anthropology, also participated in STaRT@Rice to learn about different research techniques that might be useful while working on her honors thesis. As she starts the graduate school application process, she's grateful she had the opportunity to connect with grad students and faculty. 
"The confidence boost alone was really significant," she said.  

Asha Jones, a graduate student studying political science, said networking is "a really big, important part of how we can advance this field."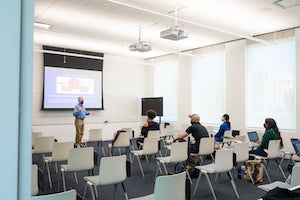 "We're all asking very similar questions, just from different perspectives," she said.
Brown agreed, noting that the program also created an opportunity for collaboration on interdisciplinary projects.

"The world's problems have become so complicated that a single discipline's solutions aren't enough," Brown said. "During his faculty lecture a few days ago, Mallesh Pai hit the nail on the head when he said that social scientists are working on so many of the same problems we're facing here in the world. Coming together will help us have better ways of understanding what causes the problem and how to develop solutions."
"I'm so grateful to Professors Hayes and Brown, as well as the 20 faculty who enthusiastically came together to contribute to the program," said Rachel Kimbro, dean of the School of Social Sciences. "This is exactly the kind of program our school should invest in."
Hayes said ST@RT will host its next event in fall 2022. More information is available online at https://start.rice.edu/.