A midwife named Annie Hagen "came to Houston with 50 cents and through her industry and thrift … accumulated a nice bit of property" around the turn of the 20th century. Photographs taken in 1915 depict two of those properties, with a proud Hagen standing alongside her family on the front porch of their home at 609 Hobson St.
Hagen's neighborhood was later demolished to make way for Interstate 45 and Allen Parkway. Hobson Street no longer exists, one of many parts of Black Houston carved away over the years. But Hagen and her bygone society are memorialized in a striking artifact of African American history.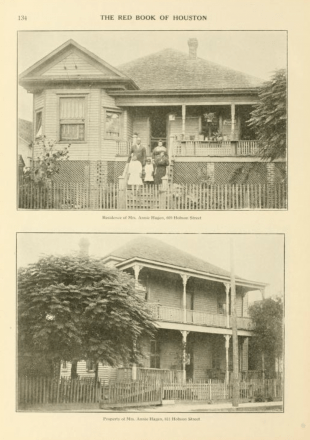 There's no book like it in any other American city, from any other time period. "The Red Book of Houston: A Compendium of Social, Professional, Religious, Educational and Industrial Interests of Houston's Colored Population" — published just once, in 1915 — offers a detailed depiction of Black middle- and upper-class life in the Bayou City at a time of both triumph and trial.
"We could find nothing comparable to it anywhere," said Norie Guthrie, an archivist and special collections librarian in Fondren Library's Woodson Research Center. "The Red Book" is recognized by researchers as unique in its comprehensive and creative celebration of Black life over a century ago.
Originally printed on glossy stock, the book showcases the personal and professional lives of the city's most prominent Black citizens: bankers and businessmen, preachers and schoolteachers, their extensive educations enumerated and their portraits taken in front of their churches or homes. A wedding photograph of James Pendleton and Lillie Bell Price Pendleton notes their ceremony "was among the most important that Houston has produced, being attended by white and colored en masse."
"It was a very powerful statement for them to make this book," Guthrie said. "The Red Book" teems with photos, essays, poetry, histories and business directories, boasting hundreds of local listings for everything from physicians and attorneys to ice cream parlors and picture shows.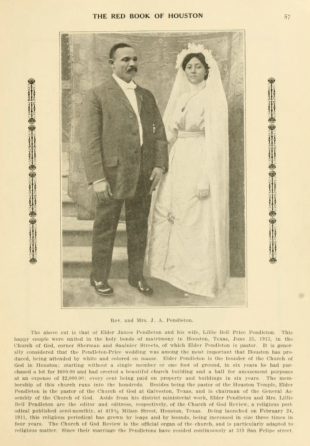 Now, over 900 of those names and addresses have been extracted from "The Red Book" in an ambitious undertaking by Rice archivists and students. Their work has been made available online for free in the form of geospatial mapping data. Future researchers can use this wealth of data to continue exploring "The Red Book" with geographic information system software and other tools.
"We're trying to help people find the things that they might need," said Guthrie. "No one really has time to do that detailed work when they're in the middle of researching. But it can be so useful for people to have."
Just as homes and churches depicted in "The Red Book" have been lost to time, so have the names of those responsible for creating the book and the motives they held for its publication — an expensive endeavor that cost $80 per copy in today's currency. The publisher printed nothing else before or since. And though a second edition seems to have been planned, it never came to fruition.
"It's such an amazing treasure," said Guthrie, whose interest in the book kicked off the data retrieval project in 2019 with the help of a Fondren Fellows grant. The book itself is so rare Woodson only owns a photocopy, though a fully digitized version is now available online.
Some of the central mysteries of "The Red Book" may be solved as more people pay attention to what's within its pages. And Guthrie hopes the data that was painstakingly extracted, cleaned up, verified and tabulated by teams of Rice students and staff will prove helpful in that endeavor and others.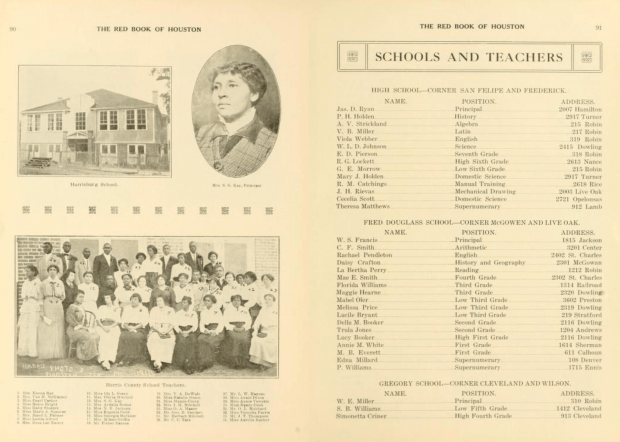 On April 28, a panel on "The Red Book of Houston: An Early 20th Century Black Proclamation" will examine the importance of the book, the history surrounding its publication and applications for the new datasets. The webinar is free and open to the public; registration is required and questions for the four panelists are encouraged.
Rachael Pasierowska, a doctoral candidate in Rice's Department of History, helped compile "Red Book" spatial data along with Guthrie and a team of undergraduates: Baker College senior Ryan Chow, an English major; Susanna Yau '20, a history major; and Lovett College senior Tanvi Jadhav, double majoring in history and sociology. Using some of this data and historic maps of the city, Pasierowska built a story map she'll present during the panel. The story map will be available online ahead of the April 28 panel.
Texas Southern University (TSU) professor and Rice alumnus Cary Wintz '65 will discuss the history of the Fourth Ward, among the Houston neighborhoods featured prominently in "The Red Book." Fellow TSU professor (and Triple Owl) Karen Kossie-Chernyshev '85 will speak to African American history in Houston City Council's District B, which includes the Fifth Ward, Kashmere Gardens and Trinity Gardens. Bernadette Pruitt, associate professor of history at Sam Houston State University, has made use of "The Red Book" in her own scholarship and will talk about African American migration to Houston.
"It'll be really cool to have the story map and see the data that way, but we're hoping that each of the panelists will flesh out a little bit more of the history around it so that people can put it all together with the map," said associate dean of humanities and history professor Fay Yarbrough, who's been assisting with the panel and story map project.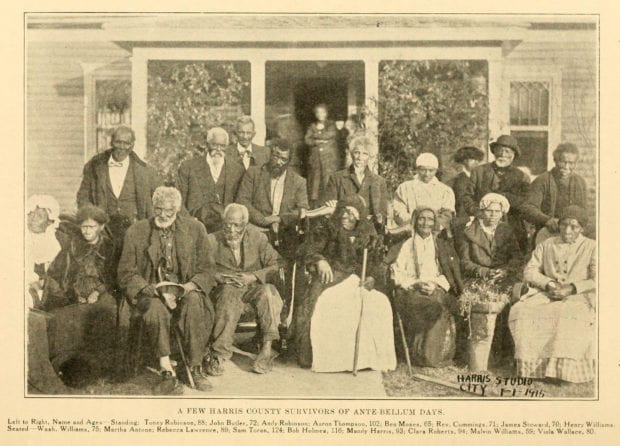 "The Red Book" was published on the cusp of America's Great Migration, during which 6 million African Americans would leave Southern states and head to the north and west. Houston in 1915, ever on the leading edge of demographic change, had already experienced its own surge, however: its African American population tripled every decade between 1860 and 1890, at one point making up nearly 40% of Houston's growing population. By 1910, census data shows nearly 24,000 Black residents, comprising 30% of the city's total population.
In 1915, "The Birth of a Nation," a film that promoted grotesque stereotypes of African Americans, was released nationwide. In Houston, a new wave of Jim Crow laws had been enacted: streetcars became segregated in 1903, followed by hotels, restaurants, movie theaters and other public places in 1911. The 1910 Slocum massacre weighed on local minds: Dozens of African Americans were slaughtered in an unincorporated town 150 miles north of Houston, but a grand jury empaneled in Harris County declined to indict any of the killers. The contemporary "Blue Book" society directories of Houston and Galveston listed only white people and businesses.
But Houston's Black community was thriving, especially in areas like Independence Heights, which became the first African American municipality in Texas in January 1915. And "The Red Book" proudly displayed this fact for all to see.
"Part of its purpose is to push against the ideas that white people might have about what Black people are capable of, of what they had achieved — just every kind of stereotype," Yarbrough said. "I see it as this really clear statement: 'Look, this is what we are. You can think whatever, but we have proof. This is what we are.'"
"The Red Book of Houston: An Early 20th Century Black Proclamation" panel and story map presentation, April 28, 6 p.m. Free and open to the public. Register online. Story map available soon at digitalprojects.rice.edu/red-book-of-houston.