The Venezuelan folk legend of María Lionza and her tapir are writ large in striking colors in a new mural by Houston-based artist and educator Gerardo Rosales that will debut Oct. 15 at the Moody Center for the Arts. It's timed to coincide with the final day of Hispanic Heritage Month, but it also comes three days after a major religious holiday honoring María Lionza in Venezuela.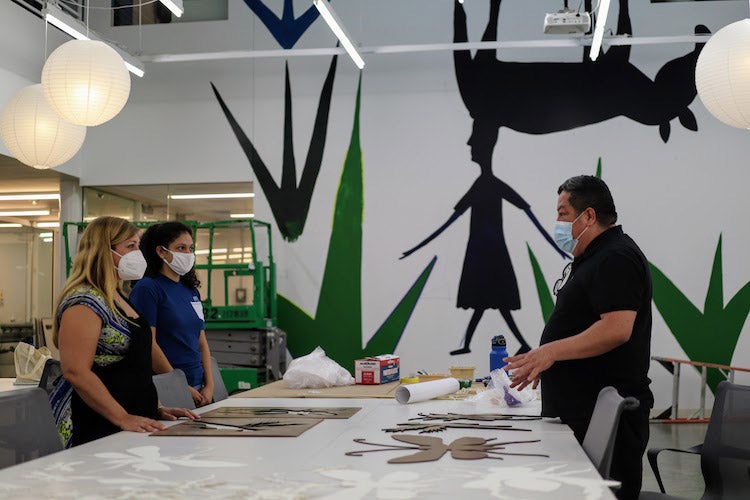 Each year on Oct. 12, followers of one of the country's newest and most widespread religions make a pilgrimage to a mountain in central Venezuela called Sorte. Here, the story goes, María Lionza was once the daughter of an indigenous chief and a European colonizer who one day found herself swallowed whole by a massive anaconda.
María Lionza prayed to the nearby mountain to free her and it listened: The snake exploded and she was resurrected as a protector of nature and the native people. Today, María Lionza is regarded as a powerful goddess figure capable of providing prosperity and healing to her followers, most of whom live in poverty and are desperate for help as the country's health care system declines.
María Lionza is often depicted with a tapir and surrounded by animals, as she is here at the Moody: walking, as if in a dream, across a field of various fantastical insects.
Rosales, who worked with a group of Rice undergraduates over several fall weekends to execute the sprawling piece, is the inaugural artist in the recently launched Moody Project Wall series. An artist-in-residence at the Lawndale Art Center from 2019-2021, Rosales has created projects in and around Houston, notably at Lawndale, the Transart Foundation for Art & Anthropology, Holocaust Museum Houston and the Galveston Arts Center.
Each semester, the Moody will invite a new Houston artist to conceive and create an original work in collaboration with Rice students and community members. The work will transform the Moody's prominent two-story project wall, which overlooks a prominent space used for various activities. This fall, that wall painting investigates how popular mythologies and spiritual traditions like that of María Lionza in South American culture are fueled by sociopolitical factors.
"What I've found very interesting about this myth is that it has this social and political context because it's associated with people that have more economic disadvantages," said Rosales, who was born in Venezuela and has been based in Houston for the last 20 years. "And it's like a syncretism of three different religions: Catholicism, the indigenous Venezuelan traditions and the African influences."
He has a really powerful message behind his work.
Rosales said he applies a similar syncretism to his work, drawing from his own wide range of artistic influences, whether European, South American or African. His work is playful, brightly colored and approachable but it employs familiar forms to explore such grave topics as racism and class stratification.
"I like to push those buttons, because these things are very important to talk about, and as an artist I have that interest and curiosity," Rosales said.
Frauke Josenhans, curator at the Moody and the organizer of this installation of the Moody Project Wall series, said the mural makes connections between the challenges faced by María Lionza's followers and those faced by American society: issues related to affordable and accessible health care, environmental degradation, women's rights and pervasive poverty.
"I think that there is an underlying complexity to this work that makes it so timely: through these colorful images that are visually very accessible and direct, and almost make you smile, the work provides us with an entryway into much, much deeper topics," Josenhans said.
Josenhans and Rosales have spent the past five Saturdays at the Moody as the mural has taken shape with the help of a group of Rice students. Many of them are affiliated with the Hispanic Association for Cultural Enrichment at Rice (HACER) while others, like Jones College senior Laurel Chen, heard about the mural project when she visited the Moody during the opening of its new fall exhibition. A bioengineering major who loved art classes in high school, she eagerly signed up to participate.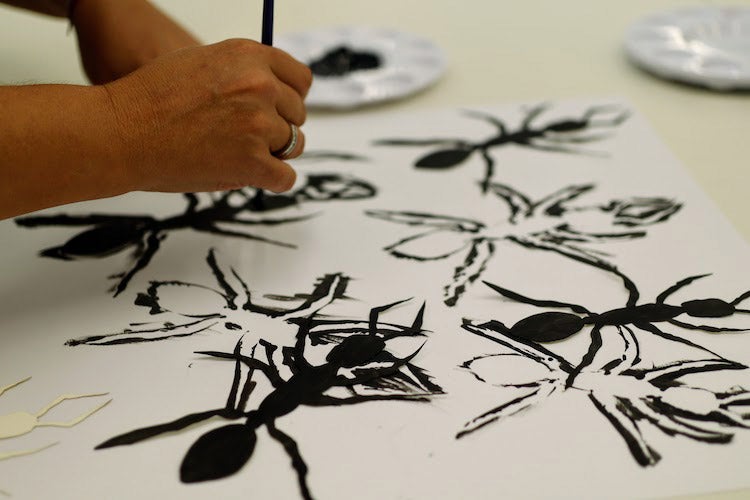 Paintbrush in hand on a recent Saturday afternoon, Chen waited as Rosales prepared a small batch of magenta paint for her. The artist then guided her to a spot on the wall where she painted an ant using the vibrant purple-pink hue and one of many stencils fabricated on site at the Moody's own workshop.
"It's been really fun getting to know him; getting to know everyone here has been amazing," Chen said. "And the funniest part is that there are a lot of STEM majors here, too. It's really cool to see that representation, showing their artistic side."
Hanszen College freshman Emily Peña, who's also an engineering major, sat at a nearby table carefully constructing a pile of insects that would also eventually make their way onto the project wall. Peña had just joined HACER when she heard about the mural project, which she thought would be a welcome way to stay engaged with her artistic side this semester. It also turned into a learning experience, she said, as Rosales taught the students everything from Venezuelan politics to religious syncretism through the execution of the mural.
"(Rosales) has a really powerful message behind his work," she said. And she's excited to bring her friends to the mural's unveiling party Oct. 15 to see the completed project after so many weeks spent piecing it together.
"That's the most exciting part of it all because you can see how everyone came together and say, 'I contributed to that,'" Peña said.
With this new series, providing a space for such thoughtful and collaborative work by Houston artists is of primary concern to the Moody — but so is providing a space for students to engage artistically with others, especially after so many months away from campus.
"I think it's important in these uncertain times that we're facing, and as we are now slowly coming out of the pandemic, to really find moments where we can celebrate and highlight creativity, collaboration and the community coming together," Josenhans said.
Rosales' work will be celebrated at the Moody Oct. 15 from 5-7 p.m. in a commemoration of Latinx culture and history that's free and open to the public, featuring festive music, dancing and drinks. The work will remain on view until Jan. 21, 2022. The next installment for the Moody Project Wall will be led by Reginald Adams.