New book edited by Rice economists explores how US can maintain its fiscal health
BY AMY McCAIG
Rice News staff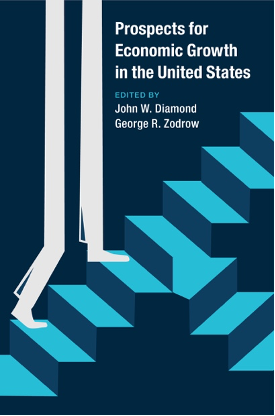 Robust economic growth has long been the driving force of prosperity in the U.S., but the future is uncertain. A new book edited by Rice University economists explores how the country can maintain healthy economic growth.
"Prospects for Economic Growth in the United States," edited by George Zodrow, department chair and the Allyn R. and Gladys M. Cline Chair of Economics, and John Diamond, the Edward A. and Hermena Hancock Kelly Fellow in Tax Policy at Rice's Baker Institute for Public Policy, brings world-renowned economists together to explore the challenges. It examines a number of social and financial issues, and includes a set of papers presented at a conference that was part of the Baker Institute's 25 th anniversary celebration.
Zodrow said it's hard to predict where the economy will go next.
"Some researchers argue that technological advances, especially in the area of artificial intelligence, are likely to result in automation-related rapid increases in future growth — to the point that serious shortages in labor demand may result," he said. "But other observers think that recent economic, demographic and political trends -- including an educational system that is ineffective in many dimensions, increasing income inequality, an aging population coupled with a lower labor force participation rate and the absence of the political will to address large-scale fiscal imbalances -- have created pervasive headwinds that will seriously limit future U.S. economic growth."
Diamond said the maintaining strong economic growth is "one of the most pressing issues of our time."
"Will the United States be able to maintain growth rates similar to those observed in the past, and thus continue to increase the living standards of its population?" Diamond asked. "Only time will tell."
More information on the book is available online at https://www.cambridge.org/core/books/prospects-for-economic-growth-in-the-united-states/9CF9C6A4F31C7C27106BEE6B1DAB55C0 .