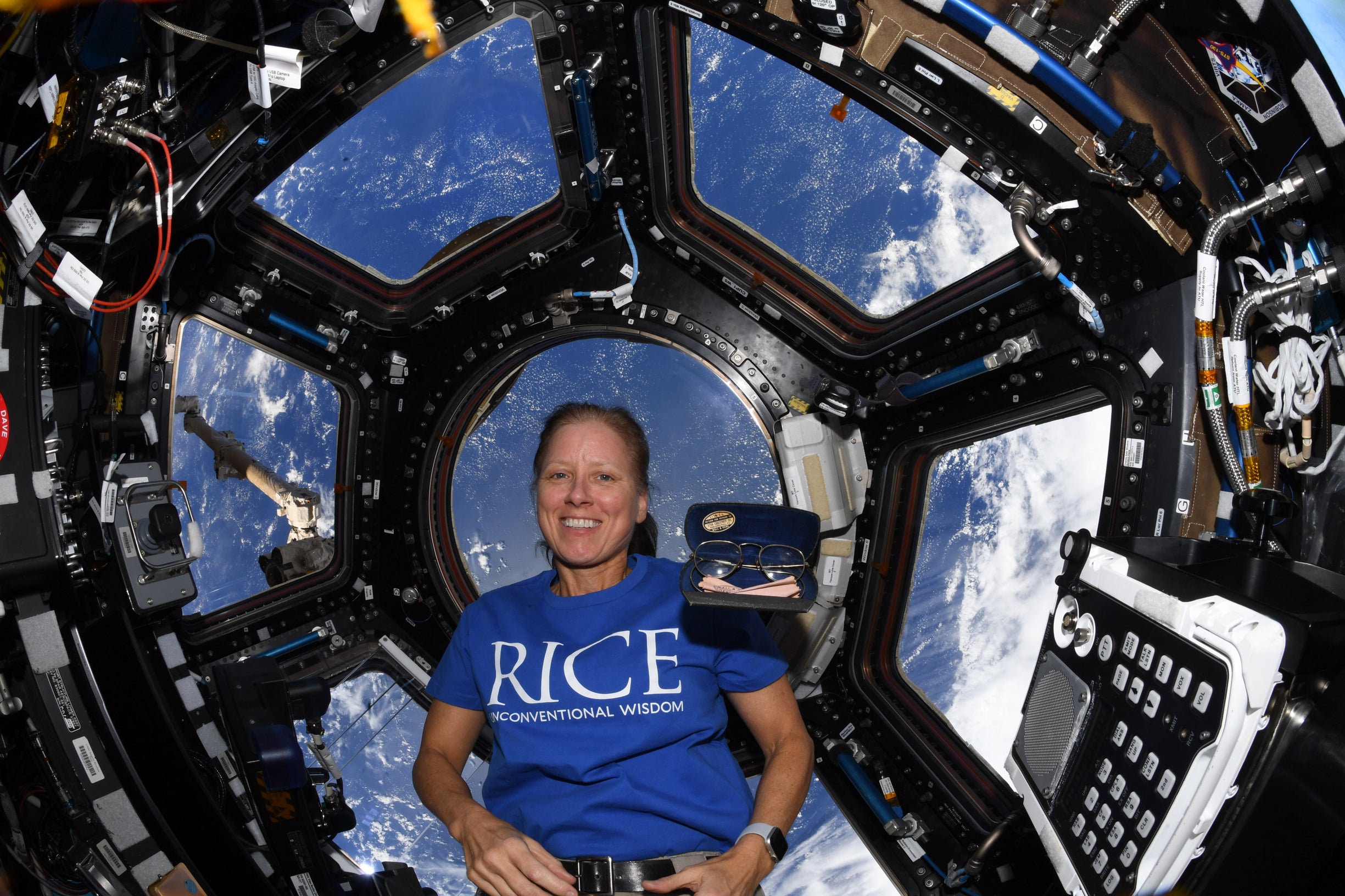 NASA astronaut and Rice alumnus Shannon Walker '87 returned to campus Oct. 12 to present more than a dozen Rice-related mementos that flew with her during her latest six-month mission to the International Space Station.
Walker, who earned three degrees from Rice, returned to campus on Rice Day, the annual celebration of Rice's founding in 1912. In welcoming Walker, Rice President David Leebron recalled the words of founding university President Edgar Lovett, who said Rice's aspirations would have "no upper limit."
"That also has a literal meaning as we celebrate today," Leebron said. "(Lovett) would, I am sure, be extraordinarily proud that we've convened here 100 years later to celebrate the fact that NASA's first native Houstonian astronaut, a holder of three Rice degrees, has returned to Earth having served as a member of the first fully crewed commercial spaceflight in history, and the commander of the International Space Station."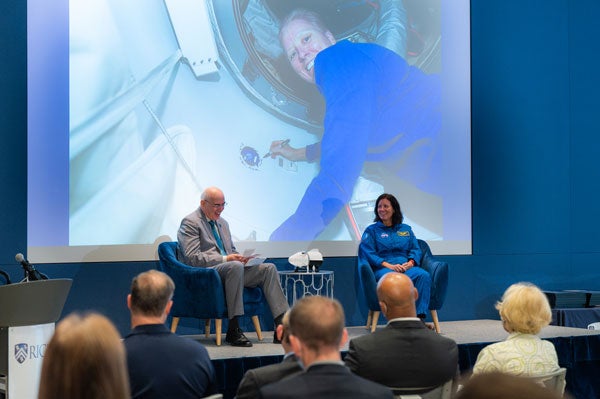 "No upper limit" was also commemorated by one of the items flown by Walker: a pair of Lovett's eyeglasses that were on loan from Fondren Library's Woodson Research Center.
Walker spent six months aboard the space station in 2010, and returned in November 2020 as a member of the historic SpaceX Crew-1 mission, the first commercial crewed operational flight to the station. Walker and three crewmates spent 167 days aboard the station before returning May 2 in the first nighttime splashdown at sea since Apollo 8 in 1968.
Prior to the presentation of mission memorabilia, Rice Space Institute Director David Alexander led a question-and-answer session. Walker, a Bakerite and former member of the Marching Owl Band, answered student-submitted questions about:
Her favorite Rice tradition: "Beer Bike, probably. And I may or may not have participated in Club 13. But, that's all I'm gonna say."

Her favorite Rice memories: "Just being part of the Baker family … and having that close-knit feeling of community."

When she was certain she'd become an astronaut: "When I got the phone call saying, 'Would you like to be an astronaut?' And that was on the fifth try. I always knew I wanted to be an astronaut ever since I was about four years old. ... But it took a while."

Her favorite view from the space station: "There are so many. Just looking down at Earth is amazing because of all the colors. ... And then you've got the stars."

Her favorite experiment aboard the station: "I really enjoyed the experiments that I was a test subject for. So, learning about how the human body lives and works — or doesn't work — in space."

Her favorite thing to do in space: "Fly around. Fly around like you're Wonder Woman or something."

Her advice for a hopeful astronaut: "Be resilient to whatever comes by. ... Be a lifelong learner. … Be a team player. … Don't be afraid to have different adventures."

Whether private enterprise or government should lead space exploration: "It's not an either/or kind of answer. ... I think ultimately, it's going to be a combination in the future of both entities."
During her first spaceflight, Walker flew items from the Department of Physics and Astronomy. For her recent mission, she asked to fly items from the university as a whole. With assistance from Rice's Office of Public Affairs, Walker flew and presented the following: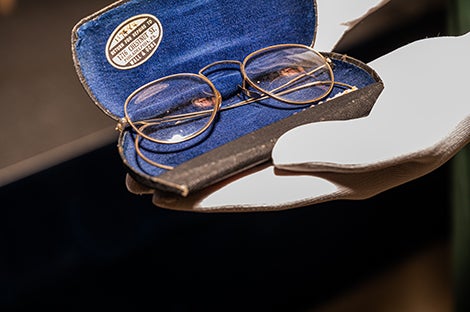 Crests from Rice's 11 residential colleges, presented to college representatives.

The Marching Owl Band logo, presented to MOB drum majors Claire Noel and Roberto Carcamo and 49-year MOB veteran John "Grungy" Gladu.

A list of 15 Rice alumni and faculty who exhibited "The Rice Stuff" by serving as astronauts or as NASA's administrator, presented for display in the Rice Welcome Center.

Trigger, a stuffed animal, presented to 6-year-old Zia Palermo, granddaughter of Rice Space Institute Founding Director Pat Reiff.

A spool of carbon nanotube fiber, in commemoration of the Nobel Prize-winning discovery of buckminsterfullerenes at Rice, presented to Carbon Hub Director Matteo Pasquali.

A Rice Owl logo and Rice academic seal, presented to Leebron and Rice Provost Reggie DesRoches.

Lovett's eyeglasses, presented to University Librarian Sara Lowman and Woodson Research Center Head of Special Collections Amanda Focke.
The audience for Walker's visit was limited to 50 people due to NASA COVID-19 safety precautions, and Walker thanked those in attendance for taking precautions to help her avoid infecting fellow astronauts who are either flying to or returning from the space station in coming weeks.
A video of the event, with Walker's full answers to the above questions and others, will be made available during Homecoming.