HOUSTON – (April 15, 2021) – Education researchers from Rice University have documented a troubling trend in the system Texas public schools use to reclassify elementary school students learning English, evidence of a problem they say could have a serious impact on hundreds of thousands of the state's schoolchildren.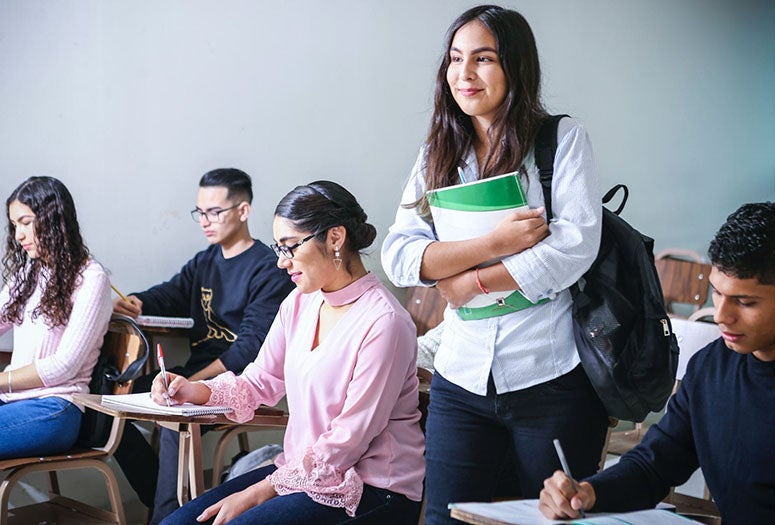 The data indicate that a dramatically growing number of students classified as English learners (ELs) are becoming long-term English learners (LTELs), indicating they haven't become proficient with the language within five years of entering Texas public schools.
Between 2000 and 2019, researchers said, data from school districts across the state indicates the percent of ELs who became LTEL in Texas increased almost 90%.
"For an English learner entering first grade in 2000-01, slightly more than a third went on to become LTEL," says Lizzy Cashiola, research scientist at Rice University's Houston Education Research Consortium (HERC) and lead author on the report. "Compare that with an English learner entering first grade in 2014-15, two-thirds became LTEL."
The findings are discussed in "Increases in Long-term English Learners (LTELs) in Texas," authored by Cashiola and associate director Daniel Potter. The researchers examined data from Texas public schools throughout the state, including the major metropolitan areas of Houston, Austin, Dallas, El Paso and San Antonio.
The report also highlights how most of this increase has happened in the last 10 years, and how the trends are similar for both urban and nonurban areas.
"Whatever is causing this trend, it has significant and devastating implications for potentially an entire generation of non-English speaking families across the entire state," Potter said. "Since 2008, at least half of English-learning students entering first grade have gone on to become long-term English learners. Long-term English learners are twice as likely to drop out of high school as their peers who reclassify as English proficient before middle school. They're half as likely to enroll in college. If this increase in the percent of ELs becoming LTELs is not immediately addressed, then the Texas public school system is setting up the state to have a significant number of students who will not be adequately prepared for the transition to college or careers."
"Understanding what is contributing to the increase in these numbers is needed to address the current high levels and reverse this trend," Cashiola added.
The researchers believe future work should explore a number of factors that might be contributing to the problem, including grade-retention policies, student assessment, school funding and shortages of bilingual teachers.
Data for the report came from Texas' Public Education Information Management System. The research brief is available online at https://herc.rice.edu.
-30-
This news release can be found online at news.rice.edu.
Follow Rice News and Media Relations on Twitter @RiceUNews.
Related materials:
Report link: https://herc.rice.edu/research/increases-long-term-english-learners-texas
Photo credit: Javier Trueba/Unsplash
Located on a 300-acre forested campus in Houston, Rice University is consistently ranked among the nation's top 20 universities by U.S. News & World Report. Rice has highly respected schools of Architecture, Business, Continuing Studies, Engineering, Humanities, Music, Natural Sciences and Social Sciences and is home to the Baker Institute for Public Policy. With 3,978 undergraduates and 3,192 graduate students, Rice's undergraduate student-to-faculty ratio is just under 6-to-1. Its residential college system builds close-knit communities and lifelong friendships, just one reason why Rice is ranked No. 1 for lots of race/class interaction and No. 1 for quality of life by the Princeton Review. Rice is also rated as a best value among private universities by Kiplinger's Personal Finance.