Like the upended year that preceded Rice's Class of 2021 commencement, graduation day opened in wholly new fashion May 14 at 9 a.m. when Baker College sent the first group of seniors through the Sallyport to make their traditional march out of the university, marking their figurative transition from students to alumni.
In a typical, pre-pandemic year, the Sallyport marches follow a morning commencement in the quad outside Lovett Hall. This year, Duncan College was the last to send its seniors through the stately arch, at 11:30 a.m., but commencement itself wouldn't begin until 7:30 p.m. — and at a new venue, the historic Rice Stadium.
At the beginning of the semester, an in-person ceremony seemed doubtful. But with vaccination rates on campus high and COVID-19 infection rates dropping, students were able to invite four guests each to graduation. New public health guidelines issued Thursday by the Centers for Disease Control also meant fully vaccinated people no longer had to wear masks outdoors, opening the ceremonies to smiling faces.
For many students, such as Shane DiGiovanna '21, it was the first time back to campus since the pandemic lockdown began in March 2020. Together with his family, diGiovanna was excited to return after so many months away.
"I've had such a wonderful time — the best four years of my life — even if the last year has been at home due to COVID," said DiGiovanna, who'd flown in from Cincinnati with mom, dad and sister Meg. "I have missed campus every minute of every day."
DiGiovanna's rare skin condition, epidermolysis bullosa, meant that his family wasn't sure he'd be able to go away to college — especially as far away as Texas — but the Ohio native thrived at Rice, where he majored in economics, advocated for those with special needs and disabilities and found a home away from home.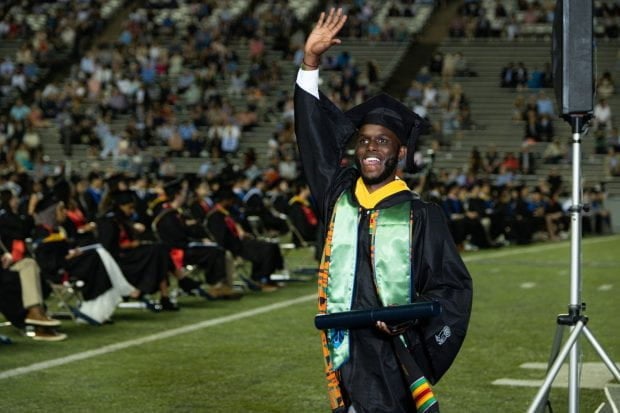 "And now he's just so happy to see all his friends who he hasn't had a chance to," said mom Patsy DiGiovanna. "He's just had a blast, because this was literally a dream come true for him. He put his mind to it and he did it."
Not all parents were able to make the festivities in person with so many travel restrictions still in place. So Brian Tumusiime '21 connected with his family in Rwanda on a video call.
Tumusiime's first trip to the United States was as a freshman coming to Rice for O-Week, thanks in part to an organization that creates opportunities for Rwandan students to study abroad. The mechanical engineering major, who captained Team Africa for Rice's Mini World Cup in 2018, hasn't been home to see his family in three years.
"That's my brother, and that's my mom," Tumusiime said, tilting his screen against the morning sun. "I just walked through the Sallyport with them."
Many parents took advantage of the in-person graduation to book flights for the first time since the pandemic lockdown began in March 2020.
"I think it's a great occasion to rejoin the world," said Miriam Reed, who was decked out in Rice gear alongside husband Ron. They'd been quarantining for weeks in order to fly here from Mount Juliet, Tennessee with daughter Evan Reed '21 so she could graduate in person after a year spent finishing up remotely.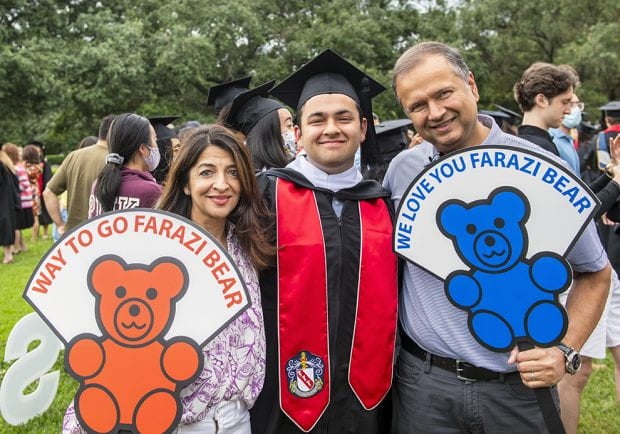 Chloe Oani '21 and her family placed homemade leis gently over the heads of her fellow Loveteers. Oani's family, who'd driven down from Plano, had spent part of their COVID lockdown making the leis for their daughter's friends "to spread the aloha, the love, the joy," said mom Annette.
"These people have my heart," Oani said, gesturing to a grassy field of Lovetteers now sporting colorful leis on top of their stoles. "They have my love. And I'm so excited to be entering the real world outside of the Sallyport with them pretty soon."
Many families took the afternoon to tour campus and grab lunch before heading to Rice Stadium for the long-awaited graduation ceremony, spread out and socially distanced among the stands. Chairs spanned the length and width of the football field, bottles of water and umbrellas tucked underneath each one just in case.
But with the weather cool and breezy, the umbrellas weren't needed for the evening ceremonies. A colorful Houston sunset lit up the sky over the stadium, which has hosted everything from Monsters of Rock to president John F. Kennedy's famous "Moon speech," but never a graduation ceremony.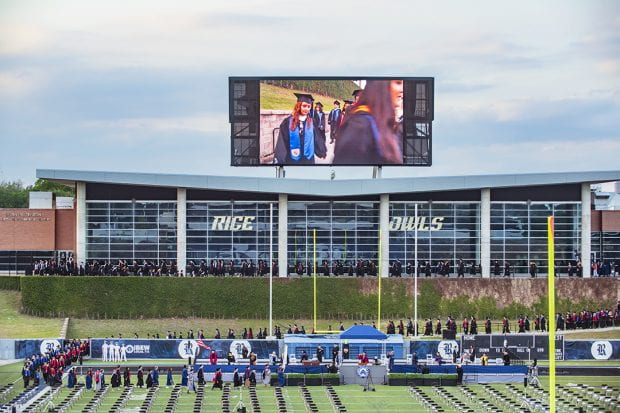 "We're happy we got four tickets, because at some other schools they're not even given four tickets — and we're a family of five," said Liza Bagamian, who was there with her family to see her son Anthony Bagamian graduate with his degree in computer science. His four years at Rice were tumultuous by any standards: bookended by Hurricane Harvey and COVID.
"Little did we know that they were gonna have calamities every year, between hurricanes and freezing and flooding and then a pandemic," Bagamian said. "So thank you, Rice, for letting us be here and enjoy this time with them."
Adam Cardenas '21, one of this year's Student Association Outstanding Seniors and a chemistry major heading to medical school in Austin, gave Rice's "culture of care" part of the credit for making it possible to even walk across the stage and pick up a diploma in person.
"It means that we always look out for each other, that we always prioritize our health and safety of our community and each other, and I really think that brought everything together so that we could walk today," Cardenas said. "It's been incredible."
Rice President David Leebron credited the students, too, in his speech welcoming the Class of 2021.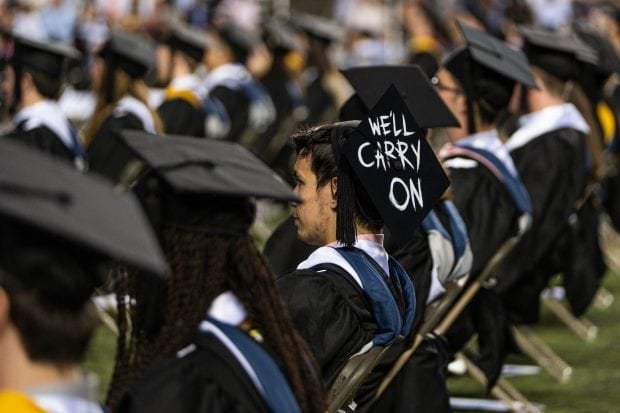 "It is indeed a joy to welcome all of you here today, to see your faces and we are grateful for every one of you," Leebron said to applause from across the stadium. "You, our undergraduates, are now vaccinated at above a 90% level, and so today I turn to the rest of our university … to utter the words never once before heard from a university president: Why can't the rest of you behave more like the undergraduates?"
Leebron told the students how proud he was of their resilience and ingenuity in the face of so many local and global challenges during their four years at Rice. It's an extraordinary class, he said, graduating at an hour of great change, and ready to tackle everything from space exploration and climate change to racial justice and fostering democracy in the 21st century.
"You chose Rice, I believe, not because it was easy, but because it was hard," Leebron said, echoing Kennedy's 1962 speech on the same field. "We hope that your experience here has enabled you, indeed, to organize and measure the best of your energies and skill and encourage you to accept the challenges of our world."
Madison Morris '21 will be among those taking on space exploration challenges, after four years spent working in the Department of Earth, Environmental and Planetary Sciences alongside NASA scientists and professors such as Kirsten Siebach, who is part of the Mars 2020 mission. Look to the future, she told her fellow seniors, but also appreciate how magical these last few moments together will be.
"Today let's focus on what we have accomplished over the past few years, instead of worrying about what we can accomplish in the next few years."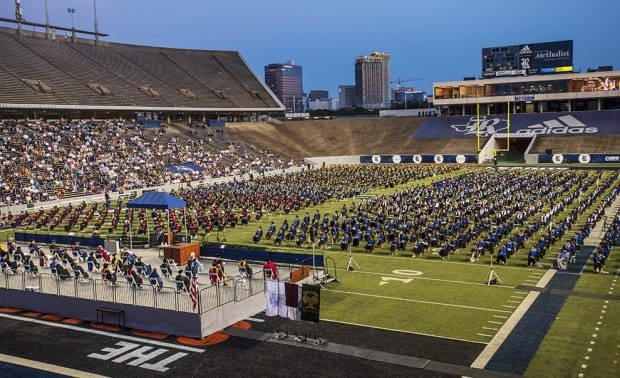 Wiess College magister Laura Schaefer '95 — who met husband Andrew Schaefer '94, professor of computational and applied mathematics, when the two were undergrads at Rice — shared words of motivation tempered with advice for Owls entering a world that doesn't always share Rice's values.
"As you leave Rice, you should be aware that it will be harder to maintain that oh-so-important 'culture of care' for those around you, to continue to speak up for those whose voice is silent, to give of yourself to those that don't have enough, to think of others even when you yourself are going through difficulties or struggling," said Schaefer, who is also the Department Chair of Mechanical Engineering.
"If you can stay on that path — if you can continue to show that real 'culture of care' for everyone around you whether they carry your background or personal path — then I can think of no better legacy that you can give to Rice, to your classmates, to your colleagues or anyone whose lives you have touched while you have been a student here."
Outgoing Student Association president Anna Margaret Clyburn '21 shared a final piece of advice imparted by a friend during a tough time: The perfect is the enemy of the good.
"This experience, the Rice experience, has been both uniquely painful and joy-filled, sometimes in the exact same moment," Clyburn said. "In the same moment, news of a promising vaccine development and nationwide upheaval in response to gross racial injustice. In the same moment, news of the Rice Investment and supporting a friend through a personal tragedy. In the same moment, graduating from Rice University and noticing all those faces who may be missing among us in the crowd.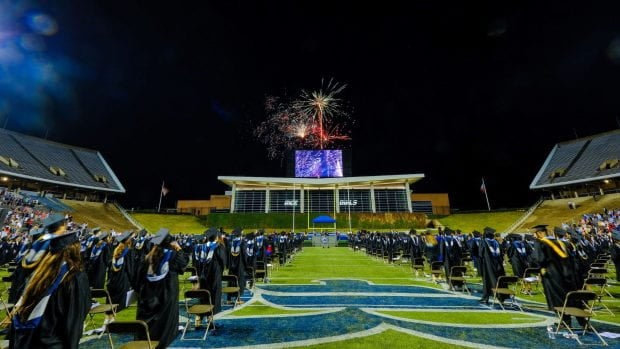 So how do we navigate a world where so much is out of our control, Clyburn asked. In our present moment, she said, something as simple as an act of kindness is nothing short of revolutionary.
"The national and local events of this past year have shown us that we must intentionally and unwaveringly support each other," Clyburn said. "We must be generous with our kindness, exercise empathy and speak out when we see something we know to be wrong — all of which I've seen you do," she said, noting everything her peers had accomplished, from Hurricane Harvey relief efforts to social justice movements to organizing the largest voter turnout in Rice history during the 2020 election.
"You have all staged a multitude of awe-inspiring revolutions, so as we venture out into this uncertain world, we can use these and other things we've learned from each other to help us stay afloat," Clyburn said. "We can be each other's minor revolutionaries — the good amid the imperfect. You've been that for me for the past four years, and I'm confident you'll continue to do this for others once you leave."
At the end of an emotional day filled with new experiences and old traditions, a familiar sight appeared in the sky as the Class of 2021 left the field that night: Fireworks exploding over a campus filled with promise for a new day.