Hanukkah begins at sundown Nov. 28 this year, and Chabad at Rice will celebrate with a menorah lighting ceremony open to the entire Rice community Nov. 29 in the Graduate Commons courtyard outside Valhalla.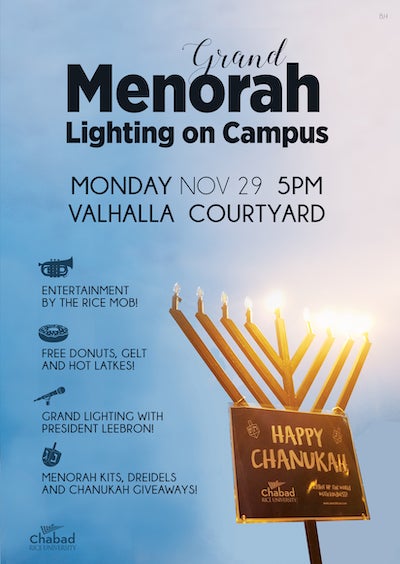 Rice President David Leebron will once again be present to light the menorah, while the Rice Marching Owl Band will provide the music. In addition to free dreidels, Rabbi Shmuli Slonim and wife Nechama of Chabad will also bring those essential oil-fried foods of the holiday — donuts and latkes — recalling the oil used to light the Temple's menorah for eight days.
Hanukkah doesn't always fall during the semester, and the COVID-19 pandemic prevented many annual in-person events from occurring, which makes this year's menorah lighting exceptionally meaningful.
"We are so excited to have Hanukkah during the semester this year — it only happens once in three years," Shmuli said.
Jones College sophomore Talia Frindell spent her first year at Rice under strict pandemic conditions and has been happy to return to a campus once again full of activity.
"I'm excited for a more normal and vibrant Hanukkah celebration compared to last year," Frindell said.
Hanukkah has always been about lighting the menorah and familial celebrations, Shmuli said. To that end, Chabad will have free menorah kits for students at the Nov. 29 ceremony as well as nightly celebrations on campus and at the Chabad house just off campus with fun activities and traditional, festive foods.
"Many students who are away from home during the holiday season experience a sense of isolation," Shmuli said. "Our goal is to give them an easy way to celebrate, to strengthen pride in their Jewish heritage and to encourage them to revel in the holiday."
Among those students spending the season states away from home is Duncan College freshman Ethan Karlovsky, who said he's "so excited for my first Hanukkah at Rice," a welcome chance to celebrate with his new friends in college. "I can't wait for the 28th," Karlovsky said.
The Nov. 29 menorah lighting will begin at 5 p.m. It's a ceremony that shares a universal message to the university at large, said Nechama.
"The eternal message of the menorah lights has attained particular significance in light of current world events where the forces of oppression and darkness are ever-present," Nechama said. "Hanukkah is the story of a little light pushing away an empire of darkness, human sensibility defying terror and growth overcoming destruction."