Matthew Tejada knows the importance of bringing everyone to the table to tackle complicated issues around climate change and the environment. It's what he did locally for six years as the executive director of environmental nonprofit Air Alliance Houston and, since 2013, what he's been doing on a national level as the director of the Office of Environmental Justice for the Environmental Protection Agency (EPA).
Tejada is the featured speaker at this semester's Walter Isle Lecture, which takes place in the Rice Welcome Center Oct. 26 at 12:30 p.m. and will be simulcast via Zoom. The talk is free and open to the public, though registration is encouraged.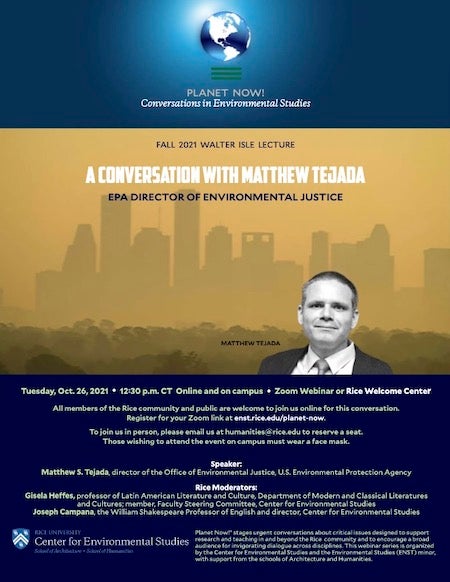 This lecture is part of the Center for Environmental Studies' (CES) ongoing Planet Now! series, which stages urgent conversations about critical issues designed to support research and teaching in and beyond the Rice community and to encourage a broad audience for invigorating dialogue across disciplines.
A historian by education, Arlington native Tejada graduated with a bachelor's degree in English from the University of Texas at Austin before heading to the University of Oxford in England, where he earned a master's degree in Russian and Eastern European studies and a Ph.D. in history.
"He's a humanist who emerged into environmental advocacy, which is just an incredible example for our students, many of whom understand that training in the humanities and the kind of thoughtfulness that comes out of that — especially when paired with a deep knowledge of environmental problems — leads to all sorts of interesting places in terms of careers but also in terms of public service," said Joseph Campana, the William Shakespeare Professor of English and director of the CES.
"He's an incredible example for the School of Humanities and far beyond," said Campana, who will moderate the discussion alongside Gisela Heffes, professor of Latin American literature and culture and a member of the CES Faculty Steering Committee.
Tejada's lecture will take place during Owl Together, Rice's weeklong homecoming and reunion event, as Tejada himself makes a homecoming trip to Houston. His years of advocacy and exposure to the city's pollution problems during his tenure at Air Alliance Houston informed the environmental justice work he's done with the EPA under three successive presidents.
"Environmental problems are both very local and very global at the same time," Campana said. "As someone living in Houston, it gives me comfort to know that someone in that position is aware of the kinds of issues that we face and that other places very much face as well."
During his visit to Houston, Tejada will also spend time talking with students in Campana's Environment, Culture and Society course, the popular introductory class for the equally popular minor in Environmental Studies, which is housed in CES with cross-campus support from the schools of Architecture and Humanities.
Tejada's Oct. 26 lecture will be followed by the final lecture in this semester's Planet Now! series Nov. 15, when Campana will host a panel discussion along with associate professor of history Elizabeth Petrick on "Remaking Nature? Bio/Geo Engineered Worlds." Speakers are Holly Jean Buck, assistant professor of environment and sustainability at the University at Buffalo; Christopher Preston, professor of philosophy at the University of Montana; and Luis A. Campos, who is joining Rice in January from the University of New Mexico as an associate professor of history and the Baker College Chair for the History of Science, Technology and Innovation.
The Planet Now! series is just one example of the growing emphasis on the Environmental Studies minor at Rice, Campana said.
"It's really about responding to the demands from our students," he said. "There is a demand amongst my colleagues and the students here, all of whom want to think in rigorous and connected ways about these questions, so all of our endeavors try to meet that important demand right now."
"Planet Now! Series: A Conversation with Matthew Tejada, Director of Environmental Justice, EPA," Oct. 26, 12:30 p.m. Rice Welcome Center and Zoom. For more information or to register, visit enst.rice.edu/planet-now.