HOUSTON – (July 7, 2021) – Matthew Loden, an award-winning musician and symphony leader currently serving as the CEO of the Toronto Symphony Orchestra, will become the next dean of Rice University's Shepherd School of Music.
Loden, a former director of admissions of the Shepherd School, will bring his expertise back to the school when he assumes the role of dean Oct. 1.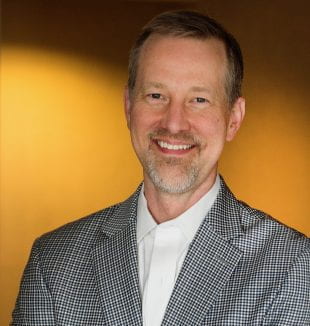 His selection comes after an international search launched in the wake of Robert Yekovich's announcement last fall that he will step down as dean after 18 years in the position. Yekovich will stay on as dean until Sept. 30.
"I am thrilled to return to my hometown and to the extraordinary Shepherd School of Music at Rice University," said Loden, who served as director of admissions from 2002 to 2007. "As dean of this remarkable institution, I will have the special opportunity to help forge a dynamic path forward that honors the important history of the school and inspires the next generation of students and faculty toward new and expanded musical aspirations."
After graduating from the Oberlin Conservatory of Music and the University of Rochester's Eastman School of Music with bachelor's and master's degrees in violin performance, Loden built an extensive resume performing in a diverse range of venues and genres. His early career featured regular engagements with the Kennedy Center Opera and Ballet orchestras, the National Symphony Orchestra, the Houston Grand Opera and Ballet orchestras, the Brooklyn Philharmonic and the American Composers Orchestra. Loden was a principal player in the American Symphony Orchestra at Lincoln Center and Carnegie Hall, and performed with the Broadway productions of "Cabaret," "Once Upon a Mattress," "High Society" and "The Lion King."
Loden has performed around the world, judged competitions, served as a speaker for national conferences and been a music panelist and university lecturer. He's also worked as an adviser and mentor with some of the top music training programs throughout the U.S., including the League of American Orchestras Management Fellowship program, a premier leadership training program designed to launch executive careers in orchestra management.
Loden looks forward to putting his expertise in music administration to work on behalf of the Shepherd School. He is especially enthusiastic about working with faculty and students to utilize the new Brockman Music and Performing Arts Center and the Shepherd School's other premier performance spaces, further developing student training and musical connections with the city at large.
Loden sees building wider audiences and deeper relationships not only with the Rice campus but also with the whole city of Houston as an important aspect of his mandate.
"As musicians, we are storytellers that thrive on bringing our art to listeners wherever they may be," he said. "Students are most successful as artists when they journey with an audience through the emotional landscape of a performance, and when their collective impact can be measured across a range of engaged and diverse audiences, we know we've made a difference."
"I am thrilled with the appointment of Matthew Loden as the next dean of the Shepherd School of Music," said Rice President David Leebron. "It's wonderful to bring him back to Rice. His breadth of experiences and engagements around the nation and the world, and his clear commitment to deeply engaging with our home city, will enable Rice to build upon the truly extraordinary level of excellence in the Shepherd School and support the university's broader strategic goals."
Since becoming CEO of the Toronto Symphony Orchestra (TSO) in July 2018, Loden has redefined the role of an orchestra in a diverse international city, commissioning world-premiere works from next-generation composers and establishing new creative partnerships and performances with artists ranging from composer Samy Moussa to the late soprano Erin Wall, from violinist Patricia Kopatchinskaja to pop icon Jesse Reyez. His commitment to compelling experiences has attracted audiences and increased revenue, while his relationships throughout the music world have attracted top talent to the organization, including renowned conductor Gustavo Gimeno, who became music director in 2020.
Loden has established numerous strategic initiatives in Toronto, including partnerships with community centers, hospital networks and health and well-being organizations to expand accessibility to classical music. Most recently, the TSO broadened this network to bring video concerts to seniors struggling with isolation during the COVID-19 pandemic.
"Matthew is both a talented musician and a strong leader who will undoubtedly be able to attract the high-caliber faculty and students for which the Shepherd School is known," said Rice Provost Reginald DesRoches. "He has an abundance of experience in leading and managing some of the most prestigious music organizations in the world and has a track record of being a collaborative leader who is able to connect with various types of audiences. I am extremely excited about having him back at Rice and at the helm of one of our university's crown jewels."
Before assuming his role in Toronto, Loden served as interim co-president of the Philadelphia Orchestra and as its executive vice president for institutional advancement, with responsibility for sustaining strategic direction and overseeing all board, philanthropic, communications and external relations efforts. He was part of the team that launched celebrated maestro Yannick Nézet-Séguin as music director while navigating the orchestra's successful comeback from Chapter 11 bankruptcy reorganization. He also served as board secretary for the Academy of Music, with oversight over the oldest opera house in the U.S., and was executive liaison with the Kimmel Center for the Performing Arts.
Before moving to Philadelphia, Loden was vice president and general manager at the Aspen Music Festival and School, where he supervised operations for approximately 400 musical events each summer, including five orchestras, opera productions, chamber music programs, master classes and lectures for 650 students. Loden was also responsible for implementing Aspen's first-ever live opera simulcasts and streamed performances on MediciTV. Additionally, he was part of the design and building teams for a new $75 million redevelopment of the school's 38-acre Bucksbaum Campus.
Other past roles include serving as artistic director of Young Audiences Inc. of Houston, where he managed artistic programming for a roster of 100 artists and ensembles, designed in-school performances, workshops and residency programs and created innovative arts partnerships.
Loden said that whether it's in a concert hall or through a virtual experience, music offers a platform to draw diverse world views into a shared experience.
"It will be my privilege to build on Dean Yekovich's remarkable legacy and to continue to encourage talented Shepherd School students to hone their craft while becoming true citizen artists and expressing their unique talents across the Rice campus, throughout the neighborhoods of Houston and around the world," Loden said.
-30-
This news release can be found online at news.rice.edu
Follow Rice News and Media Relations via Twitter @RiceUNews
Located on a 300-acre forested campus in Houston, Rice University is consistently ranked among the nation's top 20 universities by U.S. News & World Report. Rice has highly respected schools of Architecture, Business, Continuing Studies, Engineering, Humanities, Music, Natural Sciences and Social Sciences and is home to the Baker Institute for Public Policy. With 3,978 undergraduates and 3,192 graduate students, Rice's undergraduate student-to-faculty ratio is just under 6-to-1. Its residential college system builds close-knit communities and lifelong friendships, just one reason why Rice is ranked No. 1 for lots of race/class interaction and No. 1 for quality of life by the Princeton Review. Rice is also rated as a best value among private universities by Kiplinger's Personal Finance.
If you do not wish to receive news releases from Rice University, reply to this email and write "unsubscribe" in the subject line. Office of News and Media Relations – MS 300, Rice University, 6100 Main St., Houston, TX 77005