HOUSTON – (Feb. 12, 2021) – Rice University's Mark Torres has won the Geochemical Society's top honor for early-career scientists, the F.W. Clarke Award, becoming the fourth Rice faculty member to win the award since 2009.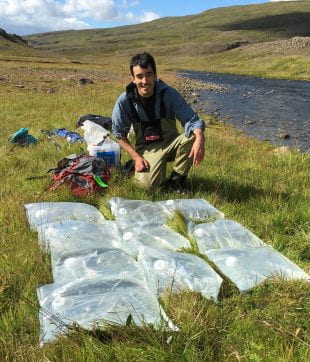 Torres, an assistant professor in the Department of Earth, Environmental and Planetary Sciences, joined Rice in 2017. He will receive the 2021 Clarke Award at the society's annual meeting in July in recognition of "his work on the geochemistry of the Earth's surface focused on interactions between the hydrosphere, cryosphere, atmosphere, biosphere and the crust."
Torres said the impact of the honor sank in when he looked at the list of previous winners and recognized names from "papers I read as a student that really impressed me and sort of guided or shaped my thinking. To be on that same list is amazing. And then, similarly, to also have this legacy of so many other Rice faculty in my department winning. It's fun to join the club."
The Clarke Award honors outstanding contributions to geochemistry or cosmochemistry and is awarded to a single individual each year. Torres joins Rice Clarke Award winners Cin-Ty Lee (2009), Rajdeep Dasgupta (2011) and Laurence Yeung (2016).
Torres' lab focuses on interactions between rock and water near Earth's surface, the transport and burial of organic carbon and how the oxidation of sulfide minerals affects atmospheric carbon dioxide levels.
"At Earth's surface, materials like water and sediment tend to move and chemically react at the same time," Torres said. "If you think about rivers, for example, there's chemistry that happens as the river flows. Groundwater flows into the rivers, and there's chemistry that happens during that process too.
"It turns out, how fast something moves dictates how much chemistry you can do," he said. "Things happen at a certain rate, and how quickly something goes from point A to point B determines how much it can react. At the same time, the chemistry changes how fast it moves. Do sediment grains get smaller? Do they get bigger? Right? Do we dissolve things? Or do we precipitate new things? So, transport and reaction end up feeding back on each other, resulting in complex patterns. And so a lot of my research is sort of thinking about those kinds of problems."
Torres grew up in Southern California and was fascinated by dinosaurs as a child. His interest in paleontology and geology continued in high school, when he spent summers hunting fossils and afternoons cleaning dinosaur bones at the Alf Museum of Paleontology on his high school campus. But he also had a growing interest in environmental issues, especially climate change, and he enrolled as an environmental studies major at Pitzer College in Claremont, California.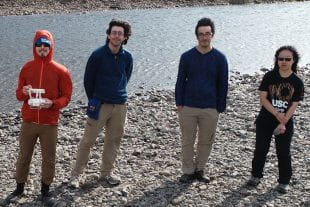 "For some reason, I thought that despite all my interest in the Earth sciences, that I would do that," he said. "I got about a semester in, and I was like, 'Oh, wait. No. Obviously, I want to be a geologist.' And so, it was like, a really quick switch."
Torres cited his parents and Alf Museum director Don Lofgren as important early influences, and his Ph.D. advisor at the University of Southern California, Josh West, as a critical late influence. But Torres' passion for geochemistry emerged in the laboratories of undergraduate mentors Robert Gaines and Jade Star Lackey, both of Pomona College. Torres said Gaines' research on the geochemistry of Burgess Shale fossils was particularly pivotal.
"It's a unique type of fossil deposit, and he studies it from the perspective of geochemistry," Torres said. "Like, what about this place at this time — the seawater — allowed us to have access to these fossils?
"And that little twist on paleontology took," he said. "In my mind, it was like, 'Oh. The tools to answer a lot of the questions that interest me — like, what was the Earth like in the past? How will it change in the future? What sets Earth's climate? — are kind of rooted in chemistry.' Those questions are fundamentally linked to paleontology, what I thought was originally my passion. But being around (Gaines and Lackey), at that time, really showed me, 'Oh, no, no. Geochemistry is it.'"
-30-
High-resolution IMAGES are available for download at:
https://news-network.rice.edu/news/files/2021/02/0215_CLARKE-torres-icegrp-lg.jpg
CAPTION: Rice University geochemist Mark Torres (second from right) on Iceland's Efri Haukadalsá River in 2019 with Rice graduate students Yi Hou (right) and Trevor Cole '20 (left) and California Institute of Technology graduate student Preston Kemeny (second from left). (Photo by Trevor Cole)
https://news-network.rice.edu/news/files/2021/02/0215_CLARKE-torres-lg.jpg
CAPTION: Mark Torres with water samples collected from Iceland's Efri Haukadalsá River in 2016. (Photo by Woodward Fisher)
This release can be found online at news.rice.edu.
Follow Rice News and Media Relations via Twitter @RiceUNews.
Located on a 300-acre forested campus in Houston, Rice University is consistently ranked among the nation's top 20 universities by U.S. News & World Report. Rice has highly respected schools of Architecture, Business, Continuing Studies, Engineering, Humanities, Music, Natural Sciences and Social Sciences and is home to the Baker Institute for Public Policy. With 3,978 undergraduates and 3,192 graduate students, Rice's undergraduate student-to-faculty ratio is just under 6-to-1. Its residential college system builds close-knit communities and lifelong friendships, just one reason why Rice is ranked No. 1 for lots of race/class interaction and No. 1 for quality of life by the Princeton Review. Rice is also rated as a best value among private universities by Kiplinger's Personal Finance.