After pandemic restrictions turned last year's event into a livestream virtual production, Rice University's 107th and 108th commencement ceremonies will once again become an in-person affair, albeit with safety measures enforced in a much more spacious setting.
Ceremonies traditionally held in the Academic Quad will be moved to historic Rice Stadium for the first time in the university's history. The traditional stage party will include only deans and college magisters, and faculty who choose to attend will be socially distanced around the stadium.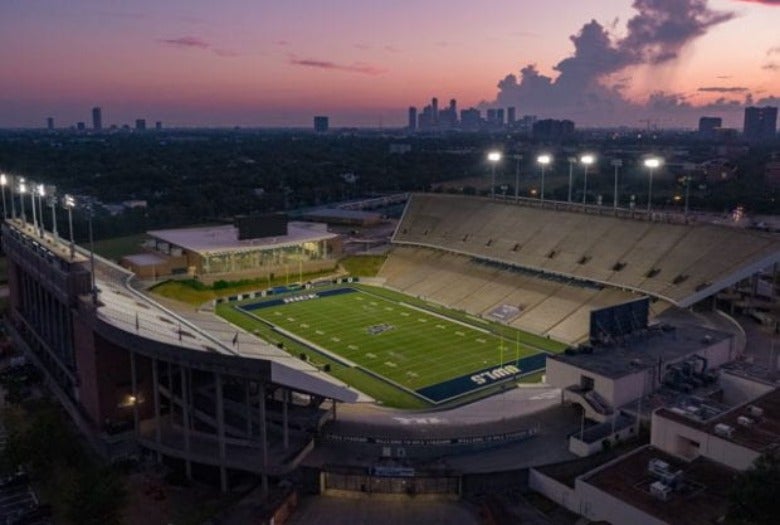 The Class of 2021 undergraduate ceremony will kick off the weekend of festivities Friday, May 14, at 7:30 p.m. Then the Class of 2020 will be honored in a similar ceremony at the same time Saturday, May 15, when many of the students who missed out on an in-person commencement last year will return to their alma mater for a long delayed celebration of their academic accomplishments.
The doctoral and advanced degree convocations for both 2020 and 2021 graduates will be combined into a single ceremony at 8:30 a.m. Saturday. This event will include all graduate students (including Bachelor of Architecture and Diploma in Liberal Studies students), except those earning an MBA, who will instead participate in the Jones Graduate School of Business commencement ceremony at 8:30 a.m. Friday. Doctoral hooding will take place at departmental or school receptions or in less formal individual ceremonies.
All commencement guests must have a ticket provided by a graduating student and abide by university safety policies, including strict rules on seating location and mask-usage compliance. Each ceremony during the weekend will be livestreamed for those who cannot attend in person.
Saturday morning's doctoral and advanced degree ceremony will include commencement speaker Nicholas Kristof, who was originally scheduled for 2020.
"While the university is pleased to provide the opportunity for loved ones to celebrate commencement in person with their graduate, adherence to safety protocols is nonnegotiable and will be strictly enforced," according to an April 12 email to the campus community from Rice President David Leebron, Provost Reginald DesRoches, Dean of Undergraduates Bridget Gorman and Dean of Graduate and Postdoctoral Studies Seiichi Matsuda.
The Class of 2021 and Class of 2020 will make the traditional walk through the Sallyport on Friday morning and Saturday afternoon, respectively. More details on the 2021 commencement ceremonies are online at https://commencement.rice.edu.